Advertisement
September 06, 2005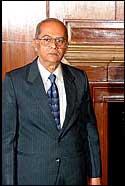 In the second part of his exclusive interview, Justice G T Nanavati tells Managing Editor (National Affairs) Sheela Bhatt that the Nanavati report looking into the 1984 anti-Sikh riots had served it purpose.
He dismissed media criticism that his findings were not sharp and says that one of the reasons for the killings could be that local Congressmen wanted to please their leaders.
He also said that if people expect justice then they should be prepared to appear before such commissions and give their evidence, and was irked by the comparison drawn by the press to the 2002 Gujarat riots inquiry which is being conducted by him. "This is exactly the grievance I have against you. Why should I try any comparison when I am still holding an inquiry?" he told rediff India Abroad.
Part I: 'Fact-finding can't be rumour finding!'
Sir, you should allow us to ask...
Freedom doesn't mean license to say anything.
Sir, in the case of Rajiv Gandhi you are so categorical that he is absolutely not involved in the 1984 riots, then on Kamal Nath you say 'lack of evidence', and in the case of Jagdish Tytler you use the word 'probability.'
If people can't understand the word probability, I can't help it! The media's expectation that a commission should report in a manner, as they like, is misplaced.
Sir, may I put before you the most important question? What we understand is that you are saying that local Congress leaders were involved and action should be taken against those who are named individually. But you are saying very categorically that Rajiv Gandhi or the higher-ups in the Congress were not involved in the riots. Then, you are saying that those local Congress leaders acted for personal reasons. For personal reasons how can you kill 3,000 people?
Whatever I have to say I have stated in the report and I don't want to say anything more on that point. I could not have said something about a person against whom there was no evidence before me.
Nobody has said anything against him.
It is as simple as that.
But sir, just tell me one thing why would any local Congress leader kill Sikhs for personal reasons? Please answer this important question.
That is a misreading of my report.
But you have written clearly that they (local Congressmen) did it for personal reasons. Is there no command structure in the party? Without orders from higher-ups will local leaders act?
Well I won't comment on it. This is all speculation.
You have disconnected local Congress leaders from their higher-ups. Isn't it a proper reading of your report?
In the absence of any other evidence I never wanted to record any other thing except what I have recorded.
The reaction to your report is sharp because many people fear that in the case of your inquiry in Gujarat, a similar thing could happen because the pattern of crime is the same and the police also behaved in a similar fashion.
Well, I don't prejudge like the media does and then, support it by arguments. I first look at the facts. Then, apply my mind and then, record my findings. I am very clear in my mind. There is no doubt about it.
Any regrets?
I have no regrets. No feelings. I have just done my job. That's all. There is a difference between a judge and ordinary persons. A judge doesn't feel the way you think.
Sir, why is this report not much more sharper?
Because this is what I thought was fit. I prepared my report accordingly.
Who said what before Justice Nanavati
Has your exercise served its purpose?
The report has served its purpose. Look at the debate it generated. That itself is a proof that the report has served its purpose.
Even if we accept your version that local Congress leaders did these killings for personal reasons, then, did they do it for money? Why were 3,000 Sikhs murdered?
There could be 100 reasons. Go and ask them they will explain to you.
As a judge what's your observation?
I don't speculate. It could have been for any other reason. It could have been to please their leaders, also!
But you haven't said so in your report.
Why should I say so? A commission of inquiry is not appointed to speculate.
After going through thousands of affidavits, thousands of evidences and thousands of facts what lessons should the nation take from the 1984 riots?
See, if people expect justice then they should always be prepared to appear before such commissions and give their evidence. You have to sacrifice something if you really care for the truth. People are afraid. They don't go to courts to give evidence not because they are liars. It's not that they don't want justice to be done but they are afraid.
They fear harassment from the person against whom evidence is given. This fear is also not misplaced. These are hard facts of life. I only know that many people didn't appear before me. People who toured riot-affected areas met victims and saw things if they would have appeared before the commission then it could have made some difference.
You had the power to call them.
What is the use of calling a reluctant person? In view of these things, the question doesn't arise to have any regrets. I am satisfied with what I have done.
Do you find any commonality between the Gujarat riots and the anti-Sikh riots?
This is exactly the grievance I have against you. I don't prejudge the issue. The Gujarat inquiry is still going on. Why should I try any comparison when I am still holding an inquiry?
Photograph: Press Information Bureau