Home > News > Specials

The Rediff Special/Shobha Warrier

From sex workers to beauticians

September 02, 2005



Diana is beautiful. So beautiful that winning a beauty pageant should be easy. She was recently offered a role in a promotional film by TAI (Tamil Nadu AIDS Initiative), an NGO working on the prevention of HIV/AIDS.

Diana, 22, plays a contestant at a Miss Chennai pageant. She leads the race until the last round, where she has to answer some questions. Her answers, however, shock judges as well as the audience. They don't know how to react, because Diana speaks in a male voice.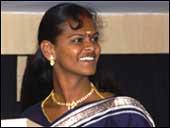 Diana is beautiful. She is also a transgender, or aravani pen. And she is a sex worker.
"That movie was a turning point in my life," she says. "I had absolutely no confidence in facing people until I came in contact with TAI. I like to think of it as my tai (mother). It groomed me and boosted my self-esteem."
Experts working in the field of HIV/AIDS categorise Diana in a high-risk group. She and many like her are a risk to not only themselves but to society. The group also includes female and male sex workers. So far, efforts to rehabilitate them into other occupations have not been very successful.
But TAI, and Dr Lakshmi Bai, have changed all that.
A psychologist by profession, Dr Lakshmi had long thought of new ideas to tackle the problem. When the Voluntary Health Services was chosen by Avahan, the India AIDS Initiative project run by the Bill-Melissa Gates AIDS Foundation, they offered her the post of Project Director. She accepted, and TAI was born.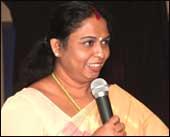 Dr Lakshmi decided to try a new approach tackling the high-risk group. "We wanted to control infection so it wouldn't reach the 'bridge population'," she says. "TAI follows the community driven AIDS program so groups get the feeling it is their own programme. I decided to hold dialogues instead of giving one-sided messages. Only by involving them in decision making could they understand they were at risk."
TAI supports 24 NGO partners and a few community-based organisations in 13 districts in Tamil Nadu, implementing community driven prevention programs among marginalised groups. These include Female Commercial Sex Workers, Male Commercial Sex Workers and Aravani Pengal (transgenders indulging in paid sex) -- 33,900 sex workers in all. The project started with 63 free clinics across Tamil Nadu, each of which also had a 'friends club' where members could meet and discuss problems.
As these people were also low on self-esteem, TAI decided to empower them and improve their quality of life. It initiated a 'beautician programme'. TAI first started beauty parlours inside its clinics, then decided to train sex workers as beauticians, videographers and photographers. Now, they also want to be trained in catering, housekeeping, desktop publishing, etc.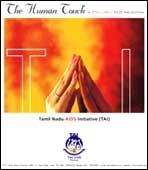 When TAI contacted her to be part of the programme, Diana thought it was going to be like any other organisation, and had little faith. Now, she believes no one else could have changed her life so dramatically. As a sex worker, she would stay home all day, only emerging by night. No more. "Since completing the beautician's course, I realize I have a talent that can help me earn a living. I am now a working girl with a regular job. Society also looks at me with respect. Earlier, I had no tomorrow to look forward to. Now, I look forward to every day," she says, visibly happy.
The story of 22-year-old Sona, another transgender from Coimbatore, is similar. But, unlike Diana, she got herself trained in videography. "Until now, society shunned people like me because we looked different. It is true that, even today, they don't like us shooting at weddings or other auspicious functions. But, before TAI came into our lives, we felt we had nobody in this world."
There are other stories, all with happy endings.
Jessima, 20, from Madurai, mother of a two year old, was forced into prostitution by her abusive husband. She is now a beautician. "Though few knew I was a sex worker, I couldn't face people. Now, I may earn less, but I am respected. I have no plans to go back as a sex worker. This has been a rebirth for me." Then there's 19-year-old Karthik, who started having sex with men from the age of 15, oblivious of the risks. He was picked up by TAI and trained in videography. Though he is happy to have learnt something he is interested in, he feels he needs more training. "I now have a job," he says. "TAI has given me a livelihood. I want extensive training though, so I can be a true professional."
When TAI approached Vasundhara, a well-known beautician in Chennai, and requested her to train sex workers, she was scared at first. It was her husband who persuaded her to help. Once she began taking classes though, she realised how talented they were. "The desire to learn was so high that what others took two months to learn, they learnt in five days!" Vasundhara now feels this should have been done a lot earlier.
"It may take a long time for them to stop what they were doing completely," says Dr Lakshmi, "but this is a new beginning."
Photographs: Sreeram Selvaraj
The Rediff Specials


What do you think about the story?








Read what others have to say:





Number of User Comments: 8








Sub: Great & Bold Work!! Congrats

Great & Bold Work TAI. I read that almost all the sex workers are indugling in it just for their living. Now you have shown ...


Posted by Win









Sub: finally...

finally, its good to hear that someone's actually 'doing' something sensible to help sex workers, rather than just talkin about it, or taking measures to ...


Posted by chirag









Sub: Hope for the less fortunate...

Good work TAI!!


Posted by Saran









Sub: Very good

Very Good TAI... words are less to appreciate your effort to bring a better tomorrow and trying to help the society....people like Dr Lakshmi are ...


Posted by Krishna









Sub: Good work

I really appreciate the good work done by TAI. Its pple like Dr. Lakshmi,who lead the better tomorow for us. Thanks Tai ...


Posted by Sunny






Disclaimer