Advertisement
September 01, 2005


The co-founder and currently president-emeritus of the Henry L Stimson Center Michael Krepon says he is in favour of a strategic partnership between the United States and India, but the nuclear agreement between the two is a bad idea and cause for immense concern.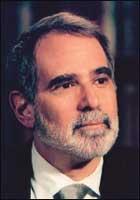 Krepon, a noted arms control and disarmament specialist, who has authored and co-edited at least eight books on strategic arms control, nuclear non-proliferation and cooperative threat reduction, told rediff indiaabroad.com in an exclusive interview that transfer of civilian nuclear reactors to India would not necessary move the US-India relationship to a higher plane.
Before founding the Stimson Center -- a Washington-based think tank with the only exclusive confidence building measures programme on South Asia -- in 1989, Krepon worked at the Carnegie Endowment for International Peace, the US Arms Control and Disarmament Agency during the Carter administration and also as an arms control adviser to the House of Representatives.
Krepon, who visits India, Pakistan, China, Japan [Images] and Russia [Images] regularly, is also the author of over 300 articles and his work appears regularly in Foreign Affairs, Foreign Policy, The New York Times, The Washington Post and many other journals and publications.
An adjunct professor at the University of Virginia in Charlottesville in its department of political science, Krepon spoke to India Abroad Managing Editor Aziz Haniffa in Washington, DC.
You have been quoted in several publications expressing grave concern over the nuclear deal between the United States and India.
I am concerned. It's a very good idea to improve US-India relations and our two countries are moving fast in doing this with defence cooperation, economic cooperation, cooperation against terrorism, cooperation to spread democracy.
(But) the nuclear issue is not needed in order to move this relationship to a higher plane. The rationale here is not to improve US-India relations, it is to change the global nuclear order. That's a very challenging, ambitious goal, but it can't be done by executive order. It can't even be done by legislation. This is going to get very messy. Trust me on this.
'The US has not fully delivered'
But both the Indians and the Bush administration argue that this has nothing to do with nuclear weapons or militarisation and is just to do with civilian nuclear reactors to try and alleviate India's acute energy needs.
Do you believe that? (laughing)
It's not what I believe. I am the journalist, asking you, the expert, the question?
Look, India wants exceptional treatment. The Bush administration is willing to grant that. To do so means to change the rules. These are rules that the United States has worked decades to get other countries to abide by. Now, we are breaking them to accommodate India. That will have consequences.
When others wish to break the rules, and others will, we have a problem. The fundamental choice is between accommodating India's wishes and maintaining the Nuclear Suppliers Group as a functioning entity.
I think the NSG is going to be the victim of the Bush administration's largesse to India.
As you saying there will not be a consensus on this deal?
There will not be a consensus to treat India separately from everybody else. The countries that sell nuclear power will think this is a good idea because they want to sell nuclear power not just to India, but to other countries as well. And the countries that don't sell nuclear power are likely to think that this is a bad idea. So the Nuclear Suppliers Group will be divided.
Are you saying that if this deal is implemented, it will lead to the unravelling of the NSG?
Well, people could still be members, (but) the membership will not require abiding by the same set of rules. Now Iran wants things, Pakistan wants things, Syria may want things, lots of countries may want things. So where do you draw the line?
The United States did not have to do this to improve relations with India. It was already on the up and up. We had other choices. The administration could have chosen to support India's candidacy to the UN Security Council. That would not have caused the kind of difficulties that this deal will cause.
This is the kind of Bush administration behaviour that we have become accustomed to -- bold decisions, break a lot of china, and figure out how to clean it up later. This administration does not think the rules of non-proliferation which are embodied in treaties and institutions are all that meaningful.
Do we really need the nuclear deal?
But then the argument by India is that they have got this impeccable track record and that they've never ever violated international non-proliferation norms?
That's a very clever argument. But if India had an impeccable track record, it wouldn't have tested nuclear weapons. So what India considers to be impeccable, a lot of other countries in this world do not.
But coming back to my earlier question, as to what do you do when India makes the argument that it is growing exponentially as is China and that if you don't find some alternatives to meet your energy requirements, it's going to be bad news for everyone, including US interests?
I am actually sympathetic to that argument. I am not opposed to changing the rules. (But) my argument is if you are going to change the rules, make sure you are taking measures to ensure that proliferation does not become worse.
I don't see that from this administration. I don't see it frankly from New Delhi either. Both New Delhi and Washington are equally opposed to a test ban treaty. Both are opposed to a verifiable cut-off of fissile material.
So I don't see the compensatory steps that would make me feel better about this agreement. Just the opposite. I see a treaty regime, the rules of non-proliferation being weakened by this sweetheart deal. I have a problem with that because if proliferation explodes then both Washington and New Delhi are worse off and everybody else is too.
A sweetheart deal? That's pretty heavy stuff.
Some members of the Indian-American community and some folks back in India, think I am anti-India by opposing this. I think they are very short-sighted. We are weakening the restraints against proliferation.
Would it help if India signs the Nuclear Non-proliferation Treaty?
India can't sign. (But) it would help if India provided a pledge not to be the first to resume testing nuclear weapons. They have not given this pledge. It would help if India signs the Comprehensive Test Ban Treaty as the United States has done. (The US Senate never ratified it and with the advent of the Bush administration, this major foreign policy objective of the Clinton administration was put to pasture.)
It would help if India stopped blocking the initiation of negotiations on a verifiable cut-off treaty. All those things would help.
Why can't India sign the NPT?
The whole structure of it is such. The treaty is a creature of the time when it was negotiated and to change it to accommodate India's interests is just not possible.