Home > News > PTI

'Tactical moves not to affect Indo-Iran ties'

Vinay Shukla | October 27, 2005 15:54 IST



India and Iran have agreed that minor differences on Tehran's nuclear programme should not come in the way of their long-term relationship.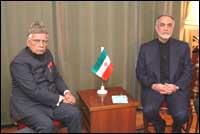 During the 30-minute meeting between External Affairs Minister K Natwar Singh and Iranian Vice President Perviz Davoodi in Moscow on Wednesday night on the sidelines of the Shanghai Cooperation Organisation meeting, both leaders are understood to have agreed that any 'tactical move' by the two sides ahead of the IAEA vote next month should not have any negative impact on bilateral ties.
India's decision to support the International Atomic Energy Agency resolution against Iran's nuclear programme last month had led to hiccups in their relations and had raised questions over the status of the proposed Rs 33,300 crore gas pipeline project as also the LNG deal.
Tehran had later clarified that such one-off decisions would not hamper historical and cultural ties between the two countries.
New Delhi had maintained that its decision at IAEA meet was in Iran's favour and aimed at gaining more time for diplomatic efforts to resolve the issue within the nuclear watchdog and not allow it to go to the UN Security Council.
Sources said, "India reiterated its stated stand on Nuclear Non-Proliferation Treaty, while Iran insisted that as an NPT signatory it wants the recognition of its legal right for the development of civilian nuclear energy."
Singh, who was also accompanied by Foreign Secretary Shyam Saran at the meeting, lauded the Iranian statement at the SCO about Tehran's willingness to cooperate with the IAEA.
© Copyright 2005 PTI. All rights reserved. Republication or redistribution of PTI content, including by framing or similar means, is expressly prohibited without the prior written consent.