Advertisement
October 19, 2005 02:56 IST
Last Updated: October 19, 2005 03:58 IST
Ambassador Nicholas Burns, Under Secretary of State for Political Affairs, Tuesday said that the implementation of India-US agreement on civilian nuclear cooperation will take time because of the complex nature of the work involved. "In my very first conversation I made it clear to the Indian Government - and they made it clear to me - that it's not going to be possible to implement this agreement by August or September of 2005. Both of us have to undertake serious and very complex steps - in our case legislative and in India's case to separate civilian and military facilities that will require months of work," Burns said in a response to a question from rediff.com after delivering an address at the Asia Society here on the "Future of US Relations with India".

Burns was asked as to why the Administration has not been able to send even a draft proposal on the agreement to members of the US Congress three months after the historic agreement was signed between Prime Minister Manmohan Singh [Images] and President George Bush [Images] in Washington. "My trip to New Delhi is meant to focus on this work and agree on a timetable that will lead to the decisions in the US Congress to change our law and to the ultimate decision on the part of the Indian government to meet their own commitments to us," Burns, who is leaving for a visit to India on Tuesday night, said.

Burns said that he did not find the delay in the implementation of the cooperation agreement unusual given that the work is complex. "I do not find that unusual," he said. "I think by the time President Bush visits India in 2006 you will see both our governments meet our commitments," he said.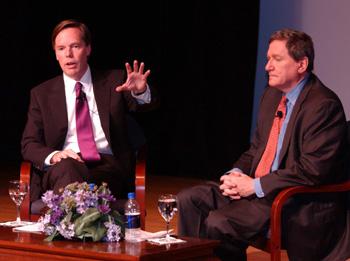 In response to another question, he said that contrary to criticisms in certain quarters that the US is loosening export control regimes to help India, Burns said while the Non Proliferation Treaty is very much alive and important for the future global order, the US made this cooperation agreement with India "with one conviction in mind" - that is that it is important to bring India and allow it to be in compliance with the global non-proliferation regime.
He said that to leave the world's soon-to-be largest population and consign it to a place outside of the non-proliferation system did not seem to be strategically wise to the US. "Instead, given India's very good record in preventing nuclear proliferation over the past 30 years, we thought it made sense to ask India to open up the system and to submit to international inspections and safeguards and help it take the steps necessary to separate civilian nuclear and military facilities that will allow us to come into effective compliance with international norms," Burns said.
Burns said that one has to choose between leaving India outside the regime and bringing it in compliance. "If you have that advantage of bringing India into compliance with international norms, then of course you further the cause of non-proliferation," Burns said. "So, those who care for non-proliferation, this is a step forward and that is why US has decided to take this step," he said.
Earlier, in his speech Burns made a high pitch for further deepening US-India relations, which, he said, are natural allies. He praised former President Bill Clinton [Images] for making the first ever trip to India in decades to build relations and President Bush for accelerated that process further. Noting that US and India relations have arrived, Burns said that a "historic turning point" in the bilateral relations has been achieved in the past three months. "For the first time in 30 years India has agreed to take key global non-proliferation commitments. We view this agreement as a very important step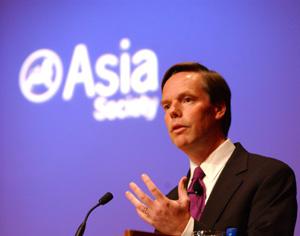 forward, not just for India and US but also for the world non-proliferation community," Burns said. "We view this as our top legislative priority in 2005-2006. We know that India will keep its commitments and I can assure India and our friends that US will keep its commitments as well," he added.
Burns said that the United States' new relations with India rests on shared values. "We are confident that when we look 50 years into the future, India will still thrive as a multi- ethnic, multi-lingual and multi-religious democracy characterised by individual freedom, rule of law and a constitutional government," he said.
"It is not possible to say that about many major countries in the world and south Asia, but it is possible to say that about India," Burns said. "That is the fundamental basis of any democratic and strategic engagement between the two great powers. We look upon India as a natural partner for the American people and the US government," he said. "If American interest and Indian interest converge on each one of these problems," Burns said referring to issues like terrorism and other global issues, "the world will benefit from the military, economic and poltical assets that India can bring to challenge each of these problems," he said. Earlier, Richard C Holbroke, chairman of the Board of Trustees, Asia Society introduced Burns before 150-odd distinguished guests at the Asia Society, describing him as one of the finest diplomats in the US.
Photos: Paresh Gandhi