Advertisement
October 14, 2005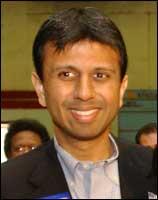 F

or the first two weeks after the killer Hurricane Katrina devastated the Gulf Coast and left in its wake broken levees that submerged the city of New Orleans in Louisiana, Piyush 'Bobby' Jindal -- the first Indian-American to be elected to the United States Congress in nearly 50 years -- could only get a bird's-eye view of the damage wrought to his home, and his constituency, as he flew over the area in a helicopter.

Last fortnight, Jindal was on the ground touring New Orleans and part of his constituency, Louisiana's 1st District.

He found his home, and that of his in-laws badly damaged but "fixable," though he reckons it will take a few weeks.

Jindal acknowledged that although Indian Americans in his district and the surrounding parishes had all evacuated to safety, many of their businesses and, in the case of physicians, their private practices, were all but completely destroyed.

He vowed to bring his family back from his parents' home in Baton Rouge -- the state capital -- as soon as possible, and said he was committed to rebuilding both his home and the lives of his constituents.

His top priority, he told rediff India Abroad National Affairs Editor Aziz Haniffa, was procuring Congressional help of various kinds for the affected people.

You have been travelling across New Orleans, especially your own district. What is your assessment?

Yes, over the past week I've been travelling on the ground in my district quite a lot and things are certainly getting a lot better.

The water is receding in Jefferson Parish, and they are working very hard to restore power. There is still quite a bit of water in New Orleans and in my district, but we are anticipating that Jefferson Parish will allow people back within a month.

We also expect that within a month, New Orleans should be completely dry.

The damage to my home is pretty extensive, but the structure is OK.

The important thing is Supriya (his wife) and kids are safe.

The damage to the house is all repairable, and at least the good news is that the house is still standing. We'll be out of the house probably for at least several more weeks.

We'll still be in Baton Rouge, and it will be a while before we'll be able to move back in.

Will you be taking your family back to your district?

Absolutely. As soon as we are allowed to get back in there and start doing repairs. But we are absolutely committed to going back.

What is happening with Indian-American businesses in the area, do you know?

As with other businesses, you are beginning to see signs of activity.

You are beginning to see some of them in the outlying areas being allowed to come in and try and fix their businesses.

The hope is that within a month, schools can be started in the outlying areas, but not in New Orleans.

Obviously in New Orleans, the big challenge will be the clean-up, because there was so many feet of water for so long.

Throughout this period, you have been interviewed, over and over, by the major networks. In each interview, and in your Wall Street Journal oped, you have been highly critical of the official response to the disaster...

Yes. A lot of the time, there has been so much frustration from the bureaucracy, and we've had to turn to the private sector to deliver help.

But the good news is that the region is beginning to try to rebuild a lot of lives that have been so negatively impacted.

As you know, there are people who are still looking for missing relatives. And you have people who have lost everything they own -- it's going to be very tough, especially for some of these small businesses, to come back.

So we are trying very hard to organise economic development assistance, so people will have a house to go back to, people can afford to pay their bills, people can send their kids to school, businesses can come back and we can recreate, because literally it's the first time America has ever rebuilt a major American city -- and that's what we have to do here.

Has your frustration lessened, now that the bureaucracy has been trying to get its act together and respond more quickly and more effectively?

Things have gotten better, partly because you have military officials in charge. Certainly the military brings a unified chain of command and a goal-oriented, result-oriented culture. I don't think it's perfect, there is still room for a lot of improvement, but I definitely think it's gotten better.

But you are still hearing a lot of stories of people not getting the aid quickly enough. And the frustrating thing is that some very generous people are donating their time and their resources, but it doesn't always get to the right place because of the bureaucracy.

My concern is we can't have that same bureaucracy in the rebuilding effort. We don't want the same red tape back, because we can't afford it.

We have to rebuild schools, and roads and hospitals and business and homes and we can't have any delays.

We can't have any inefficiency.

The state and the federal government are beginning to work better together, but too often we are just going to the private sector to get things done.

The blame game continues; Senator Mary Landrieu, the Louisiana Democrat, recently spoke of White House and federal officials assembling a full court press to blame the local and state officials. Do you subscribe to her contention?

There will be plenty of time for the blame game later. In my district, people are very frustrated. They hear the federal government blame the state government for not asking for help; the state blames the federal government for not providing the help.

People in my district are more interested in learning how they are going to pay their bills, mortgages, when they can go home, that sort of thing.

I am sure there will be plenty of Congressional investigations, but we'll leave it for somebody else to point fingers. That's not going to help the situation on the ground at all, and we are not interested in being part of this blame game.

What do you intend to do in Congress to address the situation?

I've already passed a bill last week in the House that helps students from coastal areas, whose studies were interrupted by the hurricane. A lot of them will face financial penalties for interrupting their studies.

Obviously, this is an extraordinary circumstance, and we want to make sure people are not facing another penalty in addition to what they have already suffered.

As far as the big picture goes, New Orleans and Louisiana had many challenges before the hurricane, in terms of education, housing, healthcare. We are about to spend a lot of money on rebuilding this area, so it is important that we improve things that were not working earlier.

For example, we can do better when it comes to healthcare outcomes, education. So the hope is that we don't simply replicate all the things that weren't working. This is a chance for the public and the private sector, or the federal government and state government, to work together to make these improvements.

Has President Bush, who has come down to the Gulf Coast thrice already, been encouraging?

I met him the first two times he came down, and I am encouraged. I am encouraged by the governor (Kathleen Blanco), who happens to be a Democrat and the President, who happens to be a Republican, working together.

I am glad the President makes it clear he is about solving problems, not blaming. And the governor herself says that everything she's asked for, the federal government has provided.

So it's important that both of them continue to work together. There will be people who try to tear them apart in partisan gamesmanship, but that's not important. What is important is that we have to, for the sake of the people, not allow partisanship or blame game to enter into this.

The federal response has not been perfect, but I am very encouraged by the fact that the mayor, the governor, the President, have all said they want to work together.

I am very encouraged by the fact that the federal government has now passed two very significant aid bills for the victims to help provide housing, medical care and other immediate needs.

But a lot of work remains to be done, and it is very important that Democrats, Republicans, federal and state officials work hand in hand to address these problems. These problems are too big to be divided along party lines or any other types of lines.

I understand the Indian-American community has suffered much damage, especially the physicians who find their practice devastated. What is the prognosis?

I have been in touch with many of them, and they are all in a wait and see pattern. They don't know the status of their properties, because the focus has been on people's lives.

Some of them have gone back and made very preliminary inspections of their properties. A lot of them, mostly those in the food business, the restaurant business, have lost a lot of their physical assets. Their challenge will be to restore their businesses; many of them have insurance, but some do not.

Indian-American hotel owners are hoping to get their hotels re-opened as quickly as possible, so that they can house relief workers and energy workers there as they rebuild the city.

But for physicians and others, it may be a while before their practices can be rebuilt, because they are still waiting for their patients to come back.

I believe despite their losses, Indian Americans have rallied around to be part of the mainstream rehabilitation effort?

Absolutely. You have Indian-American physicians who have returned to the city to relieve other doctors there. Other Indian-American physicians stayed at the hospitals to provide emergency care.

You had Indian-American hotel owners who kept their doors open when asked to by the mayor and others, so that people would have a shelter, some place to go. There are many that stayed with their properties without any regard to their own safety, just to help others.

So Indian Americans have actually responded magnificently, not only within Louisiana but across the country; many members of the community have sent resources to private charities and other organisations.

A lot of the media was reporting about the worst behavior -- the violence and the looting. But the reality is the storm has also brought out the best in many people.

India has also responded with cash, and plane loads of relief supplies.

It's just absolutely wonderful the way India has responded, and it says a lot about the kind of friendship and relationship we have with India today, and the love of the Indian people for the American people.

I cannot but thank them for this spontaneous show of support, and it just shows how close our two countries have become. Our relationship will only grow even stronger.