Home > News > Specials

The Rediff Special/Lindsay Pereira

The man who lived on a train

October 13, 2005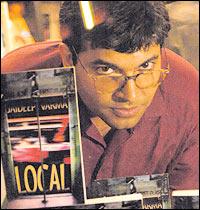 I decided to read Jaideep Varma's debut novel Local on, well, a Mumbai local. It seemed like a logical thing to do, considering the story lent itself to such an option. I managed to complete it over five trips, somewhere along the Borivali-Churchgate line. And then, when I had finished, I looked around and realised he was right.
The cacophony outside sometimes makes the chaos inside you more bearable.
Akash Bhasin, the protagonist of Local, has had enough. His wife has left him, his parents aren't interested, his siblings live abroad and, as if life didn't feel sufficiently inane, he works as a copywriter. From the emptiness within, he has to dig deep and convince people to buy more toothpaste. At 28, he wants out. A familiar feeling, you would think. It is his solution, however, that's rather unfamiliar. What Akash decides to do is give up all sense of direction and opt, instead, for the rootless, consistent rocking of a train.
So, when he's finished with his day of product pitching, client servicing, corporate jargon and office intrigue, he surrenders himself, as it were, 'to the rocking homelessness....' of Mumbai's Western Railway. Going back and forth across 59.82 kilometres, he begins to find himself.
It is an intriguing concept. And one that is strangely incongruous with the man who came up with it. Jaideep Varma is calm and composed. His eyes twinkle through his glasses. He examines me, smiles a lot, then offers me a glass of apple juice. In the soft lighting of his cosy apartment, he appears benign. In a word, everything Akash Bhasin is not.
"I used to travel by train to my workplace in the early to mid-90s," Varma tells me, still smiling. "If I managed a place to sit, I found those 45 minutes to be my most restful time of the day. Maybe it was the rocking motion, or just a strange energy, but it relaxed me. At some point, intrigued, I began playing with the idea of a story about a man who seeks this feeling to such an extent that he decides to live on a train."
After a point, I begin to see where Akash Bhasin is coming from. Time spent on the train is, by definition of its fluidity, calming.
As the novel progresses, Akash moves constantly between hectic motion by day and impassive silence by night. It leads him, and the reader, to a number of interesting insights. Apart from Varma's ability to carry the story -- which I believe he does remarkably well -- it is the format of the narrative that appeals to me. Interspersed with Akash's tale are smaller chronicles about other people who drop in on his life, on the train and off it.
There's his colleague Bibek, an ambitious romantic who can't come to terms with his ambition. There's Sabina, the attractive executive who plays games both corporate and personal. Neha, struggling to come to terms with a cheating husband. Subhash, a pot-bellied taxi driver trying to make it as a model while juggling a wife and mistress. The list is long -- drunken doctors, lecturers-turned-tramps, country bumpkins, insecure professionals. Switching between first and third person, Varma gives them all voices. They may be strangers on a train, but they all have stories. And it is these people who become the novel's stars.
Around me, on yet another crowded train, I try and trace other stories. Stories that last only as long as their creators do, in the space between stations.
"It was an attempt to capture the lived-in experience of Mumbai," says Varma, when I ask about what he hoped his novel would say. "I wanted to do this without resorting to exotica, romanticism or nostalgia, and without high drama or depictions of the city's underbelly -- just plain everyday people we run into every day."
It is an ambitious task. He captures the delusions that ad executives labour under, the ruthlessness of commerce, mood swings of exhausted commuters, and the spirit of cooperation that drives Mumbai while sucking its citizens into a vortex they know they cannot escape. Akash talks about how everyone standing on a train is propped up by fellow travellers, adding, 'In a sense, that seemed to be the story of this city.' The only thing that doesn't sit well here -- at least for me -- is Akash's occasional meandering into rock journalism, citing biographical details about bands and artistes he likes listening to.
"It always surprised and dismayed me that our contemporary voice has never been adequately expressed through Indian writing in English," says Varma. "When I came to Mumbai, I found it astonishing that the city, with all its diverse and magnificent colours, found little expression in our writing, films or music." When I point out that there is more cynicism than hope in Local, he disagrees. "I think it is more real than cynical. Unless you mean how the ad industry is depicted, which is Akash's point-of-view."
Varma was born in Kolkata but grew up in Chandigarh and Pune. After working in Chennai for a while, he moved to Mumbai 15 years ago to work in advertising. He quit in 2000 to write fulltime. Initial reactions to his novel have been good. Despite little media coverage, it is set for a second print run after a mere four months.
First Suketu Mehta's Maximum City. Then, Gregory David Roberts' Shantaram. Soon, Vikram Chandra's novel about the city's underworld. Varma thinks there ought to be a lot more. "Given what a remarkably diverse city Mumbai is, it hasn't got an iota of literature it should ordinarily have inspired by now." He also has strong views on a host of other topics, such as media's racist attitude towards Indian writers in English. "If our own media isn't going to give us reviews (even if uncomplimentary) because they see us as losers who couldn't get published abroad, who else will? Writing is hard as it is; fighting these odds, much harder."
When questioned about what he wants to do next, he says, "Telling stories is the single-point agenda of my life. If I cannot make a living writing fiction, I will pursue other media." He's still not sure though. "I am at the crossroads," he laughs, "which is strange coming from a 38-year old."
I think about that statement long after I have left his apartment. For a 38-year old, he's still made a very promising start.
The Rediff Specials


What do you think about the story?








Read what others have to say:





Number of User Comments: 3








Sub: Opinion:

(On behalf of a friend in UK who sent me her comments) I didn\'t realise that the Indian media or publication companies were not keen ...


Posted by Vistasp Hodiwala









Sub: Local

I am so glad this book is being spoken about at last. This was the last book I bought from Lotus before it shut down, ...


Posted by Girish Ranade









Sub: Gud one

Local is indeed an intresting novel based on everyday life. I mean if we collectively calculate the number of manhours(number of people x time spent ...


Posted by Jayshree






Disclaimer