Advertisement
November 18, 2005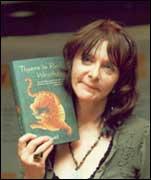 Ruth Padel is the great, great grand daughter of Charles Darwin. She is also a wellknown British poet, a Fellow of the Royal Society of Literature and a Fellow of the Zoological Society of London [Images].
Before publishing poetry, she studied classics at Oxford, Paris and Berlin, and wrote a PhD on Greek tragedy at Oxford. Then she became a freelance writer. Her non-fiction work includes two books for Princeton University Press on Greek tragedy and psychology.
She also writes on arts, wildlife, and travel features for many papers and currently writes reviews for the New York Times, Financial Times and Independent.
Born in London, Ruth has lived for several years in Greece, sung in an Istanbul nightclub, Heraklion Town Choir in Crete and Philippe Caillard's choir in Paris; helped excavate Minoan tombs, taught modern as well as ancient Greek at Cambridge, Oxford and on the island of Kalymnos, taught myth in Buenos Aires University Psychology Department, opera at Princeton, and horse-riding in Berlin.
Her favourite book as a child was Rudyard Kipling's The Jungle Book, and tigers have always been her passion that led her to write her latest book Tigers in Red Weather.
It took two years of travelling through ten Asian countries researching on wild tigers -- where they live, who protects them and what threatens them -- to finally produce this autobiographical travel memoir.
While she was in Chennai promoting the book, she spoke to Contributing Editor Shobha Warrier.
The origin of the book, according to your web site is the culmination of a long standing relationship, and a ticket to the Malabar coast. Why the Malabar coast in Kerala [Images]?
I just saw the name (the Malabar coast) in the newspaper, and I couldn't really afford it then, yet I thought it would be really wonderful to go there. Actually I needed to go. That was just a leap into the dark.
Was it like escaping from reality?
It was escaping from normal life so that you could rethink about your life. You can also say, it was to recharge my batteries.
From the Malabar coast to tracking the tigers in various jungles. How did your journey turn out that way?
The jungle grew on me, slowly. When I was in Periyar, I walked with the travel guide in the forest, and I had my meetings with the leeches! I met them again, quite frequently in the journey.
I slowly found out jungles were where I needed to be. In fact, that was what I always wanted to do. I had always wanted to see the jungle. My favourite book was The Jungle Book. Also, Jim Corbett's books. Not because he killed the tigers but he wrote about the jungle so brilliantly and so lovingly. In Periyar itself, I knew I needed to go to more jungles.
From Periyar, I went to Kanha in Madhya Pradesh, and there I met some scientists and forest guards. I was not thinking about writing a book then but I thought I could write articles so that I would get the money back.
It is very expensive to travel. Luckily for me, a publisher wanted me to write a book, and he gave me the money so that I could do the travelling.
When did you decide that your journey was going to be tracking down tigers?
I knew the only thing I wanted to read about and think about was tigers. What I told myself was, when we live, we feel we lost a lot. We are buried when we die or end a relationship. You are thrown back on what you are, and that is when you know what the bottom is like.
In the drought, when the river goes down, you see what is at the bottom of the river. The moment you see what you are at the bottom of you, you know you need a change. And what I saw at the bottom of myself was darkness.
Then I heard the tigers growling, and I realised what I wanted to write about and think about -- the tigers.
Was it an outer journey or an inner journey?
A very good way of putting it is, both. It's two journeys, outer journey and inner journey.
Outer journey, of course, was tracking the tigers. What was the inner journey?
The inner journey was falling out of love in a way. It was a quest for disenchantment. I learnt quite a lot in Bhutan, and some of the issues in Buddhism became quite important to me because it was like seeing light through darkness.
Actually I ended this relationship on a day which is also called Loser's day, the 21st of December, the shortest day of the year. Loser's day is an English tradition, the darkest day of the year. That's why I end the book with the festival of lights, and it is looking for the lights in the forest.
Could you see light at the end of your inner journey?
Yes. I could see light. Like the Buddhist goal is enlightenment, I also felt the same.
I had to break my relationship because things came to such a state that I came to despise him. It's not very nice to despise somebody whom you love. But I had to. So, my journey was also a quest to lose the contempt I had of him so that I could value the good things that I had. You also want to honour what you had loved.
From a city like London to many jungles, were those days a revelation for you? In what way did the jungles help you see good things in life?
I discovered that there were more beautiful things in me than contempt and despise. I passionately cared for the wilderness, much more than I cared about that person. My mother was a great conservationist. So, I grew up reading all the conservation magazines in the bathroom.
In the two years I spent in various jungles, I discovered myself. I also discovered that my great, great grand father (Charles Darwin) was very important to me. I hadn't really noticed his existence in my life.
That was something you really grow up with. I discovered much more about Darwin as a result rather than just a family image. Things like what he thought of his own life, the long journey he was on -- not just the journey of the Beagle -- and the journey of discoveries he has had.
I felt very close to that by the end of these two years.
Was being the great, great grand daughter of Charles Darwin a burden on you?
Was it a burden on me? No, it wasn't but to those of my cousins who became scientists, it was much more of a burden. But I was in Arts and a classical scholar and a poet. No, it wasn't a burden on me. In fact, it was interesting.
How do you want readers to describe your book, Tigers in Red Weather?
It's the journey of somebody who lives in the city, who is a part of the literary world, a poet, a mother with a teenage daughter and a dog, somebody who doesn't know anything about the jungle and goes out to learn about tigers and jungles. I deliberately made it personal so that people can relate to it, people who live in cities who don't know about jungles.
Is the tiger a symbol?
No, no. It's not a symbol. The problem about tigers is, it is so symbolic. That's why people want tiger skin and tiger clothes. Tiger is the wild and we need the wild.
We need the wild.
No, it wasn't a burden to be Charles Darwin's great grand daughter. In fact, it was interesting.
Photograph: Sreeram Selvaraj