Home > News > Columnists > B S Prakash

Vikram Seth returns to the Golden Gate

November 18, 2005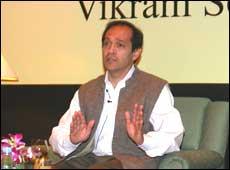 Vikram Seth was in San Francisco in early November as a part of his hectic book promotion tour for Two Lives. Fans of Seth, and I certainly count myself as one, would have followed rediff's coverage of his India visit last month and the descriptions of the readings in four cities.
I had read with much curiosity all of them from this distance. It was clear that in India these events were star studded, held in banquet halls of five-star hotels and celebrities ranging from Aamir Khan to Soli Sorabjee came to listen to India's most loved writer in English.
When Seth left Amir open-mouthed
On a personal note, I had regretted not being a part of the Delhi audience. I got the book from India, read it, read reams of reviews. I then discovered serendipitously the notice in the book review section of the local papers that Vikram Seth was to be in town the next day.
I went for the book reading in a shop actually called A Clean Well-Lighted Place for Books in central San Francisco close to the Opera. You can imagine opera lovers with their formal clothes browsing through an eclectic collection of books before entering the dark environs of the auditorium and you get the picture. There were about sixty people, a majority of them, Americans, a sprinkling of Indians, and others, including befittingly some Chinese.
No scene in San Francisco can be complete without an Oriental ambience. It was certainly not a high-octane, Champagne or flashlights popping, social networking kind of event. One look and you knew that the audience were all book lovers, many of them admirers of Seth's work and some, actually old friends.
Readers of Vikram Seth would know that San Francisco and the Bay Area are a special place for him. Some details of his life here and development as a writer are narrated in Two Lives. Seth says that after his Doon school and Oxford years, he applied to American Universities for graduate studies in the mid seventies.
'My years in England had made me sick of snow and rain. I decided to go to California, to Stanford University' and he joined the economics department. He also started learning Chinese at Stanford, a language he had accidentally fallen in love with earlier at Oxford. His economics research took him to China later and led to his first book, the travelogue From Heaven Lake. The Golden Gate was to come later during his California years.
The outline of Two Lives, the almost new genre that he has created, part memoir, part history, part autobiography has been commented upon widely. The intertwined stories of Uncle Shanti, the dentist with one arm and Auntie Henny -- his German-Jew wife, their story cast across continents and spanning virtually the whole of the last century are now slowly becoming familiar to Seth's loyal readership in many countries.
I do not intend to go into these aspects. Instead the flavour of his interaction with the audience here and the witty and sparkling observations of his years in California are perhaps some new nuggets for Vikramphiles like me. Much of this came out in answers to questions after the book reading and each of the questions was answered with care, consideration, reflection and with humour and insight.
It was a treat and I try to indicate some of the lesser-known aspects of Seth's literary life as revealed by him. He was asked about the inspiration for The Golden Gate which showed his genius and established his reputation. He has narrated this in Two Lives, but told the story with his characteristic wit.
Those days (1983-1984) a diligent Vikram Seth, many years into his research was engaged in feeding the data of his economic-demographic research on China into the Stanford computers. It must have been a drudgery for so talented and imaginative an individual.
One day he went to the Stanford bookshop for a change, 'reasonably well lighted and clean' (said Seth) and chanced upon Pushkin's novel in verse Eugene Onegin in translation. Seth says he was struck by something so unique and beautiful, at once profound and light, 'made you laugh and made you cry'. He was inspired and wanted to create something poetic but as a novel, and set in San Francisco. This was the beginning of Golden Gate.
Answering a question from some one about translations, Seth conceded it may detract from the original, but pointed to the irony that he would never access Pushkin in his original Russian but even the translation had changed his own life!
Some one asked the inevitable question about Indian writing in English and whether an Indian writer can write about non-Indian characters. The girl in Golden Gate is Japanese-American and Seth says he saw her in her mind's eye that way first. People have since then asked him as to why with so many Indians in the Silicon Valley, his characters in the Golden Gate turned out to be non-Indians. Seth said he couldn't answer. He had talked perhaps to a Japanese-American friend, eaten a Japanese meal and this was his character -- Janet Hayakawa -- coming alive in his imagination.
One of the Indians in the audience who shyly admitted that he was a software engineer asked Seth whether his training as an economist at Stanford had left any imprint or had affected his writing. Not the standard question, I guess.
But Seth took a moment to consider and came up with his sincere, insightful and witty answer. Economics has perhaps made him interested in what makes the world go around, he said. It is not just Love that is important in life and literature. He was also interested in 'Work' and how it is important to people and lends them an identity -- be it a courtesan, a shoemaker, a violinist, a freedom fighter or a teacher.
Seth just mentioned these vocations without further annotation, but as he said it, so many of his memorable characters -- Saeeda Bai with her captivating flirtatious ways, Haresh with his single minded interest in leather, the troubled violinist Michael, Mahesh Kapoor and Pran -- flashed through ones mind.
We know with what detail and authenticity he has narrated what each of these do in their professions. Finally, said Seth, his training in economics may have given him some limited advantage when negotiating advances with his publishers!
What made him leave cheery California and return to India, he was asked. Seth has written about this aspect in his book but told us again. Someone had told him that living in California is like a lazy swim in a pleasant pool. You enter at age 25 and take a few laps and before you know you are 55 years old.
This is the story of many Indians who came here, became successes and kept thinking of returning 'next year'. He did not want this to happen to him and once the Golden Gate was published decided to return to India and become a 'dependent' on his parents. But for this return and immersion in India The Suitable Boy would not have been born.
Did he ever have a regular job? What did he think of economics and who was his favourite? Seth said the only regular job he ever did was a brief stint at Stanford as an editor, but that his table was always wet with his towels after the swim. He remembered his friends from the economics department at the university -- and one of them was in the audience.
They told him not to give up economics but to do writing on the side. He knew about 'sunk costs' and 'opportunity costs' and that if economics and the university life led to the 'muse disappearing' the opportunity would be lost.
His devoted readers are thankful that Vikram Seth decided not to take a few more laps in the Californian pond.
Photograph: Jewella C Miranda
B S Prakash is India's consul general in San Francisco and can be reached at cg@cgisf.org For more columns by B S Prakash click here
B S Prakash