Advertisement
November 16, 2005


It was meant to be a dream 16-day holiday aboard a five-star luxury cruise but then the pirates came in the dead of night.

Seabourn Spirit, the luxury liner carrying 151 passengers and 160 crew had sailed from Alexandria in Egypt and had turned into the Horn of Africa, when about 160 kms from the coast of Somalia, it was attacked by pirates armed with rocket-propelled grenades.

The ship bound for Mombasa, Kenya, was carrying tourists from the UK, US, Canada [Images], Australia and some European countries.

In reports carried on the first such attack on a cruise liner since Palestinian terrorists captured the Achille Lauro in the Mediterranean Sea in 1985 and killed a wheelchair-bound American -- passengers aboard the Seabourn revealed how they dived to the floor, locked themselves in the bathroom and were asked by the captain to assemble in the dining hall when they realised they were under attack.

The liner managed a narrow escape, emitting a deafening alarm accompanied by a strong beam of light towards the pirate's ships and sped into the sea.

This made it the 25th pirate attack off the Somali coast in the past six months as confirmed by the International Maritime Bureau in the United Kingdom. The absence of a functioning government and rule by warlords in the country for the last 14 years has made Somalian waters the most dangerous in the world.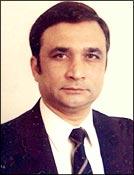 Jayant Abhyankar, Deputy Director of the International Maritime Bureau -- which deals in fighting crimes related to maritime trade, transportation and piracy -- spoke to Assistant Managing Editor Archana Masih in a telephone interview from Essex about the alarming situation for ships passing the Somalian coast and the other risks like hijacking and loot faced by ships at sea.
Pirates armed with guns attacked a luxury liner last week off the coast of Somalia. Are the Somalian waters most dangerous for ships to operate in?
That's right. It's the most dangerous area in the world. (Somalian waters are strategic because on its north lies the Red Sea and the Suez Canal with a heavy traffic of ships between Europe and Asia.)
After two years, why have serious attacks resumed once again? When did these incidents begin?
This year, from March 15. There was nothing in the first three months of the year. Possibly because of the tsunami. The tsunami also had an effect on the east coast of Somalia. But we have been recording incidents since 1991 and there have been some years when the attacks went up to 16 but then there was a quiet period for the last two years.
What would you attribute this quiet period to?
It's difficult to say because political instability in Somalia has continued for the last 14 years. I think it's just because pirates have realised that it's a good way of making money and they're making large amounts by demanding ransoms and getting paid.
What is the security communication to ships in that area? The International Maritime Bureau issues advisories to ships to stay off the area but is it possible for all ships to stay at that distance, aren't there ships that have to go closer to the coast?
Not really. A ship can keep out at sea unless they're going into a Somali port. If not, it is quite easily possible for each ship to keep out because there's plenty of sea room there. The whole of the Arabian Sea is there
Have there been more incidents directed at ships traveling to Somali ports or ships passing through?
Most of the attacks have taken place on ships passing through excepting three or four that were going into Somali ports.
What feedback have you received from ships about their experiences in that region?
It's pretty nasty because ships get hijacked and pirates demand a large amount of money and owners are supposed to pay that. Luckily there have been no killings but that can quite easily happen and has happened before.
What is being done to contain this problem in the absence of any law enforcement infrastructure in Somalia?
The best way really is precaution. Ships must keep away from that coast until such time there is political stability and proper government. But there is also an initiative now of the UN Security Council to take some action. They may deploy some war ships. It depends on what they decide. That's the current initiative.
Which are the vulnerable ships -- commercial or passenger liners?
Mostly commercial ships, also fishing vessels. This is the first attack on a passenger ship in the last 12, 13 years.
Is there any possibility of enhancing security on ships, since these ships don't have weapons and armed guards?
In fact, it's the other way round. Use of arms is not recommended by anyone because a ship's crew are not trained to shoot -- shoot to kill if necessary. So that certainly is no solution.
Actually they are helpless because there is no other measure apart from taking care and keeping away from the coast.
So there's no possibility of having sea marshals, like air marshals on aircraft, for safety of passengers?
No, not really. Excepting for Israeli ships. They are very security conscious. We have not had any attacks on an Israeli ship in so many years now. Because that's the culture that's how the country is because of the terrorist threat.
What you are saying is that they have armed guards on board as part of their security?
Well it is believed, they don't publicise it.
With terrorism on the rise, where even a military ship like the USS Cole was attacked, what are the security concerns of commercial and passenger ships?
Click here to find out what Jayant Abhyankar said on piracy and terrorism