Home > News > Specials

The Rediff Special/Shobha Warrier in Chennai

November 10, 2005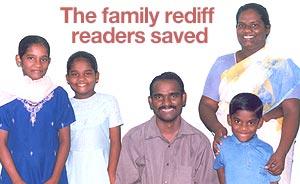 In a world of dark despair, sometimes hope shines through at the unlikeliest of times, reaffirming your faith in life, and humanity.
Like the story of Ganapathy, a taxi driver in Chennai, who was almost on his deathbed with both kidneys dysfunctional, a year-and-a-half ago. 
Many rediff.com readers know who Ganapathy is. They saved his life. And his family's.
I met him when I had gone to cover Dayanidhi Maran's election meeting at Nungambakkam in Chennai in May 2004. Actually, it was Ganapathy's mother who dragged me to his house.
"Will you please do something to help my son?" she had pleaded. "If this door also closes, all of us are going to commit suicide; mass suicide."
I didn't know how to react. I didn't know whether I would be able to help. I really didn't know why the mother chose me when there were so many others. I stood there, shocked and helpless, unable to give them any assurance.
I did what I could. I wrote an article.
A month ago, I got a call from woman called Ramani. It took me a while to recognise her.
"Ganapathy's wife?" I asked.
"Yes," she said. "Ganapathy is going to be operated upon in a couple of days."
rediff.com readers had responded overwhelmingly to Ganapathy's plight. I was flooded with offers of help. I gave all of them Ganapathy's contact address. But there was no way I could coordinate every day. It was then that I got a mail from a non-governmental organisation called Manavata, who wanted to help Ganapathy.
I started directing all the people to Manavata. They took care of Ganapathy's needs: collecting money and organising his operation. Their representative Vamsi would visit Ganapathy's family regularly.
It had been nearly a year since they identified a donor for his kidney transplant. But Ganapathy had to wait this long to finally have a kidney transplant. Months of suffering without any dialysis had affected his liver, and the doctors had to first treat that before the kidney transplant.
Ramani was not scared. She was happy the time had come for her husband to finally be the normal man he was till a few years ago.
"My husband wants to talk to you before he goes to the operation theatre," she said.
Ganapathy's voice was choking with emotion. "We pray every day for you, and all the people who came forward to help us," he said.
Fighting a tide of emotion myself, I told him, "Don't worry. Everything will be all right."
"Please pray for me. I want you to do that," he said.
With tears in my eyes, I assured him that my prayers would be with him all the time.
Now, Ganapathy has a new kidney, and he has been recuperating well. I waited for a month to visit him, as he had to be extremely careful about his health – physical and emotional.
A smiling Ramani greeted me at the door. Ganapathy was sitting inside the room with a mask covering his nose and mouth. But his eyes said it all.
He whispered with folded hands, "I don't know what to say."
"It all seems like a dream," said Ramani. "The very day you wrote about us, we started getting calls. They were talking to us in English. I didn't know what to tell them. Many people came to our house to help. I still cannot believe our luck. I still cannot believe there are so many good people in the world…"
Their three children, who had stopped going to school, are back to education, and smiling.
"Not even in my wildest dreams did I hope to see this day, madam. Sometimes, when I see my children running around and playing, I pinch myself, and ask whether it is a dream. I do not know how to thank all those who helped us," Ganapathy's eyes welled up again.
And when Ganapathy's family posed for a photograph, all of them were smiling.
I was reminded of the photo we took a year-and-half ago, in which there was only sadness and despair.
"Can we have that old photo also? We want to look at both the pictures so that we will be reminded of the Almighty all the time," Ramani said.
As we were about to leave, Ganapathy said, again, with folded hands, "Madam, will you please tell everyone how thankful and happy we are?"
Photograph: Sreeram Selvaraj
The Rediff Specials


What do you think about the story?








Read what others have to say:





Number of User Comments: 35








Sub: The family rediff readers saved

Dear Ms.Warrier, Tears were in my eyes when I read the article. It is people like you who feel that they can't do anything and ...


Posted by Prabha Kumar









Sub: Family rediffmail readers saved

It was heartening to read the story of Ganapathy. I feel sorry for not being part of the team "Saviors", as I did not get ...


Posted by Rajan TD









Sub: Great Work

It shows the might of pen. Glad to see a family happy.


Posted by Satish Peri









Sub: shobha warrier & ganapthy family

Hats of to shobha warrier and all those rediff reader for give life to a family. I salute all those great soul who have played ...


Posted by manju24









Sub: amazing story

This is truly an amazing story which should make us all indians proud. I think parellel to all the development that India is witnessing in ...


Posted by shankar






Disclaimer