Advertisement
November 10, 2005
Dr Karan Singh, Deputy Leader of the Congress Party in the Rajya Sabha and the new president of the Indian Council for Cultural Relations, is optimistic that during his tenure, the much-talked about India Center in Washington will finally become a reality.

Dr Singh, a former Indian ambassador to the US, who was in Washington, DC last fortnight to inspect properties identified by the Indian embassy as suitable for the establishment of such a centre, said he hoped to identify such a property within a year.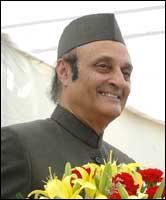 He acknowledged that scepticism over the establishment of such a centre was justified, but said given his direct involvement, and the fact that he was in touch with then external affairs minister K Natwar Singh, Foreign Secretary Shyam Saran and even Prime Minister Manmohan Singh [Images] on the issue, the chances have now brightened.
While in Washington, Singh delivered a well-attended public lecture on 'The Many Dimensions of Peace', under the auspices of the Bahai Chair for World Peace at the University of Maryland, and held discussions with Dr C D Mote Jr, president of the University, on strengthening exchanges between the US and India in the field of culture and education.
Dr Singh, who also currently serves as chairman of the Auroville Foundation -- a UNESCO-sponsored international community in South Asia where residents from over 30 countries and many states of India are trying a 'hands-on' experiment in spiritual and ecological harmony -- also delivered a lecture at the Asia Society in New York on 'An Alternative Approach to Resolving Sectarian and Communal Conflict: The Auroville Experiment.' He spoke to Managing Editor Aziz Haniffa recently.
I believe your visit to the US was to actively pursue the idea of an Indian cultural centre in Washington, DC?
Yes, indeed. Actually, you may recall that when I was ambassador here, 15, 16 years ago, I had mooted the possibility of a cultural centre. Nothing has materialised for various reasons -- properties come on the market but by the time we get ourselves organised, they are off the market, and so on. So now, I have come in my new incarnation as president of the Indian Council for Cultural Relations, which is directly involved in setting up this centre.
I looked around and saw some properties, and as soon as we identify a suitable property, within a year or so, we should have an Indian cultural centre functioning.
Some would say your optimism is laughable. As you pointed out, the idea was mooted 15 years ago. Your successors here, like Naresh Chandra and Lalit Mansingh, both said it would happen during their tenures, yet nothing happened. Najma Heptullah, then the ICCR president, also visited Washington to inspect properties and yet there has been no action.
Your scepticism is justified. But now that I am directly involved -- it was initially my idea after all -- and I have spoken to the foreign minister and the foreign secretary, and I am sure this time the idea will materialise. The first thing is to acquire a property, which given the formalities involved can take up to six months after identifying it.
From that point, setting up the centre should take another six, eight months -- so hopefully, we should have the centre up and running late next year or early in 2007.
So what has caused the hold up thus far? Is it because of bureaucratic red tape, since you -- and even Ambassadors Chandra and Mansingh -- told me that approval had been received from successive prime ministers?
It's not a lack of political will.
Our problem has been that our financial procedures are so convoluted, by the time they send somebody from there and a finance ministry committee is set up, the property is gone.
This time, I am taking responsibility and if I think a property is suitable, I am prepared to take the responsibility. I hope our finance ministry cooperates this time.
Is there a role for the Indian-American community in the establishment of such a centre?
The Indian-American community is doing so very well here. I had a meeting with about a dozen people, who wanted to help but were not clear what they could do. I told them ICCR will build and administer the centre. However, the community can help by contributing for example, a library, a grand piano; musical instruments; by underwriting certain programnmes. They can also invite various artists and underwrite their trip from India. It is in these areas they can play a useful role to supplement what the ICCR is doing.
Dr Prakash Ambegaonkar runs a think tank in Washington, Bridging Nations. He has taken the lead in mobilising the community to set up such a centre and says he wants to raise $50 million for the project. Recently, Ambassador Ronen Sen hosted the first meeting Dr Ambegaonkar organised, but made it clear the Government of India would not give money for such a centre. What is the problem here?
The Government of India is not going to give money, as such, for this project. We will build the centre with our own resources and hopefully, the Indian-American community will be involved. Dr Ambegaonkar, who was at the meeting with me, seemed to want to build something, but he hasn't managed to do anything so far. So I told him, let's try and build it, and then you can help us run it.
Are you saying the ICCR will use its own resources to buy the property and build the centre, without financial assistance from the community?
Yes, it will use its resources -- which are the Government of India's resources -- to build the centre and to administer it, but we want the full cooperation of the community in our programming, in helping to run the centre.
So whatever the community raises is only to help underwrite programming at the centre?
Yes, exactly. They can supplement what we do, because for the Government of India to go around asking for money to build such a centre is not really appropriate.
Are you confident the community will deliver? Though it is rated the most affluent community in the US, it is not exactly known for putting its money where its mouth is.
I think the community will cooperate, maybe modestly to begin with. But one thing is important to note: the Indian Cultural Center is not only for the Indian-American community, but also for the mainstream American community. We don't want to make it an ethnic centre. We want the community to be involved, but we also want to get the Washington mainstream community involved, to help disseminate Indian culture and its heritage among the mainstream community.
To digress to foreign policy, you had a very high profile sting as Indian's ambassador to the US. From that vantage point, how do you view the progress of Indo-US relations now?
They seem to be doing officially very well, because in the past few months alone, with the defence minister having come here and signing that (US-India Defence) agreement, and then the prime minister having come here and signing the civilian nuclear agreement, in some ways it has never been better.
Politically, the sort of agreements that are taking place now, in defense and nuclear technology and so on, are unprecedented and even unthinkable 15, 20 years ago.
Of course, the people to people relations have always been good; more so now that the Indian-American community is flourishing, and this is what we hope to reinforce through the India Cultural Center.
Some say that the Bush administration's success in getting the nuclear agreement approved by Congress will be the litmus test of whether and how US-India relations can continue to grow. And that in turn depends on the Iran factor. Will India forsake Iran for its envisaged strategic partnership with the US?
It is true the agreement has to be ratified by Congress here, and in India also there is some concern about it. Not everybody is wildly supportive of the agreement. But the government is quite clear in its mind as to what it wants to do.
In terms of relations with Iran, it's a delicate matter. It is awkward for India because we are friends of both Iran and the US. But I think we are mature enough to handle the situation without a major breakdown. I can't say anything about the (pending) vote (in November, when the question of referring Iran to the UN Security Council comes up) because that's something which has to be considered on its own merits at the time. But I believe the vote, however it goes, should not stand in the way of Indo-US relations.
Photograph: Saab Pictures