November 07, 2005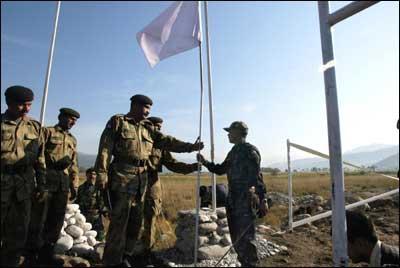 The first of three points on the Line of Control (LoC) between India and Pakistan was opened today for earthquake relief work.
Indian and Pakistani Army officers shook hands and exchanged pleasantries at the frontier point of Chakhan-Da-Bag.
Amidst hundreds of locals and media persons, officers of both countries hugged each other and exchanged white flags. Locals were swept away in a sea of emotion, as they rushed to meet near and dear ones separated for half a century.
The crossing point at Kaman in Uri will open on November 9, while Tithwal in Tangdhar will open on November 10.
Image: A Pakistani army officer (C) from the border at Titrinote hands over a white flag to an Indian army officer (R) on the Line of Control.
Also See: India, Pakistan open first point on LoC
Photograph: AAMIR QURESHI/AFP/Getty Images