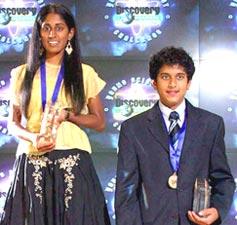 Neela Thangada (
left
) and Nilesh Tripuraneni (
right
) claimed the top two spots, in a field of thousands of middle-school students across the United States, in the Discovery Channel Young Scientist Challenge finals held at the University of Maryland.
Neela, of San Antonio, Texas, was adjudged 'America's Top Young Scientist of the Year' -- which carries a $20,000 scholarship – for her science project on plant cloning. Nilesh, of Fresno, California, who came up with an environment-friendly approach to hydrogen production, won the second prize, which carries a $10,000 scholarship.
Both entered the contest as eighth graders and are now high school freshmen.
Continuing the Indian-American sweep, Anudeep Gosal of Orlando, Florida, won the special Military Channel Army/Navy Award, and shared the National Park Service Explorer Team Award with four other contestants.
An original field of 75,000 entrants was whittled down to 400 semi-finalists; which was later reduced to 40 finalists. This short list also included Narayan Swamy Subramanian of San Jose, California; Sabrina Lakshmi Prabakaran of Fort Myers, Florida; Shireen Dhir of Warner Robins, Georgia; Nilesh Kaushik Raval of Saginaw, Michigan; and Pinaki Bose of Fort Worth, Texas.
Neela Thangada, a student of Keystone Junior High School, won the top prize for her science fair project titled 'Effects of Various Nutrient Concentrations on the Cloning of the Eye of Solanum Tuberosum at Multiple Stages.' Her skills of leadership, teamwork, scientific problem solving, critical thinking, and oral and written communication skills earned her the title of 'America's Top Young Scientist of the Year', organisers say.
"I am very excited and happy to win this prize," Neela told rediff India Abroad. "I did not expect to win, so it was a shock to me." She said the contest is a great programme, which helps students get interested in science and take that interest to the next level. She plans to continue research at her high school, with the ultimate goal of becoming a professor of medicine.
Neela's research was inspired by a biology textbook's idea of a potato cloning experiment. She wanted to determine how different nutrient concentrations affected the multiple stages of growth in a potato. In her experiment, she removed 60 shoot tips from growing potatoes.
After sterilizing the tips, she excised the bottom two segments, and placed each in a test tube of half-strength or full-strength nutrient solution before incubating them. During her first trial, all samples became contaminated.
The daughter of Praveen Kumar Thangada and Mridula Rao, Neela persevered and redid the entire experiment, and found that the potato clones did indeed grow better in the full-strength solution.
Second-prize winner Nilesh Tripuraneni, of the Kastner Intermediate School, had heard about hydrogen-powered cars, but understood that producing hydrogen requires fossil fuels. He sought to find a more environment-friendly approach through solar hydrogen production.
His project was titled 'Solar Production of Hydrogen from Seawater via Electrolysis'. He built a solar-powered device that ran an electric current through a beaker full of saltwater. The result: electrolysis, by which water is split into hydrogen and oxygen.
By clever manipulation of various gas laws, he measured the temperature, pressure, and volume of the hydrogen gas produced. He found that seawater produced almost as much hydrogen as solutions containing sulfuric acid or sodium hydroxide.
The son of Indira and Bhaskara Rao, Nilesh is now a freshman at the Clovis West High School.
Anudeep Gosal's project was to design rockets that better resist the wind. He tested model rockets under four conditions: unmodified and launched vertically, unmodified and launched at various angles, modified with fins tilted at 7 degrees, and modified with 7 grams of weight added to the nose cone. He launched each group 10 times and measured the distance from launch point to touchdown. The unmodified rockets averaged 99 feet of drift, while the others drifted much less. Homemade measuring tools helped him keep track of the rockets.
In a year, his school rocket club has lost a total of 20 percent of the rockets launched due to wind. His design could save not only the money invested in the model rockets, but the time it takes to build them and to search for those lost by wind drift, according to the organisers.
"Discovery is incredibly proud of these 40 young explorers and leaders of tomorrow," said Judith A McHale, president and CEO, Discovery Communications. "Neela Thangada and the other finalists are blazing a path toward a bright scientific future, and setting an example for their peers.