Advertisement
November 02, 2005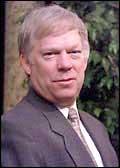 When Under Secretary of State for Political Affairs R Nicholas Burns spoke at the Asia Society on 'US and India: The New Strategic Partnership,' last month, Robert M Hathaway was one of a select audience of policy wonks, academics, media and South Asia watchers plugged in via videoconference.
The former Congressional staffer and currently Director of the Asia Program at the Woodrow Wilson International Center for Scholars in Washington, DC was in a unique position to judge the merit of Burns' words, especially as it pertained to the nuclear deal entered into by India and the United States. For 12 years, Hathaway had served on the professional staff of the International Relations Committee of the US House of Representatives.
From that vantage point, Hathaway believes it is unrealistic for the senior Bush administration official to think the nuclear agreement will be approved by the US Congress before President George W Bush [Images] leaves for India sometime early next year.
Hathaway, who has been a member of the History Staff of the Central Intelligence Agency and has taught at George Washington University, Barnard, Middlebury and Wilson Colleges besides authoring three books on US foreign policy, told rediff India Abroad Managing Editor Aziz Haniffa that India's vote in November, when the International Atomic Energy Agency takes up the proposal to refer Iran to the UN Security Council for non-compliance of its obligations to the Nuclear Nonproliferation Treaty, will have much to do with how the US Congress votes on the nuclear deal.
Mr Burns is purportedly laying out the future of US relations with India, on the eve of his visit to New Delhi which, in turn, is believed to be preparation for President Bush's India visit next year. What's your take?
I thought it was a skillful speech. It was a clear statement of the seriousness with which Washington views the relationship with India today. It reflects a view of the relationship that India will be pleased with. (But) It didn't break any new ground; it didn't contain any startling pronouncements. It set out a vision for where the relationship is heading, but it really didn't get us far beyond where we've already been. It didn't talk in any detail about how to get there.
Almost all of us accept and applaud the vision, but that's not the issue -- the issue is, how do we get there?
Indo-US deal may die in Congress
You find the speech short on specifics?
Exactly. When you get down to specifics, this is where I wish that Secretary Burns might have been more forthcoming. He didn't really talk much about specifics either in his prepared remarks, or even when he was given the opportunity in the question and answer session afterwards. The whole question, for instance, about India's stance on Iran -- it's my sense that a very good number of members of Congress, who view themselves as friends of India, are going to find it very difficult to support a nuclear agreement with India if New Delhi does not support the American desire to forward the Iranian nuclear issue to the UN Security Council.
And I am not at all sure that India is going to be prepared to support such a resolution. I hope the administration is conscious of this as a potential show-stopper. If they are conscious of it, if they are working on this issue, if they are talking frankly with New Delhi about the dangers of this issue, then it is not a shortcoming of Burns' speech that he didn't talk about it publicly. Indeed, you might have been surprised had he talked about it in a public forum.
Then again, Mr Burns seemed very optimistic that the deal would pass Congress before President Bush's visit to India next year. Could it be that India voting with the European Union and the United States last month was enough to swing the deal?
The vote in the IAEA was on a watered-down resolution. It was difficult even under those circumstances for New Delhi to support the resolution. And so, it will be infinitely more difficult for New Delhi to support a resolution with teeth -- one that sends the issue to the Security Council. Burns said something in response to a question you asked, that struck me.
You asked him why three months after the agreement, we have not seen any sort of draft legislation that Congress can then begin to work with. In answering your question, he seemed to say that by the time the President visited India early next year, he hoped all the parts of this would be in place and the agreement could be implemented.
Why does India need a nuclear alliance with USA
You can't implement an agreement until you have Congressional action. So the implication of what he said was that Congress will receive legislation and the administration hopes that Congress will, in fact, move on that legislation before the President visits India next year.
You believe that is wishful thinking?
Not just that. If the President is in fact planning to visit very early in the year, like say February, as a lot of people are suggesting, then it puts them on a very, very short time table and gets back to your question as to why nothing has been submitted so far.
In summary, time is running out, the administration does not even have a draft proposal on the table, and yet the administration's point man on the deal says he believes it will all fall into place. You've been a longtime Congressional staffer, you know how Capitol Hill functions -- from that perspective, would you say the optimism is well placed?
Let's just say it's a very difficult time-table. Congress will want to adjourn for the year as soon after Thanksgiving as possible -- that is, in little over a month. They will start slow in the new year, late in January. Given that, it is probably unrealistic to think that Congress will move instantaneously on such a controversial and potentially significant agreement. You have to assume that many committees have jurisdictional stakes, and you have to assume that many of these committees will wish to take a close look at it.
Congress, even under the best of circumstances, rarely moves so quickly and if Secretary Burns is implying that they are going to have Congressional action by the time Bush goes to India, I believe the administration is setting out a very tough task for itself.
What do you make of Burns' response to a question whether durable peace between India and Pakistan is tenable if the administration continues to prop up the military dictatorship of President Pervez Musharraf [Images] and provides it with military largesse, without questioning the lack of tangible effort to move the country towards democracy?
I was very disappointed by his response. For an administration that prides itself on putting the promotion of democracy in the forefront of its agenda, I just don't understand why we continue to be absolutely silent on this issue with respect to Pakistan. Anyone who visits Pakistan, anyone that talks to Pakistanis, knows that the United States' image suffers badly in Pakistan because of the perception, rightly or wrongly, that we always support military dictators.
Burns' phrase was Musharraf is a very strong friend of the United States. Well, in fact, probably he is. That doesn't mean we can't in a public fashion push in the direction of where we say where our interests lie -- that is, democracy promotion around the world. So I continue to worry that the United States is perceived as hypocritical or having a double-standard, when we push democracy only when it's convenient.
I, and many others, would argue that at the end of the day, we are not going to have a basis for a sustained relationship with Pakistan, absent a representative government in Pakistan. And, I don't think we do ourselves or our friends in Pakistan any favors if we ignore that reality.