Advertisement
May 25, 2005 12:32 IST
Last Updated: May 25, 2005 15:52 IST


Union Minister for Sports and Youth Affairs and actor Sunil Dutt passed away after a heart attack at his home in Bandra, northwest Mumbai, on Wednesday morning.

He would have turned 75 on June 6.

After he complained of being unwell since the morning, the family doctor was summoned. The end came at 11 am. He recently visited Kanpur where he is believed to have suffered a heat-stroke.

The funeral will take place at 5 pm at the Shastri Nagar crematorium, Santa Cruz, northwest Mumbai. The body will be carried in an open truck decorated with flowers.

Prime Minister Dr Manmohan Singh [Images], Congress party president Sonia Gandhi [Images], Defence Minister Pranab Mukherjee, Agriculture Minister Sharad Pawar [Images], Home Minister Shivraj Patil, political advisor to the Congress president Ahmed Patel, Mumbai Regional Congress Committee president Gurudas Kamat, Maharashtra Pradesh Congress Committee president Prabha Rau and members of Parliament Murli Deora, Rajiv Shukla and Rahul Gandhi [Images] are on the prime minister's special flight to attend the funeral.

Among the film personalities who have arrived to pay tribute to Dutt so far are actress Bipasha Basu [Images], producer Boney Kapoor [Images], actor Gulshan Grover [Images], directors Gulzar [Images] and Mahesh Bhatt [Images], actors Suniel Shetty [Images], Amitabh [Images], Jaya and Abhishek Bachchan [Images], Dilip Kumar [Images], Salman Khan [Images], Fardeen Khan [Images] and, Jackie Shroff [Images], lyricist Javed Akhtar and actress Shabana Azmi [Images], actors Aftab Shivdasani [Images], Dharmendra [Images] and Bobby Deol [Images], Maharashtra Deputy Chief Minister R R Patil and Irrigation Minister Ajit Pawar.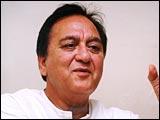 In a movie career spanning five decades, Dutt acted in 102 films and directed six, including the memorable Reshma Aur Shera. His most recent release as an actor was the 2003 superhit Munnabhai [Images] MBBS, where he acted alongside son Sanjay Dutt [Images].
He is survived by his son, daughters Namrata and Priya, sons-in-law actor Kumar Gaurav and Owen Roncon Jr and granddaughters. His wife, the legendary actress Nargis [Images], passed away in May 1981.
Sanjay Nirupam, who unsuccessfully contested against Dutt from the Mumbai North-West Lok Sabha constituency in May 2004 as a Shiv Sena candidate and has now joined the Congress party, said he was shocked to hear about Dutt's demise.
Nirupam, who had a history of bitter rivalry with Dutt, said the veteran MP was like a father figure for him.
"There were issues during the 2004 Lok Sabha election, but I have apologised to him several times. I never hurt him intentionally," Nirupam, who lost the election, said.
Dutt had taken Nirupam to court for the latter's adverse comments about his parliamentary record.

PTI adds:
A five-time MP, Dutt contested his first Lok Sabha election after joining the Congress in 1984. Winning the Mumbai North West seat in his maiden attempt, he retained it in the 1989 and 1991 elections. He did not contest the 1996 and 1998 elections as he was preoccupied with a case against his son Sanjay by the Mumbai police. He won the 1999, 2000 and 2004 elections.
He became a Union minister for the first time last year. As a minister, Dutt not only had time to hear the plight of sportspersons, he also made a concerted effort to improve the standard of Indian athletes by taking up several initiatives.
Fate seemed to have meted out a never-ending spate of tragedies in Dutt's life, but bitterness and self pity seemed to find no place in his soul, in spite of his receiving one shattering blow after another.
Born in Khurd village in Jhelum district, now in Pakistan, on June 6, 1930, he lost his father when he was five and his mother at 23. Life had taken him through the trauma of Partition, his wife's untimely death due to cancer and his son's arrest after the Mumbai bomb blasts in 1993. But all these tragedies failed to deter the man from following his first love -- cinema -- and serve the community through politics.
After his wife's death, he lost himself in politics and his involvement in it was complete. When he spoke about the country, he spoke selflessly from the heart. He can perhaps, best be described in his own words while quoting the philosophy of the Bhagvad Gita. 'You are just expected to perform your duties and not expect any rewards. As a citizen of India, I am concerned with giving my best.'
Dutt turned producer in the early sixties with a couple of offbeat movies -- Yeh Raaste Hain Pyar Ke (1963), where heroine Leela Naidu has an adulterous relationship, and Mujhe Jeene Do (1963) where he played a tough-as-a-nails dacoit.
In his cinematic association with B R Chopra, Dutt gave three big hits in the sixties -- Gumraah (1963), Waqt (1965) and Humraaz (1967). He also worked with South Indian filmmakers which resulted in emotion-heavy, rural-based hits with Nutan like Khandaan and Milan.
In 1967, he had a hat-trick of hits with Milan, Meherban and Humraaz. His role of a buffoon in Mehmood's Padosan (1968) was much appreciated.
In 1971, he produced the blood-splattered desert love story Reshma Aur Shera which failed to do well at the box office. Still, hits like Zakhmee (1975), Nagin (1976) and Jaani Dushman (1979) ensured that Dutt was seen romancing much-younger heroines like Rekha [Images] (Nagin, Ahimsa) and Reena Roy (Paapi, Jaani Dushman)
In 1981, Nargis died after a protracted battle with cancer. In the same year, his production Rocky starring son Sanjay hit the screen. Subsequently Dutt produced a film on cancer called Dard Ka Rishta (1983) and later joined politics.
But the actor in Dutt continued to surface during the last decade with movies with select filmmakers like J P Dutta (Kshatriya) and Yash Chopra [Images] (Parampara). His last screen appearance was in Rajkumar Hirani's Munnabhai MBBS.
In a message to Sanjay Dutt from St Petersburg [Images], President A P J Abdul Kalam has condoled Sunil Dutt's death.
Pay your tribute to Duttsaab | Have you met Duttsaab?
Sunil Dutt on rediff.com
'Nargis is in my thoughts all the time'
'Kashmir militants want peace'
'Violence is not the Congress hallmark'
'Young people must know the reality'
Nargis-Sunil Dutt: A real life romance
What it took to make Sanju hug Sunil Dutt
Dutt's the way to do it
Wooing the wretched
Sonia thought I okayed Nirupam induction: Dutt
Memorable Sunil Dutt movies: Mother India| Mera Saaya| Waqt | Sadhana | Sujata | Padosan | Shaan | Munnabhai MBBS