Home > News > PTI

Lt Gen J S Aurora dead


May 03, 2005 09:47 IST
Last Updated: May 03, 2005 14:07 IST



The hero of the war for liberation of Bangladesh, Lt Gen Jagjit Singh Aurora, who oversaw the surrender of over 90,000 Pakistani troops, died in New Delhi on Tuesday morning in a private hospital.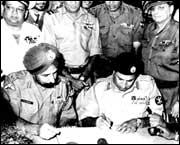 Aurora, 89, who was ailing for some time, died in sleep. He is survived by a son and a daughter.

From Rediff Archives:
An exclusive interview with Lt General J S Aurora
Gen Aurora Chat transcript

Aurora, who as general officer commanding of Eastern Command, had the honour of accepting the famous surrender by Pakistani troops under Gen A A K Niazi in Dhaka on December 16, 1971, led the lightening strikes by Indian forces in the then East Pakistan which ultimately led to the liberation of Bangladesh.

Along with Gen Sam Maneckshaw, he played an important part in the eastern sector military operations.

A recipient of Padma Bhushan and Param Vishist Seva Medal, Aurora had a stint in Parliament as a Rajya Sabha member.

The funeral will take place on Thursday with full military honours, army sources said.

External Link:
The Bangladesh liberation war
© Copyright 2006 PTI. All rights reserved. Republication or redistribution of PTI content, including by framing or similar means, is expressly prohibited without the prior written consent.



What do you think about the story?








Read what others have to say:





Number of User Comments: 9








Sub: Lt Gen J S Aurora

As a Bangladesh Freedom Fighter with the demise of Gen Aurora we have lost a great Hero of our liberation war. He was a brave ...


Posted by akku chowdhury









Sub: Honoured Soldier

This special sons of Mother Land, Never die..They Live in the hearts of the fellow soldiers heart, who had the best,worst serving the land together...every ...


Posted by Jai









Sub: May his soul rest in peace

India is short of role models and heros has lost one of the top line heroes. While the politician made a gamble in his achivements ...


Posted by Manoj









Sub: Lt. Gen. JSora

A great Army General in post independent era. Nation will be proud of you, sir, for ever. Seeking your blessings and best wishes.


Posted by Balasubramanyam









Sub: about Lt Gen Arora

My father was an army officer and when he was in OTA then Gen Arora once came to inspect the unit my father told me ...


Posted by amit kumar






Disclaimer