Home > News > Report

Australia rejects Chinese defector

Mike Corder in Sydney | June 06, 2005 13:57 IST

A Chinese diplomat's attempt to defect to Australia and explosive claims about Beijing's espionage activities has cast a shadow over Canberra's attempts to negotiate a free trade deal with China.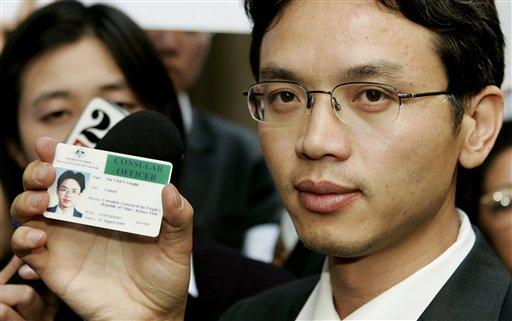 Chen Yonglin, 37, worked as a diplomat at the Chinese Consulate-General in Sydney until he walked away from the mission last month to seek political asylum in Australia.
In an interview published Monday, Chen claimed his application for political asylum was rejected by Canberra within just 24 hours and without his meeting any senior government officials.
Chen's is the highest profile attempted defection to Australia since Soviet spy Vladimir Petrov in 1954.
Among claims Chen has made about China are that Beijing has up to 1,000 spies operating in Australia and has sent agents to abduct Chinese nationals and repatriate them. He has produced no evidence to back up the allegations.
On Monday, China's ambassador in Canberra Fu Ying dismissed the claims.
"I stand to be enlightened by anyone who has knowledge" of the alleged espionage, she said.
The Australian government has declined comment on the claims and said immigration officials will give the diplomat no special treatment.
"I didn't think it would happen like this," Chen said in an interview published in Monday's edition of The Sydney Morning Herald.
"Australia is a democratic country. I thought they would help me. My family is desperate. We are helpless. We need to be in a safe place."
Chen could not be reached Monday for comment.
But Fu attempted to downplay fears Chen's asylum bid could damage relations.
"I think our relations are strong enough to continue our understanding of each other as long as both countries handle the cases, especially difficult cases, in accordance with our respective laws and ... taking into consideration the friendly relations between our two countries," she said.
China's consulate in Sydney has claimed Chen fabricated his claims because he does not want to return to China following his four-year diplomatic posting to the city.
Fu also rejected Chen's claims he was in danger.
"I don't think there is any reason China would punish him," she said. "There are laws which would guarantee his freedom."
Foreign Minister Alexander Downer has said Chen is now seeking a temporary protection visa -- usually given to refugees fleeing persecution.
Attorney General Philip Ruddock declined comment Monday on Chen's asylum application or his espionage claims.
"I'm not in a position to comment on matters that might relate to any assessments that are made in relation to broader security issues," Ruddock told reporters.
Chinese ogre has giant appetite!
Canberra and Beijing's trade relationship has blossomed in recent years as Australian miners pour billions of dollars worth of raw materials and fuel into the rapidly expanding Chinese economy.
Now the two nations are seeking to hammer out a free trade deal they say would be worth billions more.
Prof. Hugh White, head of the Australian National University's Strategic and Defense Studies Center, said China has made it clear that the development of the economic and trade relationship was dependent on Australia being sympathetic to China's concerns on political and security issues.
"I think it does potentially put the government in a tough diplomatic position," he told the ABC.
"The concerns in the Australian community about the human rights of this individual are significant and valid; on the other hand, China I think will want this guy back and would tend to view a decision by the government to grant him political asylum or even refugee status ... as a fairly adversarial thing to do."