Home > News > First Look


Bullfighting, Tamil Nadu style

January 17, 2005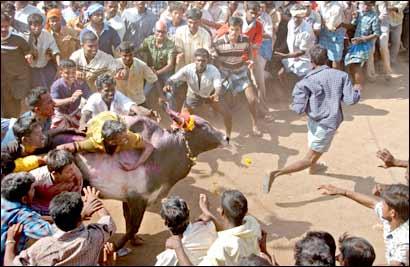 Every year during the harvest festival of Pongal in Tamil Nadu, men display their bravado by trying to tame hundreds of bulls.
The practice, known as Jallikattu in local parlance, has been prevalent for long.
Men risk their lives for prize money and other articles, like bicycles and television sets.
In the past, bundles of money were tied to the bulls' horns, and the villagers tried to get the bundles in their possession.
Every year many people are gored by the bulls, and some of them even die of the injuries.
This year, at least six deaths were reported in Madurai and Sivaganga districts, with many hundreds being injured.
The bullfighting is a part of Mattu Pongal, a day of thanksgiving to the cows and bulls.
According to legend, Lord Shiva once asked Nandi, his bull, to go to earth with a message to the people to have an oil bath everyday and food once a month.
But Nandi got it all mixed up and told the people that Shiva asked them to have an oil bath once a month and eat every day.
Shiva was displeased with this and told Nandi that since people would now need to grow more grain, Nandi would have to remain on earth and help them plough the fields. Mattu Pongal, the third day of Pongal, celebrates this association.
Photo by Ami Vitale/Getty Images