Home > News > Report

Mayawati wants cash on her birthday

Sharat Pradhan in Lucknow | January 14, 2005 09:46 IST
Last Updated: January 14, 2005 10:37 IST



Bahujan Samaj Party leader Mayawati does not want any gifts on her birthday on January 15.

She wants cash.

Last year the former Uttar Pradesh chief minister had faced a lot of criticism over the issue, but she remains unfazed.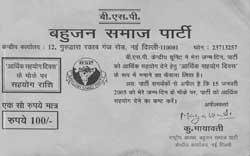 Coupons with a formal demand for cash are already out in circulation among BSP workers.

Printed in denominations of Rs 500 and Rs 100, the coupons carry the BSP chief's signature and the message: 'The Bahujan Samaj Party central unit has decided to observe my birthday on January 15 as 'Financial Support Day'. Kindly make your contributions on this occasion.'

Mayawati has fixed a target of Rs 8 crore from Uttar Pradesh, party sources told rediff.com

Each BSP legislator has been asked to contribute Rs 200,000.

It is not clear how much is expected from the other states.

Defending the practice, BSP leader and former UP assembly speaker Barkhu Ram Verma said, "There is nothing shady about the whole thing. Behenji has decided to make a public announcement of the total amount she receives as gift on her birthday."

"This is nothing new, and let me tell you that all the gift money is used for the benefit and growth of the party," he added.

During her stint as CM in 2002, the dalit leader had put up an extravagant show on her birthday and billed everything to the state exchequer.

Never before had a CM's birthday been celebrated so lavishly.

The entire event was official; through a government order, about ten departments and organisations were assigned tasks to make it a success.

A 51-kg cake, 100,000 ladoos, 60 quintals of marigold flowers and some 5,000 bouquets were among the highlights of the event.

The government also declared the day as 'Swabhiman Diwas' (Self-respect Day).

In her then dual capacity as CM and BSP vice-president, Mayawati declared January 15 as 'Arthik Sahyog Diwas' (Financial Support Day).

The collection targets for her party MPs and MLAs and ministers then were much higher.

Bureaucrats, too, were understood to have contributed in a big way.

A cultural extravaganza at the Talkatora Stadium in New Delhi followed the day show in Lucknow. The state government picked up that tab as well.

Rs 10.4 million was drawn out of the state contingency fund to meet the expenses.

Under the rules, the contingency fund is to tide over urgent and unforeseen needs that cannot await legislative sanction.

In 2004, when she was out of power, BSP workers celebrated Mayawati's birthday in Lucknow while she preferred to stay in Delhi.



More reports from Uttar Pradesh
Read about: Ayodhya Dispute | Madhumita Murder Case



What do you think about the story?








Read what others have to say:





Number of User Comments: 12








Sub: mayawati's venture.

it is a very clear indication of the corruption level of indian politics. it is really amazing , nowadays, politicians are even openly demonstrating their ...


Posted by murali









Sub: shameful

It is shameful to celebrate the birthday in such a great way when millions are suffering due to Tshunami. Really shameful for a chief Minister ...


Posted by Dsouza









Sub: No harm as far as reciept is given

One part I can say she is honestly declaring about the birthday. Instead of wasting money on 10inch thick & 15 feet garlands at least ...


Posted by nittin bhagwat









Sub: congrates

Kumari Mayavati took the right decision for her birth day gifts from the public. i think she is not goging to spend this money to ...


Posted by sadashiv









Sub: Does she ?

If she contribute this to the Tsunami fund,that the best thing she did in her life.


Posted by Rajkishor






Disclaimer