Home > News > First Look


Vivek Oberoi brings hope to Nagapattinam village

January 10, 2005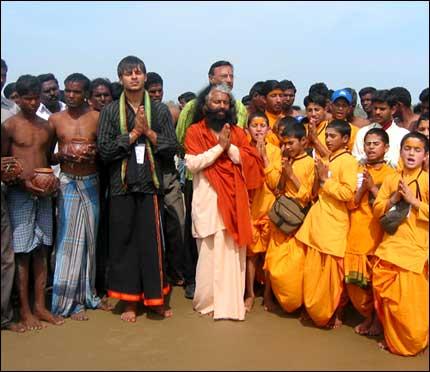 Many leading personalities have contributed their mite to the relief and rehabilitation works in the tsunami affected areas.
 
While many have made contributions in the form of cash, Bollywood star Vivek Oberoi decided to adopt a village after a visit to the Nagapattinam district in Tamil Nadu, which is one of the worst hit by the disaster.
 
Devanampattinam, in the coastal belt of the state, has been adopted by Project Hope, an organisation formed by Vivek Oberoi, along with Swami Chidanand Saraswati of Parmarth Niketan, Rishikesh, and his father and actor Suresh Oberoi, in cooperation with the local administration.
 
The organisation is working on reconstructing homes for the villagers. It is also trying to restore the emotional well being of the villagers, whose faith and hope have been shattered by the tragedy.
 
The organisation performed a tarpan pooja on January 10 for the departed souls to rest in peace. Villagers and community leaders of Devanampattinam participated in the pooja.
 
A special samudra pooja (worship of the ocean) was also performed to reinstil love, faith and reverence for the ocean among the villagers.
 
As a symbol of new life and new hope, and also for future protection from tsunami-like waves, many saplings were planted on the coastline, and may more will be planted. 
 
Swami Chidanand Saraswati and Vivek Oberoi with community leaders, priests and villagers of Devanampattinam during the uttar (tarpan) pooja.
Photo courtsey:  www.parmarth.com


What do you think about the story?








Read what others have to say:





Number of User Comments: 6








Sub: keep it up.. vivek..

hai vivek!! well done.. you have proved that you have got a great heart.. many celebs should follow you.. all the best.. kamal... ...


Posted by kamalakar









Sub: Hats Off

Hats Off VIVEK..they never forget you..kudos to you..


Posted by Subbu









Sub: where are the other millionaires

i think what vivek oberoi did really touched the hearts of the affected. I wonder where are the others who are earning in crores??? Instead ...


Posted by aparna









Sub: wish

Vivek Oberoi has proved he is just a great human being.


Posted by Prabha









Sub: Good Work

Good Work Done by Vivek Oberoi.God Bless him. He understood only the poor peoples watches any movies without them there is no Bollyhood.He is a ...


Posted by Louis James






Disclaimer