Home > News > PTI

50 dead, 700 missing in flash flood in Pak

February 11, 2005 11:19 IST
Last Updated: February 11, 2005 19:00 IST



At least 50 people have died and 700 are reported missing in a flash flood caused by the bursting of a dam in southwest Pakistan's Gwadar district.

The flood has washed away villages and many of those reported missing are feared dead or marooned, sources said.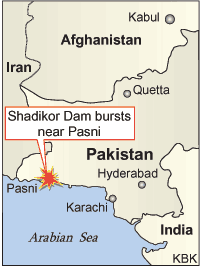 The Shadi Kor dam, near the coastal town of Pasni in Balochistan province, started overflowing on Thursday afternoon after a week of heavy rains. The people of the area informed the official concerned about the situation but before any steps could be taken the dam burst. The gushing waters reached Pasni town within hours.

"Half the Pasni tehsil's population (of 5,000) is now trapped in the floodwater. I have received information about the death of 26 people and some of the bodies have been recovered," local daily The News quoted Baluchistan Minister Syed Sher Jan Baloch as saying.

Some sources said that a Pasni-bound passenger bus carrying 45 people from Turbat was also missing. The bus could not reach its destination till late evening, official sources confirmed.

According to another report the two villages of Ormara township were also inundated due to heavy flood in Basol river while heavy rains also hit some other areas of the central Balochistan, including Awaran, Sibi, Bolan, Nushki and Hub area.

The army has been called in for rescue operations, Baloch said in the provincial capital Quetta.

The coastal highway linking Pasni with Karachi and Gwadar was also washed away at various places, while the Pasni airport had been closed for air traffic as runway had come under water, the Dawn reported. 

The provincial government has declared an emergency in the area. Pasni and many other coastal areas had been cut off by road and air from the rest of the country, the paper said. 

The power supply and telephone lines have been disrupted. The floodwater also entered the gird station of Pasni, damaging generators.

"Two villages, Sindhipuso and Turati, having a population of around 700, were completely submerged as they were close to the dam area," Baloch told Dawn.

The house of the minister was also washed away in the flood. However, the locals saved his family members.

"Half of the Pasni is under three to four feet water," Abdul Razaq, a local resident, was quoted as saying. People had climbed on to the rooftops of their houses to save their lives, he said.

The navy and the coast guard have launched relief operation in the affected areas, and are using helicopters to rescue people.


More reports from Pakistan
Read about: Indo-Pak Peace Talk | Coup in Pakistan


© Copyright 2005 PTI. All rights reserved. Republication or redistribution of PTI content, including by framing or similar means, is expressly prohibited without the prior written consent.






What do you think about the story?








Read what others have to say:





Number of User Comments: 1








Sub: Help them.

I have seen tsunami personally and iam lucky to be alive today.I was in Phuket island of Bangkok and i saw corpses everywhere.I cant hear ...


Posted by Rajeev






Disclaimer