Home > News > PTI

Police release Bangalore suspect's image

December 31, 2005 06:50 IST
Last Updated: December 31, 2005 17:35 IST

Bangalore on Friday grappled with an unseen and unknown enemy. The police put a face on him by releasing a computer generated identikit prepared from eyewitness accounts of Wednesday's terror attack. But that was about all.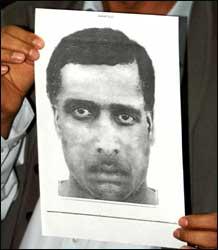 Two days after a gunman opened fire at the peaceful precincts of the Indian Institute of Science, killing one academic and injuring four, the sense of unreality was heightened by a bomb hoax.
The city, on the other hand, wore its usual festive look at this time of the year with streets glittering with the season's decorations and crowds thronging the shopping areas and malls, unperturbed by the notion of an enemy lurking in the shadows.
If there was any panic, it was among the police. They were under pressure from central security agencies. Their inability to unearth clues to Wednesday's attack has, in the agencies' eyes, exposed their unpreparedness.
The police sought to make up for this by going in for extensive security checks and frisking. They were out on the streets in large numbers to take no chances. Fewer cars because of many taking off on a long weekend and police alertness made movement much smoother in the city of traffic jams.
The city was put on high alert after an identical letter was received by a few media houses and the police, warning of bomb explosions around chief minister's official residence and a hotel nearby. But citizens went about their holiday shopping normally.
In fact, when Finance Minister P Chidambaram came to the city to attend a Bharatiya Vidya Bhavan lecture, security seemed minimal.
Indian Institute of Science Director Balaram told a press conference in Bangalore today he did not want the premier institute to be turned into a high-security zone because of the terrorist attack as its ambience would be lost if it was made an "armed fortress".
He favoured security - unobtrusive, modern and discreet. "I hope that will be possible." Asked if the intelligence bureau or the police had alerted the IISc about a possible terrorist strike, he replied in the negative.
Investigation into the firing is now being carried out with help from the Centre's Intelligence Bureau. They and the state police were sewing together pieces of evidence gathered and information provided by eyewitnesses on the incident, said Karnataka Director-General of Police BS Siyal.
Bangalore police has formed a special team headed by an Inspector General of Police rank to investigate the attack.
But threats are infectious and they make security agencies jittery. A bomb hoax in Mumbai led to the evacuation of an entire building on Ballarad Estate.
In Hyderabad, the venue of the glittering Pravasi Bharatiya Divas in January, the Andhra Pradesh government has sought more security.
Security in Guwahati has been stepped up for an international science conference at the Indian Institute of Technology next week. Lucknow institutes said they felt exposed. And Tamil Nadu was on high alert with security checks being conducted at major educational institutions and along the national highway from Karnataka.
If a psychological war was their objective, terrorists have achieved it in 2005.
© Copyright 2005 PTI. All rights reserved. Republication or redistribution of PTI content, including by framing or similar means, is expressly prohibited without the prior written consent.



What do you think about the story?








Read what others have to say:





Number of User Comments: 3








Sub: I am wondering why rediff has not displayed Suspect's Image

Rediff could have displayed Suspect's image.


Posted by ashwin









Sub: Bangalore terror suspect's image

Editor, You have a news item stating that the image of the Bangalore suspect has been released by the police. Can you not post the ...


Posted by Anand









Sub: Where is the Image on rediff?

Dear Editor Please put up such important pics on rediff. I wish all the horrible people involve in IISc terror attack are caught brought to ...


Posted by John Payso






Disclaimer