Home > News > First Look


US Vice Prez Cheney in Pakistan

December 20, 2005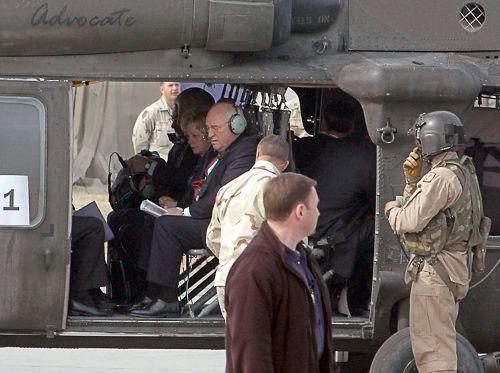 United States Vice President Dick Cheney, who is visiting Pakistan, on Tuesday met Pakistan President Pervez Musharraf and expressed grief over the loss of lives and destruction to property in the massive October 8 earthquake.
Cheney arrived in Islamabad early on Tuesday morning on the second leg of his five-nation tour that will also take him to Oman, Saudi Arabia and Egypt.
The US vice president, who represented Washington at the opening session of Afghanistan's Parliament on Monday, flew in to Islamabad from Kabul to assess quake relief efforts.
"I have come here to express sympathy and solidarity with those affected in the earthquake," Cheney said during his meeting with Musharraf.
Musharraf said Pakistan was successful in dealing with the challenge and thanked US for its help, PTV reported.
He said that American Chinook helicopters had 'made the relief operation possible'.
During the meeting, Musharraf and Cheney also reviewed important bilateral, regional and international issues.
(Cheney and his wife Lynne sit on a US helicopter as they leave for President's House upon their arrival at the military Chacklala Airbase in Rawalpindi.)
Photograph: STR/AFP/Getty Images


What do you think about the story?








Read what others have to say:





Number of User Comments: 3








Sub: One crook meets another!

All in the subject.


Posted by Rakesh









Sub: US Vice Prez in Pak

Hi US has always been using such sensitive moments for its own cause to reveal to the world that they are so caring during such ...


Posted by RNG









Sub: Investments.

World must invest in India.


Posted by Sachin Manchanda






Disclaimer