Advertisement
December 19, 2005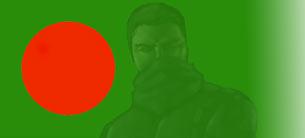 Increasing infiltration across the border. Terrorists sneaking into India. Regular skirmishes with men in uniform on the other side.
This is not Pakistan we are talking about. In recent times, another neighbour has swiftly emerged as a major security concern for India.
Rediff India Abroad Deputy Managing Editor Ramananda Sengupta visited Bangladesh recently looking for answers to the big question: Why is such trouble brewing on India's Eastern Front?
The first in a series of reports from Bangladesh:
'Government has accorded top priority to erection of a fence along the Indo-Bangladesh border to check infiltration, smuggling and all anti-India activities from across the border.'
-- President A P J Abdul Kalam, addressing a joint session of Parliament, February 25.
'We have specific information with us about the large-scale presence of the ISI and some terrorist organisations inside Bangladesh, which are sheltering and training Indian terrorists of various hues.'
-- Defence Minister Pranab Mukherjee at a press conference after inaugurating the Indian Army's strategic broadband satellite service network at Fort William, Kolkata, August 7.
Ever since its independence from Pakistan in December 1971, Bangladesh and India have been locked in a love-hate relationship.
The initial gratitude over India's assistance to the Mukti Bahini -- the guerrilla force which fought the Pakistan army -- quickly turned into distrust in Dhaka, particularly after Generals Zia-ur Rehman (1975 to 1981) and Hossain Mohammad Ershad (1982 to 1990) wooed the fundamentalist, anti-independence and pro-Pakistan lobby to retain their grip on power.
Chief among these pro-Pakistan organisations was the Jaamat-e-Islami, which is part of the four-party alliance currently in power. The ruling coalition is led by Bangladesh Nationalist Party Leader Khaleda Zia, Zia-ur Rehman's widow. The general was assassinated in 1981.
Till the late 1990s, India's main concerns with Bangladesh involved the massive illegal migration, which among other things radically changed the demography of neighbouring Indian states like Assam, and the fact that anti-government rebels in the northeast states found refuge on Bangladeshi soil.
Before Bangladesh's independence, Mizo and Naga rebels were trained and sheltered in the Chittagong Hill Tracts by the Pakistan army.
There were also violent spats over patches of the the 4,096-kilometre border, 180 km of which is marked by rivers that keep changing their course. Conflicting claims to ownership of the Muhurichar Island in South Tripura's Belonia subdivision led to clashes between the Indian Border Security Force and the Bangladesh Rifles in 1975, 1979 and 1985.
Dhaka consistently denies all charges of illegal migration and the presence of Indian rebels on its soil, and accuses India of playing hardball over water sharing and sheltering criminals wanted in Bangladesh.
Post 9/11 and the United States-led War on Terror, many fundamentalist outfits under the American scanner found Bangladesh an easy country to disappear in. The huge amount of foreign aid flowing into the country also made money laundering relatively easy.
Charities in Saudi Arabia and Pakistan known to have Al Qaeda [Images] connections are among the major donors to Bangladeshi non-governmental organisations, and a large chunk of that money is used to fund madrassas which spawn willing recruits to the jihadi cause.
In 2001, Khaleda Zia returned to power for the second time on an essentially anti-India platform -- her predecessor Hasina Wajed -- whose late father Sheikh Mujibur Rehman was independent Bangaldesh's first President -- and her Awami League were tagged as pro-India.
The presence of the pro-Pakistan Jaamat and Islami Oikya Jote in Khaldea Zia's government ensured that the Pakistan high commission in Dhaka became, in the words of one Indian diplomat, "an ISI den".
The nexus between Pakistani and Bangladeshi intelligence is hardly new. Several activists of the outlawed United Liberation Front of Asom arrested in India admitted that batches of ULFA cadres were flown to Pakistan from Dhaka for training by the ISI.
"The ISI started re-growing its roots in Dhaka during Khaleda's earlier stint, from 1991 to 1996," the Indian diplomat says. "But despite her being marked as pro-India, or perhaps because of it, Hasina Wajed is no worse. You must remember that the worst border clash between the two countries occurred in April 2001, barely two months before the election which brought down her government."
The rapid rise in fundamentalism in Bangladesh and its growing nexus with Pakistan's ISI has added to India's concerns over its eastern neighbour.
The crackdown on minorities by the ruling coalition's goons soon after it assumed power in 2001 led to a spike in migration to India, and officials note that these migrants comprised not just Hindus and Christians fleeing persecution, but also Muslim activists of the Opposition Awami League, who were being targeted by the ruling clique.
"God alone knows how many of these migrants are actually ISI agents," mutters one Indian official.
The leeway given to fundamentalists has already started to hurt the government in Dhaka, with judges and government officials being bombed by radicals who are demanding Muslim rule in the country.
Indian officials, while wary of being accused of interference in Bangladesh's internal politics, note that both the Jaamat and the Islami Oikya Jote have been virulently anti-Indian. The Jaamat, for instance, accuses India's external intelligence agency, the Research and Analysis Wing, of being behind the recent spate of blasts in Bangladesh, despite the Jamaatul Mujahideen Bangladesh, a radical outfit outlawed in early February, claiming responsibility for most of the terrorism.
The main jihadi groups active in Bangladesh are the Harkat-ul-Jehad-al-Islami, the Jagrata Muslim Janata Bangladesh and the Jama'atul Mujahideen Bangladesh. All three are known to have close ties with the Jamaat and Islami Oikya Jote.
"Why do you think activists of these supposedly outlawed outfits are released within days, if not hours of their arrest?" asks a taxi driver in Dhaka.
But if Indian officials are diffident about accusing Bangladesh of fomenting trouble, BSF Director General R S Mooshahary candidly told journalists in Delhi on November 30, that 'Bangladesh will soon pose a bigger problem than Pakistan.' According to him, the India-Bangladesh border is more difficult to man than the India-Pakistan border. 'At the Pakistan border, both the army and the BSF are deployed, whereas the India-Bangladesh border is manned solely by the BSF,' he pointed out.
Expressing concern over the continuing illegal migration into the northeast, Mooshahary said: 'I've sought the home ministry's permission to raise a women's battalion to deal with infiltrators, many of whom are women.'
Asked about the repeated provocative moves by the Bangladesh Rifles, including the killing of BSF officers like Assistant Commandant Jeevan Kumar earlier this year, Mooshahary angrily rebutted the charge that the BSF was a 'soft' force, saying it had to behave 'responsibly.'
'We cannot always work by eye-for-an-eye principle. They (the Bangladesh Rifles) will not repeat it (such murders). If they repeat, they know the consequences,' he warned.
India has presented concrete evidence about at least 172 terrorist camps being run in Bangladesh, and the presence of at least 307 'wanted people', including top ULFA leaders Paresh Baruah and Arvind Rajkhowa, in the country, he said. But 'Dhaka has denied their presence without verifying the details given to them.'
Next: Who are these extremists?
Design: Uday Kuckian
Rediff Specials