December 12, 2005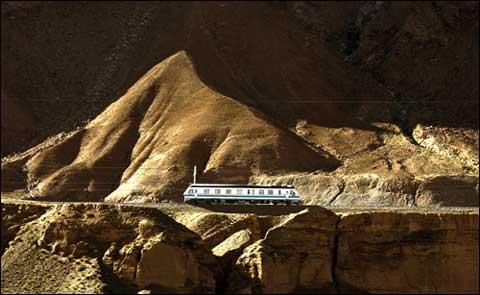 China will launch the first direct train from national capital Beijing [Images] to the remote Tibetan capital Lhasa on the world's highest rail route from July 1 2006, a railway official has said.
"Travelers can enjoy world-class tourist sites along the newly-built line during the 48-hour direct railway trip, including the Qinghai Lake," director of Transportation Bureau with China's Ministry of Railways, Zhang Shuguang, said.
The line will be operational at Beijing's West Railway Station, the official said, adding that key parts of the Qinghai-Tibet Railway had been completed on October 12.
Qinghai-Tibet section of the railway is the world's highest railway.
The official said 960 kilometres of the tracks were laid at 4,000 metres above sea level, with the highest parts reaching 5,072 metres.
The railway is still the world's longest plateau railroad that extends 1,956 kilometres from Qinghai's provincial capital Xining to Lhasa in Tibet [Images].
The Golmud-Lhasa section, which was completed on October 12, zigzags 1,142 kilometres across the Kunlun and Tanggula mountain ranges.
"The Beijing-Lhasa train will run at a speed of 160 kmph on the plain, but will slow down to 120 km when it reaches the Qinghai-Tibet section" Zhang said.
The trains running on the Qinghai-Tibet Railway are the most advanced ones in China. All the carriages of the trains are installed with oxygen-supplying equipments and every passenger will be provided with an oxygen mask.
"Passengers will not feel altitude reaction or sickness," he said.
In addition to Beijing, some other Chinese cities, including Shanghai, Guangzhou and Chengdu, will also launch direct railway passenger transportation to Lhasa as of July 1 next year.
The Chinese government decided to build the railway in 2001, allocating USD 3.1 billion.
Traffic has been one of the major obstacles to economic development of Tibet, which makes up about one-eighth of China's territory and was the only provincial area without a single inch of operating rail route.
A test train along the Qinghai-Tibet railway line near Kun Lun Shan (mountain) in China's northwest Qinhai province in September.
Photograph: Peter Parks/AFP/Getty Images