Home > News > Report

Cyclone Fanoos moves closer to Chennai

December 08, 2005 11:14 IST
Last Updated: December 08, 2005 22:09 IST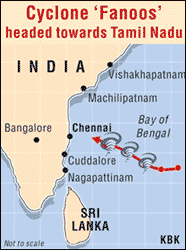 After the threat of Cyclone Baaz dissipated into a depression, another cyclone, Fanoos, is now posing a threat to Tamil Nadu.
It lay centred at about 600 km east-southeast of Chennai on Thursday, even as the Tamil Nadu government stayed fully geared.
The storm is likely to intensify further and move in a westerly direction, triggering fairly widespread rainfall with isolated heavy falls along Tamil Nadu, Pondicherry and South Andhra Pradesh coasts from Friday morning, the weather office said.
Strong winds with speed ranging between 60-70 km per hour are likely along and off the coast of the two states and the union territory, the sources said.
It said the sea will be rough and warned fishermen not to venture into the sea.
The sources said it will take at least two days to say when and where the cyclonic storm will cross the coast.
Meanwhile, Relief Commisioner R Santhanam told All India Radio that the state government had taken all precautionary measures to meet any eventuality in case Fanoos hit the coast.
He said district collectors along the coast were put on high alert and had been asked to identify places to be used as relief centres in case people were to be evacuated.
There was adequate stock of food grains, he said, adding that Public Works Department and Irrigation Department personnel had been asked to stock adequate sand bags to plug any breaches.
UNI


What do you think about the story?








Read what others have to say:





Number of User Comments: 1








Sub: Another weekend -> House arrest

it seems this weekend will again have to be close doors.time will tell...but if it had moved 250kms from its last location of 800kms from ...


Posted by Sudarshan.V






Disclaimer