Home > News > First Look


Wasim Akram bats for diabetes awareness

December 06, 2005



There are other things that former Pakistan cricket captain Wasim Akram can do with much élan apart from bowling deadly in-swingers.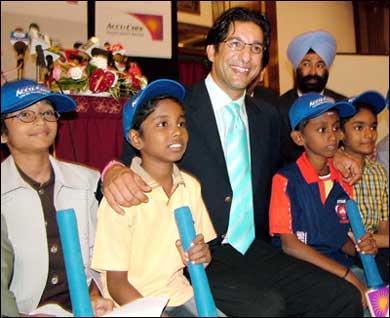 Speaking at the Accu-Check Inspiration Series' function organised by pharmaceutical company Roche in Chennai on Monday evening, Akram had a word or two to tell diabetics around the world.
Himself a diabetic, Akram asserted that diabetes could be kept in check and need not come in the way of leading a normal life.
Five children with diabetes, who had accomplished significant achievements despite restrictions, were felicitated and given the opportunity to interact with the all-rounder.
Describing diabetes as a "touchy subject", Akram advised the medical fraternity to be positive.
Akram also suggested launching of a vigorous information campaign, particularly among the economically backward and illiterates, about the symptoms of the disease and steps needed to keep it in check.
The former Pakistan player, who was diagnosed as a diabetic at the peak of his career but did not allow the condition to affect his performance, said he had proved that diabetes did not really make people tired. He also added that despite the shock of learning that he was a diabetic, he never had a bad experience.
In Picture: Former Pakistan cricketer Wasim Akram with diabetes afflicted children
Photo: UNI


What do you think about the story?








Read what others have to say:





Number of User Comments: 8








Sub: Akram for diabetes awareness

Wasim Akram is a gem of a person beyond doubt. Sharing his experiences with others is the nicest thing to do.His words will no doubt ...


Posted by Debjani Dasgupta









Sub: Wasim Akram

Wasim Akram has been a great bowler, an under achiever in batting in spite of a great potential, a natural leader both on and off ...


Posted by rajesh









Sub: diabettic awareness

My mother died of complications from diabetes way back in 1983.That time I [ then 47 yrs ]got investigated, was found to be pre-diabetic.Slowly I ...


Posted by Dr Nitin J. Mehta









Sub: Convinced

Sickness is in the head of an individual. If he decides that he can overcome it, he can simply be the best of health. But ...


Posted by Aazib Ansari









Sub: Diabities Awareness

I think it is awesome work done by Waseem Akram to create awarness amongst the common man with diabities. people tend to take diabities as ...


Posted by Raghavendra Rao






Disclaimer