Home > News > Capital Buzz

Virendra Kapoor | December 05, 2005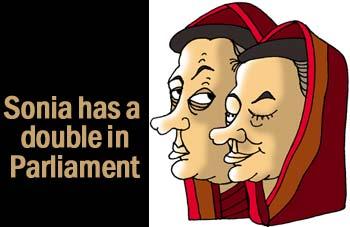 There is such a striking resemblance between Congress party president Sonia Gandhi and the nominated Anglo-Indian member of the Lok Sabha, Ingrid Mcleod, that very often even seasoned politicians are taken in, mistaking one for the other.
Hailing from Chhattisgarh, Mcleod was nominated at the instance of former state chief minister Ajit Jogi and she spends a lot of time in Parliament.
Given that she has the same height, same pale white skin, black hair, et al, Congressmen often joke that she could stand in for the party chief at public rallies if surrounded by a phalanx of Black Cat commandos.
The incorrigible Kunwar Natwar Singh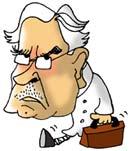 Whether or not he realises it, K Natwar Singh, now a minister without a portfolio, insults Sonia Gandhi's intelligence when he blames her advisers for having misled her regarding the Volcker report.
Still not reconciled to his removal as minister for external affairs, Natwar buttonholed one of the more articulate members of the Congress party in the Rajya Sabha on the day the Volcker matter was to be discussed in the House.
He pointedly accused the latter of having misled the Congress president into lending credence to the report. In fact, he went further, suggesting that the said MP had actually gone and conspired with Saddam Hussain's Foreign Minister Tariq Aziz to frame him in the oil-for-food scam.
Given Natwar's state, the Congress MP chose to ignore his senior colleague's innuendo.
If you believe the cerebral minister without a portfolio, not one but two parallel conspiracies did him in.
The first, apparently, was the US-led imperialist plot that resulted in the tainted findings of the Volcker report.
But the other conspiracy was supposedly hatched by his Congress colleagues led by Jairam Ramesh, Ambika Soni, Kapil Sibal and Pranab Mukherjee. The quartet had reportedly pressed for his removal as a minimum pre-requisite to quell the Opposition campaign.
Incidentally, when the adjournment motion on the Volcker affair came up for discussion in the Rajya Sabha, Natwar was seen making a quiet exit from the House.
Out of South Block, at last
Natwar Singh was a very reluctant quitter from the ministry of external affairs. Given his princely background and Oxbridge education, one would have assumed he would gracefully abandon the ministry once he ceased to be its head.
But he apparently sought to cling to his office and staff till a very miffed babudom complained to the prime minister who, in turn, directed the former minister to occupy the office once occupied by Jagdish Tytler till he was forced to resign as minister for overseas Indians.
As he had no official work to handle, it was assumed Natwar would need no office of his own, although a skeleton support staff was allocated to him.
But he was audacious enough to insist on occupying his old office in South Block and, once there, demanded to see MEA files and meet senior officials.
When the PM got wind of the uneasiness in the MEA due to the former minister's presence, he had it conveyed to him that he was no longer welcome there and that, henceforth, would have to occupy Tytler's room in Akbar Bhavan, Chanakyapuri.
Natwar had no option but to fall in line.
Uma Bharti: Her own worst enemy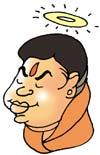 The fate of former Madhya Pradesh chief minister Uma Bharti was sealed the moment she hurled unprintable epithets at BJP General Secretary Sanjay Joshi and Madhya Pradesh RSS chief Suresh Soni.
That, coupled with her earlier angry epistle to RSS chief K S Sudarshan -- contents of which had duly found its way to the media -- were enough to ensure her marginalisation in the Sangh Parivar.
In her eagerness to reclaim her old post of CM, the saffron sanyasin created more enemies than friends.
She and Sushma Swaraj had not been the best of friends for several years now.
She had also rubbed the party general secretary Pramod Mahajan the wrong way sometime ago, speaking of his business linkages and five-star ways.
At the time of her damp squib of a Tiranga Yatra, she had also let loose a volley of angry invectives at then party chief M Venkiah Naidu.
As for L K Advani, some months ago, she had thrown a petulant fit, walking out of a meeting of the party's national executive in full glare of television cameras and earning a suspension notice for her pains.
Reckless impetuosity having become second nature to her, in recent weeks she pointedly targeted party General Secretary Arun Jaitley as well, accusing him of briefing the media against her.
It is significant that even Atal Bihari Vajpayee backed his colleagues against an errant Uma.
On top of it all, her record as chief minister was so disastrous that the party central leadership was worried that if she continued at the helm of affairs in Bhopal any longer, the BJP might soon forfeit all goodwill.
Even as CM, she had behaved in a most whimsical manner, according primacy to her dogs, nephews and brother, in that order, than to the urgent needs of good governance.
Even Togadia not with her
Lest the impression go around that Uma Bharti had the support of the Vishwa Hindu Parishad, its general secretary Praveen Togadia, took care to inform all and sundry that her Bhopal-to- Ayodhya yatra did not have the organisation's blessings.
On the day the BJP legislators elected Shivraj Singh Chauhan as Madhya Pradesh's new chief ministerl, an angry Bharti announced her protest padyatra.
Immediately, Togadia relied on modern technology to SMS senior BJP leaders and others, distancing the VHP from her agitation.
'Ayodhya movement is not a ticket to chief ministership', went his SMS campaign, though as an aside it might be mentioned that he himself had harboured ambitions of replacing Narendra Modi as chief minister of Gujarat.
Rangarajan as finance minister?
Prime Minister Manmohan Singh might not have undertaken the much-delayed reshuffle-cum-expansion of his ministerial team, but this has not prevented the political class from speculating on it taking place in the near future.
Now, with the near certain nomination of former RBI governor Dr C Rangarajan to the Rajya Sabha, there is renewed talk that he will soon replace P Chidambaram as finance minister.
According to this line of speculation, Chidambaram will be promoted as home minister in place of non-performer Shivraj Patil who may still be accommodated for his blind loyalty to Sonia Gandhi in the defence ministry.
In that case, Pranab Mukherjee moves to the Foreign Office to fill the vacancy caused by Natwar Singh's removal.
Illustrations: Uttam Ghosh
Capital Buzz