Home > News > First Look


This is Cyclone Baaz

December 02, 2005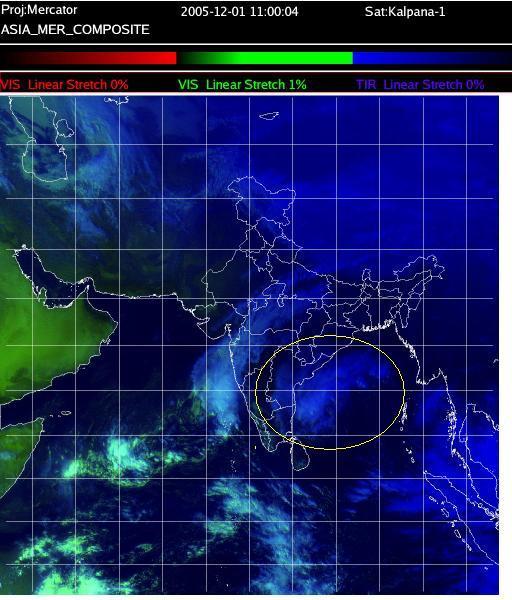 See the patch circled in the image?
That is Cyclone Baaz, captured in this infrared satellite image at 2300 IST (1230 EDT) Thursday.
On Thursday night, it lay stationary about 400 km south-southeast of Chennai.
It can cover those 400 kilometres in a matter of 12 hours and slam into the Andhra Pradesh-Tamil Nadu coast at 90 kmph.
Fishermen in 15 districts were warned not to venture into sea for the past two days.
Then there is the first Test between India-Sri Lanka. For a cricket-mad city like Chennai, a second washout in two weeks will be too much of a loss.
But Baaz seems to have a mind of its own. It has covered a mere 50 kilometres in the last 24 hours.
The Indian Meteorological Department, in its latest bulletin, has predicted that under the influence of Cyclone Baaz, fairly widespread rainfall with isolated heavy falls is likely over extreme north coastal Tamil Nadu and coastal Andhra Pradesh by the afternoon of December 2.
Also read: Rain threatens Chennai Test
Satellite image courtesy Indian Meteorological Department


What do you think about the story?








Read what others have to say:





Number of User Comments: 4








Sub: naming of cyclones

this is an all-American aping - let us treat cylones seriously - naming them doesn't do any good than saving people from them


Posted by RANGARAJAN A L









Sub: Re: Naming cyclones

We started naming cyclones very recently. Countries along the Bay of Bengal rim (India, Bangladesh, Burma, Sri Lanka) jointly came up with a list of ...


Posted by Bltzy









Sub: Cyclones naming.

Hey.!! what happened to the first letter 'A'.. And is the storm really a "baaz"..its very sluggish.. rather aptly it shud be named as kachua.!!! ...


Posted by Sridhar









Sub: Since when did we start naming Cyclones?

Since when did we start naming Cyclones?


Posted by khan






Disclaimer