Advertisement
August 25, 2005


What has amazed and gladdened me is this young man's love for our music. It has brought him here, far from his country, and that alone makes me happy. He is intelligent, has excellent diction, and grasps everything I tell him perfectly. Moreover, he is willing to work very hard, which is what I like about him.'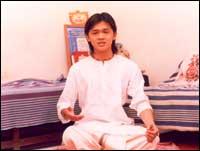 The person describing her disciple in such glowing terms is the legendary D K Pattammal, one of the greatest singers in Carnatic music. And the person at the receiving end of all that praise -- 22-year old Chong Chiu Sen is a young Chinese lad from Kuala Lumpur.
"He calls me Paatti (Grandmother)," says Pattammal, smiling, "and says he is my grandson. I also treat him as such. I admire his devotion to our music. Initially, he just followed what I taught him, but he now uses mano dharmamam (improvisation). I am sure he will improve with time. I want him to be a professional singer. He has my blessings."
Chong Chiu Sen no longer uses his given name. He is now Sai Madana Mohan Kumar, and introduces himself as such.
Thanks to his parents being staunch devotees of Satya [Images] Sai Baba, Mohan's association with music started at a young age.
Though he was familiar with Chinese religious songs, he was drawn towards Sanskrit bhajans.
"I don't know why," he says. "I was interested in Sanskrit and Tamil, not Chinese. Even as a child, many admonished me for not singing in Chinese, but I couldn't explain why I felt that way."
With the intention of improving his diction in Sanskrit, he tried basic Carnatic music lessons from Tamil teachers in Malaysia, but soon found them inadequate. In his search for 'pure' music, then, Chennai was where the answers lay.
Surprisingly, when he arrived in Chennai, Mohan ended up learning Bharata Natyam, though he knew it wasn't his reason for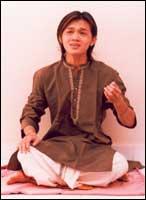 being in the city.
Dance could not quench his thirst for bhajans. Unfortunately, his search for a guru was disastrous, as every teacher he approached wanted a lot of money. Nobody understood that he was just a 19-year-old student from Malaysia.
"People assume all foreigners have lots of money," he says, thinking about those initial difficult days. "I came here only because of my love for music, with the little money I had saved doing odd jobs."
When it seemed as if going back to Malaysia was the only option, he glanced through the musicians' directory one last time.
The name that struck him was D K Pattammal's.
"I didn't know who she was. I was just fascinated by her name. I decided to call and she answered the phone. I found her deep voice attractive and told her why I wanted to meet her. She asked me to drop by."
Mohan realised this was no ordinary musician the minute he stepped into her drawing room. He was stunned to see the walls adorned with citations.
When Pattammal's husband discovered Mohan was a beginner, he asked him to meet somebody else. "I couldn't take the disappointment once again," says Mohan. "I was almost in tears. I think she felt sorry for me and asked her husband to let me sing. I assumed it was the last time I'd sing in Chennai. She was happy with my performance and agreed to try teaching me for three months."
That was two years ago.
Pattammal gave Mohan a new identity.
"I asked her, why Sai Madana Mohan Kumar? She said Sai was because I was a Sai devotee, while Madana Mohan was Lord Krishna's name. As for Kumar, she told me I was not just her disciple but her grandson as well. And all her sons and grandsons had Kumar in their names. From that day, even my parents call me Mohan!"
After a mere four months of learning, Mohan's guru planned an arangetram -- initiation performance -- for him. She asked well-known percussionists -- violinist Sriram Kumar and mridang player Manoj Siva -- to accompany him, and both agreed. Interestingly, as her health didn't allow her to sit at one place for hours, Pattammal asked Sriram Kumar to call her when the performance began, so she could listen to Mohan over the phone!
Mohan's musical journey has been anything but easy. He has to make regular visits to Malaysia to work and earn enough to support himself in Chennai.
What he cherishes most are his performances at temples, where everything he sings is decided by his beloved guru.
"She is my God, my life. She has taught me that music is divine and shouldn't be used to make money. Music connects you to God."
For the moment, Mohan as no future plans. "My guru plans everything for me. I plan to spend as much time as possible with her. She has not asked me for anything. Her only wish is that I become a respected performer in India. I have to try my best to accomplish that."
Photographs: Sreeram Selvaraj
Rediff Specials