Advertisement
August 22, 2005


Iran has long been a country of questions.

Questions it has inspired in those within and without its borders.

While America thrives in painting it as part of the axis of evil, its neighbours regard it as a stumbling block of sorts.

So, when 14 Indian women journalists were issued an invitation to the land once known as Persopolis, Managing Editor (National Affairs) Sheela Bhatt jumped at the chance.

This, the first in a series of features from that country, is her attempt at finding a few answers.


Please don't show your bust line."

That was the first warning issued by the tour coordinator to us, 14 New Delhi-based women journalists. The admonition came on July 15, 2005, little before we took off by Mahan Airlines on a direct flight to Tehran.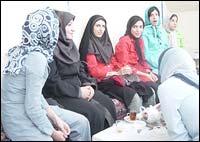 Just to drive the point home, pragmatic Indian diplomats in Tehran also gave us a dress code in writing. At a dinner hosted for us by the amenable His Excellency S L Yaghoubi, ambassador of Iran, his colleagues mildly put into words their idea of what we ought to wear in their country.
Trousers and tops were allowed, apparently, but the tops had to be full-sleeved. They also had to extend to one's knees. Another thing Iranian men preferred women wearing were sober colours, preferably design-free.
We were also told that Indian mobile SIM cards didn't work in Iran. No credit cards were valid there either. Thanks to economic sanctions imposed by America, dollar Travellers' Cheques were also useless. Thankfully, dollars printed after 1998 were accepted in bazaars.
To America, Iran is part of an axis of evil. It is argued that, in the quest to expand their area of influence east of Iraq, Americans find Iran 'a stumbling block' on the map of West Asia.
It is the spot to where the world's attention has shifted after the US invasion of Iraq. More so because, on August 3, newly elected conservative Mahmud Ahmadinejad took over as president -- a man so humble that he once described himself as the 'street sweeper of the nation.' The world isn't sure about how this inexperienced former mayor of Tehran will tackle Iran's hot nuclear issue that is currently generating paranoia in Israel and the US.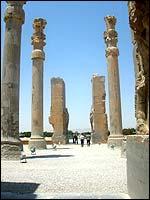 International diplomacy notwithstanding, Iran, for a lot of us, remains a mystifying part of our collective history.
For Indians, specifically, it personifies the great civilisation Persepolis, that 2,500-year-old majestic kingdom that was founded by Cyrus and blossomed under Darius the great, third king of the Achaemenid dynasty. It consisted of 28 nations and spread from the borders of India to present-day Greece.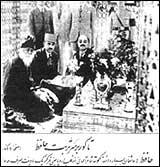 Iran conjures up reference to the Farsi language. In my college days, I remember coming across a booklet titled Farsi Words in the Gujarati Language. It also means the land of romanticism, home of the poet Hafiz, of architecture that influenced the Moghuls, amazing carpets and divine blue mosques. And yes, no Indian can afford to forget that the Taj Mahal [Images] was designed by Iranian architect Istad Usa, the grand, graceful climax to an era of Indo-Persian architecture.
Iran is also the birthplace of our beloved Parsis who, centuries on, continue to believe in Ahuramazda. Iran is the place where a dim ray of Zoroastrianism still shines strong.
Over the last century, for Mumbaikars, Iran also means fast-diminishing Irani restaurants that once occupied the best corners of their city's landscape. And then, there's its gift of language. Mushkeele (difficulties), mehrbani (good wishes, thanks), khushi (pleasure, joy), zabardast (terrific, huge), mohabbat (love), pyar (affection) and hundreds of such melodious, velvety words are the gift of Aryans from Persia to India's vocabulary.
Imagine what our lives would be without pyar-mohabbat!
Photographs: Devirupa Mitra and Ipshita Banerji
The picture of Tagore at Hafiz's tomb: courtsey Director of Hafiz's study centre, Iran.
Rediff Specials