Advertisement
August 13, 2005 00:12 IST
Last Updated: August 13, 2005 02:22 IST


Sri Lanka's [Images] foreign minister, an ethnic Tamil who opposed rebels seeking a separatist state for the minority, was shot dead Friday as he was returning home after a swim.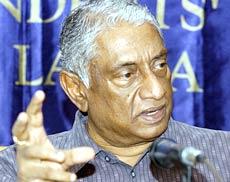 Foreign Minister Lakshman Kadirgamar, 73, who was a close presidential aide, died after being taken to a hospital for emergency surgery after being shot in the head, Inspector General of Police Chandra Fernando said.

President Chandrika Kumaratunga had rushed to the hospital after the shooting and the military closed the road leading to the facility.

Fernando said the foreign minister was returning to his home in the diplomatic district of the capital after a swim when he was shot.

Nobody claimed responsibility for the shooting, which comes amid growing tensions between the government and the Liberation Tigers of Tamil Eelam rebels and a surge in violence in the volatile eastern region that has sometimes spilled into the capital.

Kumaratunga was gravely wounded in an assassination attempt in 1999, and police blamed Tamil rebels for the attack, which killed 26 other people.

The Tamil Tigers began fighting in 1983 for a separate homeland for minority ethnic Tamils in the country's north and east, claiming discrimination by the majority Singhalese. The conflict killed nearly 65,000 people before the February 2002 cease-fire.

Post-truce peace talks have been stalled since 2003 over rebel demands for wide autonomy.

Kadirgamar, a Tamil Christian, led an international campaign to ban the Tigers as a terrorist organisation. The rebels remain on terrorist lists in five countries.

He was appointed foreign minister in April 2004. He previously held the position from 1994 to 2001.

Photograph: Sena Vidanagama/AFP/Getty Images



Copyright © 2006 The Associated Press. All rights reserved. The information contained in the AP News report may not be published, broadcast, rewritten or redistributed without the prior written authority of The Associated Press.