Advertisement
August 11, 2005


Former Deputy National Security Adviser Satish Chandra believes the recently concluded nuclear deal between India and the US is dangerous for India's national security, because it exposes India's nuclear weapons programme to external interference.

In the second part of the interview to Senior Editor Sheela Bhatt, Chandra explains why separating India's civilian and military nuclear facilities will adversely impact its weapons programme, which needs to be flexible to adapt to changing circumstances.

Part I of the interview: 'The US has not fully delivered'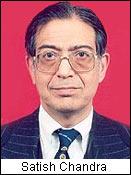 How will separating the civilian and military nuclear facilities affect India?
So far our nuclear establishment has worked as one entity. There is considerable synergy, particularly on the research side. Now we will have to segregate our manpower along with buildings.
This means someone who goes to the civilian side will have to live and die there. People working on the weapons programme will not be able to move to the civilian side. Any kind of partition or divorce is a painful process for the institution. Our civilian facilities have the capacity to produce fuel for the military purposes. You are closing that option and capping it. Is it a wise step?
N-deal: India, US need quick progress
But India has the option to keep the military facilities out of bounds of inspection.
Suppose you have 10 facilities operative now. India will say now that five of them are for civilian purposes. From those five you can't produce any fissile material which can be used for military purposes. In effect you are diminishing your capability and avenues of gaining crucial material.
By voluntary closure we are reducing our options to five. Today the great advantage India had was that we operated under opacity. The world doesn't know how many bombs India has.
The moment you cut off the connection between civilian and military facilities outsiders will be able to calculate our stock. Not only that, you are going to have inspectors who will be highly intrusive.
India has also agreed to Additional Protocols. Under that arrangement inspectors will visit not only the declared properties but also associated facilities. In the process we are exposing ourselves.
Since we are a new Nuclear Weapons State, we need to have opacity over our programmes. If we follow the Joint Statement, we will be immediately declaring to the world how much is our nuclear deterrent. We are in early stage of the game, so it is unwise to impose restrictions on ourselves.
But India needs the nuclear fuel and more energy.
There is a view that there is a shortage of fuel for the Tarapur reactor. This argument is not tenable at all. Nuclear energy today provides just 3 per cent of energy that you need. This 3 per cent can be easily made up by other ways if you can't get the fuel.
We have fuel in India. We have mines in the Northeast and Andhra Pradesh. More important, if national security is uppermost then no consideration should prevent us from using those mines. I am not at all convinced that the deal that we have got is really a good deal.
If the government shows muscle in Gurgaon, better it shows some muscle for issues of national security. Even if we can't get fuel from our mines for some reason, you need to put just one more hydro-electric power plant to substitute the current level of 3 per cent supply of nuclear energy.
I think there are no compulsions on us to rush in. We should have waited till we were sure about the levels we wish to arrive at in terms of materials needed for nuclear weapons. And we should not have entered into this kind of game.
I am not like the Communists who don't want any cooperation with US. Plus side of this visit has been that India has explored many areas of cooperation. It's very essential for India to have co-operation with US but certainly not in area which impinges directly and adversely affect our national security as this particular deal has done on the nuclear issue.
Part III: 'US wants to cap India's nuclear programme'