Advertisement
April 19, 2005 21:44 IST
Last Updated: April 19, 2005 23:18 IST


Cardinal Joseph Ratzinger of Germany [Images] was on Tuesday elected the Pope.

Cardinal Jorge Medina Estevez of Chile announced the name of the 265th pope, who will be known as Benedict the XVI.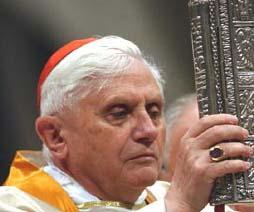 Ratzinger appeared on the balcony of the Vatican palace to greet the public.
The Pope was elected on the second day of the conclave, in which 115 cardinals took part.
White smoke billowed from the chimney of the Sistine Chapel to indicate that a new Pope has been elected.
The ringing of the bell accompanied the announcement.
A German has been elected a Pope after almost a century.
Ratzinger was chosen on the fourth ballot held by the 115 cardinals meeting to select a successor to Pope John Paul II.
Addressing the faithfuls after being elected the Pope, Ratzinger said, "Dear brothers and sisters, after the great Pope John Paul II, the cardinals have elected me, a simple, humble worker in the vineyard of the Lord. The fact that the Lord can work and act even with insufficient means consoles me, and above all I entrust myself to your prayers."
Ratzinger, born on April 16, 1927, was ordained on June 29, 1951. He is known as 'the Pope's enforcer' due to his uncompromising conservatism and he is expected to advocate the policies of John Paul II, who died on April 2.
He has been associated with the Vatican for 20 years. Ratzinger was one of the few members of John Paul II's inner circle.
Ratzinger was head of the Congregation for the Doctrine of the Faith, the church's chief think-tank that has dominated discussions on sexual morality and birth control and prevented liberals from gaining ground.
Also read:
External Link: List of previous Popes
AGENCIES