Home > News > Capital Buzz

Virendra Kapoor | September 06, 2004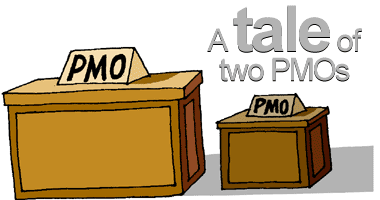 The prime minister's office must necessarily reflect the personality of its boss. Since the incumbent, Manmohan Singh, is the low-key type, the PMO is no longer an overbearing superstructure enforcing its writ on various departments.
Like the prime minister, the PMO too minds its business now, leaving everyone else in government well alone to perform their assigned tasks without undue interference. Gone are the days when the PMO used to influence all major decisions and invariably have its own axe to grind in all big deals involving various ministries.
Given Singh's unimpeachable financial integrity, the PMO neither influences key appointments and transfers -- no, not even in the financial sector -- nor does it undertake to pull irons out of the fire for various businessmen and industrialists.
The reason for this overnight transformation in the PMO's character is, obviously, the change of personnel. Manmohan Singh is not a political animal the way his predecessor, Atal Bihari Vajpayee, was. Singh has no political turf of his own to defend. Nor a formidable rival centre of power within the government to contend with as Vajpayee had in his deputy, L K Advani. Singh does not engage himself in political management the way Vajpayee was obliged to because a. he is not very good at it, and b. the Sonia Gandhi-led Congress and key Congress ministers in government think they are better equipped to handle the rough and tumble of politics.
Too much of a good thing?
Constitutional pundits and Westminster purists might welcome the diminution in the role and power of the PMO, which owes its rise to distortions in governance wrought in the Indira Gandhi years, but there is a downside to this downsizing.
Given the sharp decline in the quality of ministers, a firm hand guiding the functioning of the various departments alone can keep them away from mischief. That aside, the role of government having vastly expanded over the years, a benign but hands-on PMO may well be necessary.
But if Singh is no Vajpayee, his principal secretary, T K A Nair, is no Brajesh Mishra either. Mishra played a major role in shaping foreign policy. He single-handedly crafted Vajpayee's foreign policy initiatives, including those relating to our neighbours. As national security adviser, he was also the strategic affairs czar of the Vajpayee government.
Nair, on the other hand, has little or no role to play in strategic affairs, those functions having been forked out to former Intelligence Bureau chief M K Narayanan and former foreign secretary J N 'Mani' Dixit. As for determining the direction of foreign policy, External Affairs Minister K Natwar Singh is most zealous in protecting his turf unlike his predecessors Jaswant Singh and Yashwant Sinha. Overall, in the present dispensation authority is rather diffused with too many centres of power, some within government, others outside.
The prime minister behaving as the 'first among equals' instead of sole arbiter would not have been such a bad thing but for the fact that a self-effacing approach may convey the impression of a weak, rudderless government. A show of firmness is seen as a sign of good governance, especially in developing countries.
Paradoxically, though Singh puts in far more hours at his desk than his predecessor, it was the Vajpayee PMO that had far too much on its plate. The only department in which the Vajpayee-Mishra team did not interfere was home. Neither does Singh, though Union Home Minister Shivraj Patil is not so sure-footed as not to consult him every now and then.
Lalu concerned about alu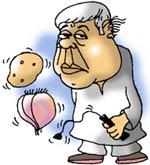 The so-called tainted ministers may have become a thorn in Manmohan Singh's side, but in Cabinet meetings they do not cause much trouble for the prime minister.
For the most part, Railway Minister Laloo Prasad Yadav, spearhead of the 'tainted' lot, keeps to himself, hardly offering a word on issues that do not concern him directly.
But when he does, he evokes laughter or a collective shrug of the shoulders from the more sensible lot. Rare is the occasion when Yadav's inputs on serious matters of governance are, well, taken seriously.
An illustrative case was the recent Cabinet discussion on inflation in the backdrop of the threat of a truckers' strike. After Finance Minister P Chidambaram summed up the situation, that the prices of tomatoes, potatoes, onions, and all vegetables and fruits in general had begun to move up, the railway minister offered his advice.
"Dekhiye," he told his colleagues, "tomato aur fruit bagera badhta hain to koi baat nahin. Hum ko alu aur payaz ka bhav rokna chahiye. Yeh to garib aadmi khata hai na! [It does not matter if the prices of tomatoes and fruits go up. We should ensure that onion and potato prices do not rise because these constitute the staple diet of the poor.]
Now, if only he could provide some enlightenment on how to insulate the prices of onions and potatoes from the general rise in prices of all fruits and vegetables.
The time-keeper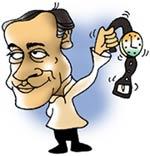 Former Mumbai Congress boss Murli Deora, now a member of the Rajya Sabha, can justifiably lay claim to being the official time-keeper of the All-India Congress Committee.
Deora, who surpassed the late S K Patil's record by heading the Mumbai Congress for nearly two decades, unfailingly contributes his bit by distributing wristwatches bearing photographs of serving Congress bosses on the dial to AICC delegates.
At the 1985 centenary celebration of the Congress in Mumbai, he came up with HMT watches bearing the likenesses of both Indira and Rajiv Gandhi on the dial. Another watch at the same do featured Mahatma Gandhi, Nehru, and, of course, Indira Gandhi.
When Sonia Gandhi took over the Congress, Deora lost no time in coming up with watches bearing her visage.
At the recent AICC meet in Delhi, he followed it up by distributing a couple of hundred watches to assembled delegates with Sonia peering benignly from behind their arms.
Maybe in time son Milind Deora, now a member of the Lok Sabha from his father's old parliamentary constituency South Mumbai, will inherit the penchant for supplying watches to Congressmen.
Incidentally, upon becoming vice-president of the International Committee of the Red Cross, Deora Sr had an elegant watch
crafted bearing the world-renowned symbol of the organisation for raising funds, and persuaded a well-known foreign airline to market it aboard all its flights at $15 apiece.
A VIP quack
The law may have at last caught up with a quack of Rishikesh, now in Uttaranchal, but the officials and politicians who wittingly or unwittingly helped him run his racket for more than two decades will most likely go scot free.
The quck, who claimed to be the highest taxpayer in Uttar Pradesh, and whose wealth is variously estimated at Rs 150 crore to Rs 300 crore, is now cooling his heels in an Uttaranchal jail for having supplied banned psychotropic substances as healers to tens of thousands of desperate, gullible patients from all over the world.
Everyone who had helped him run his fraudulent operation may wash his hands off him, but the truth is that the 'doctor' ruled the roost for a long time, enjoying VIP perks like state security and the ultimate status symbol -- a red light and siren atop all his swanky cars.
How he could get all this without the complicity of politicians and officials is a question no one will care to answer now.
On the contrary, glib explanations are being offered as to how he managed to get himself photographed along with at least two heads of the Republic and a prime minister and display the three photographs prominently in his clinic to impress the gullible lot who visited him for the 'miracle drug' from far and wide.
Illustrations: Uttam Ghosh
Capital Buzz


What do you think about the story?








Read what others have to say:





Number of User Comments: 2








Sub: It would have been welcome if . . .

The downsizing of the PMO would have been welcome if the power was distributed rather than concentrated elsewhere in an unconstitutional, undeserving person(Sonia Gandhi)


Posted by T V S Sarma









Sub: A tale of two PMOs!

Of course this is an interesting scenario. It reminds me of a joke I had heard many many years ago about a local district commissioner ...


Posted by Ramesh Kapoor






Disclaimer