Home > News > Interview

The Rediff Interview/K Vijayakumar

October 21, 2004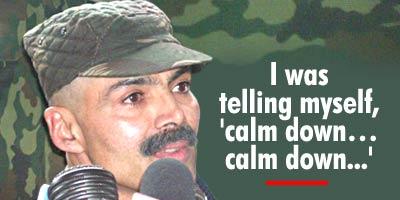 Till Monday, Walter Dawaram was Tamil Nadu's 'super cop.' Now K Vijayakumar, the man who once assisted Dawaram in the hunt for Veerappan appears to have taken that mantle.
With his success in ending Veerappan's reign of terror, 51-year-old Vijayakumar has become a national hero.
Born on September 15, 1953 to Kausalya and Krishnan Nair, who worked with the Tamil Nadu police, Vijayakumar spent his early years in Thanjavur. He is the second child in a family of six.
The police uniform always fascinated him and he chose the Indian Police Service over the Indian Administrative Service. After joining the IPS in 1975, he served in the Special Protection Group when Rajiv Gandhi was prime minister.
He assisted Dawaram for a short period in the nineties in the hunt for Veerappan. After briefly heading the Special Task Force he served as Chennai's police commissioner.
As the no-nonsense police commissioner, he killed quite a few goondas which did not go down well with members of a particular community, and caused a lot of controversy. Jayalalitha once again sent him back as chief of the STF. The rest, as you all know, is history.
After hours of relentless effort Special Contributing Correspondent Shobha Warrier finally spoke to Vijayakumar on his way to his temporary home in Dharmapuri. He spoke to rediff.com over the phone from his vehicle, two days after Veerappan was shot dead.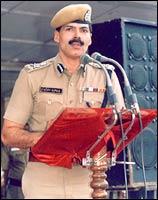 What was the first thought that came to your mind after Veerappan was shot?
The first thought was to dispatch the injured persons to the hospital. I was almost sure they may not survive because the injuries were critical. At that moment, I thought I should somehow reach them to a hospital. Yes, I was feeling very happy as my job was over. But along with that came the thought, 'what next'?
Just before that, I thanked providence because none of our boys were seriously injured in the incident. We had to organise ourselves very, very rapidly and the causalties might have been more but nothing of that sort happened. So, I have to thank God for what happened.
When did you start feeling relieved and happy about your success?
It took some time for me to feel relieved because things were happening very fast, and I was very busy for the last 36 hours. Now, I feel a little bit relieved, and have started relishing the moment at last.
You were extremely busy yesterday. How did today go, a day after the accomplishment of the mission?
Today was also very busy with the DGP visiting us in the camp. Today was the day we reflected with our men. There was jubilation and good feeling in the camp. Everybody was feeling a sense of relief.
Do you consider the capture of Veerappan as the biggest achievement in your career as a police officer?
Yes, in a way, because he was a very badly wanted person for several decades. That's why I would say yes (it is the biggest achievement of my career).
You assisted Walter Dawaram when he was the Head of STF in the nineties.
Exactly.
At that time, the mission did not end in success although Dawaram could reduce the gang to a handful. How different was this operation from what Dawaram did then?
That was a different phase of the operation. I was actually with Walter Dawaram for only one month during the 1993-1996 period, as I was the DIG-in-charge of the CM's security then. So, I had to go back after a month.
But I would say the time I spent with Dawaram was very memorable and eventful. We walked through some landmines but somehow, they did not explode. We survived. It was not very publicised then. Except for one or two encounters, the period I was with him was not very eventful. But working with him was wonderful. He was a good leader and an excellent man when it came to backing one up and boosting one's morale. I picked up a lot of things from him in the early part of my career.
Which were useful this time?
Very much, very much.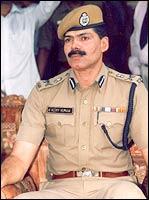 When you were appointed the chief of the STF this time, did you meet him and take any advice from him?
No,no. I was with him earlier, so there was no need to take any further advice. But I was in contact with him. But this time, my emphasis was totally on intelligence, and not merely on operation. Our operation was based mainly on intelligence. So, we had a deployment of the force everywhere, and thus we exploited every possible contact. I tried to apply a combination of technological intelligence and human intelligence. This combination was very useful.
You told the press conference on Tuesday that for about ten months you had planned everything well in advance. How exactly did you plan the operation?
We were able to plan many things in advance, depending on the kind of information that was trickling in. But finally, when the operation evolves, it is not according to our plan, it is according to the enemy's plans. So, our success depends on how much information we are able to gather of the enemy's plans and how much of the enemy's ideas we can put our hands on.
But in this operation, we had certain advantages. Only thing was, we didn't know the exact date. We knew it was going to be this week. That much information was pinpointed, and we were aware of the time but not the date. Suddenly, instead of Wednesday or Friday, they advanced the date to Monday. So, we had to make arrangements fast. That's why I said the entire deployment was very rapid.
This man was the most wanted criminal for many decades, and finally, when you saw him near you, what was in your mind?
One thing I did was, I promised myself I would not get excited. I kept myself very calm because I knew if I was excited, I would make mistakes. Like everybody in the group, I also wanted to get him very badly. But then this kind of hype and anxiety can affect your performance. So, I was telling myself, 'calm down… calm down...' I also told my boys the same thing.
Finally, the vehicle arrived, and these two people, our own people came out of the vehicle and then, we started our work.
What helped you to remain cool in such tense circumstances? Do you meditate or practice yoga?
I do little bit of yoga but not much daily meditation. My meditation is praying. So, it is more prayers than anything else. But I do yoga every day for about 30 minutes. I also do physical exercises like jogging which help me keep fit. I also read a lot, and I prefer non-fiction like international relations. That makes me sufficiently diverted from this kind of excitement.
Immediately after your success in the mission, you went to the Bannari Amman temple and tonsured your head. Did you take a vow that you would tonsure your head?
Yes. It was an old vow that I had taken. We were coming and going out unsuccessfully for several years. I came here for the first time in 1994, and the second time I came here was in 2001 for six months. This time, I prayed at the temple for the success of our mission. I took a vow that I would tonsure my head immediately after his capture.
I also took a vow that I would take a long walk from the Bannari temple to the Hanuman temple at Nunganallur in Chennai.
When will you start walking?
I will do that only after the chief minister's function on October 27. On the morning of the 28th, I will start from the Bannari temple.
Why did you take such a vow?
Why did I take such a vow? Because it was a mission incomplete for a long time, and I have been coming again and again. I didn't want a situation where I have to go and come back again. I wanted this to be my third and final visit as far as the job is concerned. I wanted the completion of the job, that's' all.
Your wife came to Dharmapuri to be with you two days before the mission. Was it to give you moral support?
Definitely. She had total faith in me. Somehow, she had a hunch that things would be developing shortly. So, she came to be with me to give me support.
How much moral support can a person, in your case your wife, give especially to someone who is always facing these kind of challenges?
Persons like us are publicly exposed all the time and leading people where we are supposed to give morale to others and where we are very lonely. But then we have our private moments, and we draw our morale from different modes and prayers. And then, you should have one or two persons to talk to, persons who understand you. And, the house is the ultimate place, and my wife is very strong that way.
Was it these kind of challenges that attracted you to the police force?
I like the police force by instinct but not only me, most children during their adolescent days, have a fascination for the uniform, whether it is the police or the army or navy. My fascination was a little more than that. I stuck on to it and I had a chance to go to the administrative service which I turned down and opted for the police service, the IPS.
So, both the attraction of the uniform and the kind of challenges the service offers played a part in me joining the police force.
Vijayakumar after he tonsured his head: Photograph by Sanjay | Vijayakumar as he was before Monday, October 18, 2004: Photographs by Sreeram Selvaraj

Image: Uday Kuckian
The Rediff Interviews


What do you think about the story?








Read what others have to say:





Number of User Comments: 63








Sub: vijaykumar

one of the bravest indians is vijaykumar


Posted by satyawadi k









Sub: Late Veerappans capture.

Hat-off to Shri Vijayakaumar and ofcourse the efforts taken by Cheif Minister Jayalalith. Veerappans has rose up because of the short corner of the ex ...


Posted by R.Raman.









Sub: Men with Brave ideas will also be bold.

Your interview was good and Mr Vijay Kumar definately is the national Hero. There are people who plan and fail to give final touches, but ...


Posted by JAYATHIRTH









Sub: Vijay kumar''s interview

Really, the interview is very interesting &exciting.It's also timely. Such type of in-depth stories do really cater to the needs of the readers.


Posted by prabhukalyan mohapatra









Sub: Vijaya Kumar Interview

To catch Vijay Kumar, so soon & extract this 'succinct' Interview goes to the alacrity of your correspondent. Kudos to him & other members of ...


Posted by TKS Dorai






Disclaimer