Home > News > Columnists > Ramananda Sengupta

October 14, 2004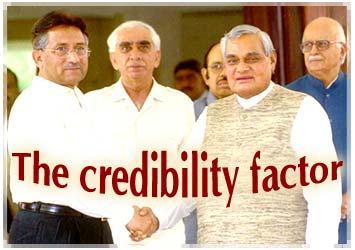 It seems like only yesterday that Pakistan's army chief deposed prime minister Nawaz Sharif and declared himself the lord emperor of Pakistan.
But lo and behold, five years have passed, during which General Pervez Musharraf has not only survived, but brought a recalcitrant nation to heel. In many ways, one cannot help but admire the man's chutzpah. Luck, as they say, favours the brave.
Slide show: Five years of Musharraf
No one doubts the canny commando's survival instinct, his ability to play off rival forces to strengthen his own position.
No one doubts his uncanny ability to think one step ahead of the opposition.
What one can doubt, however, is his credibility.
Take the way he made a u-turn on the Taliban, turning against his former cronies when he realised they were going under.
Take the way he pledged to eradicate terrorism from the face of the country, but wooed them when it came to the elections, which saw the fundamentalists emerge as the third largest force in parliament. (No, all fundamentalists are not terrorists. But all terrorists are certainly fundamentalists. And that includes those who trade terror for money or power, not necessarily religion.)  
Here is someone who wants us to believe that the Pakistan government had no clue about the nuclear peddling being indulged in by its top scientist, A Q Khan.  
Look at the way he ditched his coup buddies once they were no longer useful to him. Look at the way he lied to the world about Daniel Pearl, saying he suspected the abducted Wall Street Journal reporter was still alive when he obviously knew otherwise. 
Complete coverage: The Daniel Pearl murder case
Take the way he has lied to the nation time and again about hanging up his uniform. 
But then everyone knows that politicians and credibility don't move in the same social circuit, and meet only by accident.
And a politician is what the good general has become, much in tradition, though to the loss, of the Pakistan army. But then again, the Pakistan army and politics are inseparable. One cannot survive without the other.
My old landlord in New Delhi was a victim of Partition. He hated Pakistan with every breath, and nothing could ever shake his belief that all Pakistanis had evil intentions towards India. Nothing.
Musharraf, though younger, was also a victim of Partition. Not only that 'he saw action in the 1965 war as a young officer in the Khem Karan, Lahore and Sialkot sectors with a self propelled artillery regiment,' says his biography.
Pakistan lost that war.
(Though if you would prefer to believe Musharraf's address to the nation on August 6, the 38th Pakistan Defence Day, which remembers the martyrs of that war, 'it was on this day in 1965, when the nation and armed forces in an unparalleled show of unity, faith and discipline thwarted the nefarious designs of the enemy.')
After receiving a mention for his bravery in the 1965 war, 'he was selected to serve in the elite Special Services Group  'Commandos' and participated in the 1971 war as a company commander in a commando battalion,' says Musharraf's official CV. While his unit's exact functions still remain a secret, it is believed he saw action around Dacca or in the Chittagong Hill Tracts.
Pakistan lost that war, and a huge chunk of its country.
This is the man who plotted the Kargil intrusion, which if it had not been detected by accident, would have exposed a huge stretch of the Srinagar-Leh highway to Pakistani artillery, thus disrupting a vital supply line.
But then prime minister Nawaz Sharif was read the riot act by US President Bill Clinton, and was literally forced to order a withdrawal from the area. 
Pakistan, and Musharraf, lost again.
It was probably then that the good general decided that the only way he could actually do something about the pesky Indians was if he had absolute control, and did not have to bow and scrape before a civilian, no matter how large his mandate. Sharif had to go.
This is the man we are doing business with.
No, I am not suggesting for a minute that we don't do business with him. Far from it. 
But it important to understand where the man is coming from if we hope to get any results from the peace parleys now underway. 
Over the years, while India has been more than willing to accept the LoC as the international border despite strenuous domestic assertions to the contrary, Pakistan has been insisting on something called LoC Plus. Though there are many variations of what this 'plus' preciesly means, it finally boils down to one thing: they want the Kashmir valley.
But what do we get in return? A pledge to stop terrorism? A promise to cease and desist from attacking India whenever and wherever possible? Or are we just supposed to concede territory and hope for international acclaim for our large-heartedness?
No doubt, Musharraf has been encouraged by India's inability to react with force.
As a Pakistani military official once asked me, what purpose did the massing of troops on the border serve if India was not willing to back it up with the will to fight? Yes, it put tremendous strain on Pakistan forces and the economy. If the mobilisation has been sustained for an indefinite period, it might even have led to serious economic and political fissures within Pakistan.
The attack on Parliament: Complete Coverage
Instead of waiting for such a fallout, we meekly withdrew, and once again extended the hand of friendship. Whether or not this was made due to Vajpayee's desire to go down in history as a peacemaker or intense American pressure is irrelevant here.
Even during Kargil, instead of taking the battle to the enemy's territory, we played a defensive game.
The message going out? India is too scared to move into Pakistani terrain, while Pakistan has no such fears. This may or may not be true, but it's an easy message to sell.
Then came the 'historic' SAARC summit. Conceding that Musharraf had to show something to his people if he wanted support for his peace moves, India allowed Kashmir to be part of the agenda for discussions.
But what exactly are we supposed to discuss about Kashmir? Rumours about India being willing to adjust the LoC eastwards tend to confuse the issue further. Because Kashmir is not just about the LoC.
While Pakistan accuses India of trying to sideline the Kashmir issue, India insists that people-to-people contact must be a prelude to any meaningful discussion. So the talks go on, ad infinitum. While the killings continue unabated in the valley.
Here is a man who has been humiliated thrice in war by India. What has happened over the past five years to make him willing to forgive and forget?
Photograph: Sondeep Shankar/Saab Press
Image: Uday Kuckian
Ramananda Sengupta


What do you think about the story?








Read what others have to say:





Number of User Comments: 4








Sub: Nail on the head – "The credibility factor" !

There is more than reason to suspect Pak President's overtures. Quite spontaneous, owing to his sudden change of posture on many counts, greatest of them ...


Posted by Vinod Sailes









Sub: Are you kidding us?

Musharraf's credibility? - A big zero. Can't you measure his intentions in Kargil? He is being a good boy because of US' sword hanging on ...


Posted by cheez_m









Sub: Let's first appreciate Mushraff

Sir, I have been reading these various articles where information is given on Terrorism in and by pakistan. But what is happening to our politicians? ...


Posted by Prakash









Sub: not going to war was good

I think both the mobilisation and not going to war were correct actions. War should be the last resort, overwhelming any objectives. Mobilisation was neccessary ...


Posted by Ananth Bhat






Disclaimer