Home > News > PTI

George Bush is US president again

November 03, 2004 22:03 IST
Last Updated: November 04, 2004 01:20 IST



President George W Bush on Wednesday won another four-year term in the White House as his Democratic rival John Kerry conceded defeat in one of the most bitterly fought US presidential elections.

The US Election: The Full Coverage

Kerry spoke to Bush over telephone to concede Ohio, which held the key to decide who would be the next president, at 1600 GMT (2130 IST).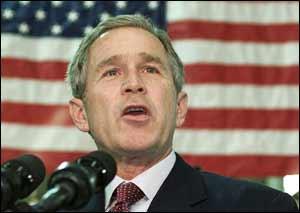 During the conversation, said to have lasted nearly five minutes, Kerry congratulated Bush after his chances of closing the gap in Ohio, where Bush surged ahead by 145,000 votes, appeared increasingly dim.
"You waged one tough campaign," White House spokesman Scott McClellan quoted the president as saying. "I hope you are proud of the effort you put in. You should be."
The 58-year-old Bush told Kerry, 60, that he was "gracious" after the Democrat conceded defeat.
A Democratic source told US wire services that Bush called Kerry a "worthy, tough and honourable opponent".
Kerry told Bush that the country was too divided and Bush agreed. "We really have to do something about it," Kerry said.
| | |
| --- | --- |
| | Also Read |
| | |
Kerry called Bush hours after the White House Chief of Staff Andy Card said Bush had "statistically insurmountable" number of votes in Ohio and won the re-election with a "decisive margin".

"We are convinced that President Bush has won re-election with at least 286 electoral college votes and he also had a margin of three and half million popular votes," Card said.

Massachusetts senator Kerry's decision not to prolong the counting brought a swift end to any possibility that the election would see a repeat of 2000.

Kerry adviser Joe Lockhart said in a telephone interview to The Washington Post that Kerry had concluded there were not enough provisional ballots in Ohio, estimated at around 150,000, to overcome the gap Bush had opened up even if he were to win the lion's share of them.

"We wanted to wait and see and be as careful as we could about what the reality on the ground was," Lockhart said. "When we had a chance to do that, I think we made the judgment that the time was right for John Kerry to call the president and concede."

With Ohio in the president's column, Bush claimed 274 electoral votes -- four more than the 270 needed for victory -- with Wisconsin, Iowa and New Mexico still too close to call. Kerry claimed 252.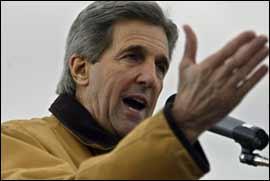 In contrast to 2000, Bush also won the popular vote, capturing 51 per cent of ballots cast.
Roughly 120 million people, 60 per cent of eligible voters, cast ballots.
Many strategists thought the high turnout would favour Kerry but the Bush campaign more than held its own.
The events, as many had predicted, unfolded in uncertainty because the final tally for Ohio -- with 20 decisive electoral votes -- was incomplete due to uncounted "provisional ballots".
With nearly all the votes counted, Bush led 51 to 49 per cent in Ohio.
Ohio Secretary of State J Kenneth Blackwell (Republican) originally estimated that there would be 175,000 provisional ballots by the time the counties finished their tabulations, but later calculations reduced that figure to between 150,000 and 155,000.
Kerry's campaign did not dispute the estimate.
The state was set for a potentially prolonged election when Kerry's running mate, Senator John Edwards, appeared at Boston's Copley Plaza in the middle of the night vowing to continue the fight.
"John Kerry and I made a promise to the American people that in this election every vote would count and every vote would be counted. Tonight we are keeping our word and we will fight for every vote. You deserve no less."
© Copyright 2006 PTI. All rights reserved. Republication or redistribution of PTI content, including by framing or similar means, is expressly prohibited without the prior written consent.



What do you think about the story?








Read what others have to say:





Number of User Comments: 12








Sub: Bush won

That was simply GREAT!


Posted by Natarajan









Sub: Bush are back

France and India both wanted Democrats as per the mock election held in their countries. The manner in which the sensex has reacted that we ...


Posted by pradeep k bajaj









Sub: Re-election of Bush to US presidency

The major issue in the recently contested election in the United states was the secuirity concern of the Americans,which President Bush has adroitly manoeuvred to ...


Posted by Himojyoti Bhattacharya









Sub: Electing thugs

I knew the average American was dumb. Now itís apparent that the majority of Americans are downright dumb and brainless. Even if their brains are ...


Posted by GB









Sub: Congratulations!!!!!!!!!

Everbody knew that Kerry is liberal and can be a better President of America than Bush but we cant deny the fact that Bush in ...


Posted by Parul






Disclaimer