Home > News > PTI

Former Karnataka chief minister Ramakrishna Hegde dead

January 12, 2004 15:47 IST
Last Updated: January 12, 2004 18:30 IST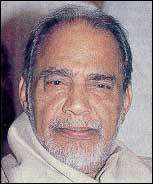 Former Karnataka chief minister Ramakrishna Hegde died on Monday afternoon at his Bangalore residence, his personal physician Dr Ramana Rao said. The 77-year-old breathed his last around 1415 IST.

Hegde had been ailing for long and suffered a stroke on Sunday night. There was bleeding in his brain and Hegde slipped into coma. He did not respond to 'stimulus', said Rao who has been Hegde's physician for the last three decades.

A veteran politician, Hegde is survived by his wife, a son and two daughters. He had been out of active politics after undergoing a brain operation in London in 2003.

Profile:
Born on August 29, 1926 at Siddapur in north Karnataka, Hegde comes from an agricultural family. He completed a part of his studies at the Kashi Vidyapeeth in Varanasi. He has a master's degree in law.

He participated in the freedom struggle and was jailed during the Quit India Movement (1942). He was a member of the Congress and served in the ministries of Nijalingappa and Veerandra Patil.

When the party split in 1969, he followed his mentor Nijalingappa into the Congress (O).

He was first elected to the Karnataka legislative assembly in 1957 and was appointed a deputy minister. He was later promoted as minister and held the portfolios of Youth, Welfare and Sports, Cooperation, Industries, Planning, Panchayat Raj, Development, Information and Publicity, Excise and Finance between 1962-71.

He holds the distinction of presenting thirteen budgets in the assembly.

He won five more elections to the assembly: in 1962, 1967, 1983, 1985 and 1989. Between 1972-78, he was elected to the state's legislative council and served as the leader of the opposition.

He was detained during the Emergency along with other opposition leaders from Karnataka.

He became a member of the Rajya Sabha in 1978-83.

In 1983, he became the first non-Congress chief minister of Karnataka. He is best remembered for his contribution to the development of the panchayati raj system in Karnataka but resigned in 1988 following a telephone tapping scandal.

He was among those who worked to unite the opposition parties under the banner of the Janata Party in 1977. After the party lost power at the Centre in 1980, it split several times till Hegde and some others made another effort to unite the various leaders under the Janata Dal.

The new party came into being in Bangalore in 1988 and with Hegde as the vice-president. It came to power in 1989 and V P Singh became prime minister while hegde served as deputy chairman of the national Planning Commission (1989-90).

He again agreed to unite the Janata parivar in Karnataka and helped bring the Janata Dal to power. He split from the party after colleague Deve Gowda was chosen to head the United Front-led coalition government at the Centre.

He founded the Lok Shakti party in 1997 and joined hands with the Bharatiya Janata Party. He served as Union commerce minister under Prime Minister Atal Bihari Vajpayee.

He had been keeping off active politics owing to his poor health. At one time, he was considered a prime ministerial candidate but could never make it owing to the machinations of his political rivals.


More reports from Karnataka
Read about: Telgi case | H Nagappa Abduction


© Copyright 2005 PTI. All rights reserved. Republication or redistribution of PTI content, including by framing or similar means, is expressly prohibited without the prior written consent.






What do you think about the story?








Read what others have to say:





Number of User Comments: 10








Sub: A seasoned man

Our country lost one more intellectual. I would personally consider RK as Modern Chanakya. Since he was born rich and was exposed to various activities ...


Posted by madhu









Sub: The country lost an upright statesman.

Hegdeji was more of a statesman than a politician. He valued the morality much more than the politics of convenience. Hats off to RKH ! ...


Posted by chanakya









Sub: great person

hegde is the one of the great person in world. he knows the poorety. i would like hegde.


Posted by suresh









Sub: he was nice

he was a clean politician!


Posted by vshal









Sub: R K Hegde

Very popular leader who tried to sort out issues peacefully


Posted by Sriniwas






Disclaimer