Home > News > PTI

S B Chavan: The tough taskmaster

February 26, 2004 17:49 IST
Last Updated: February 26, 2004 17:53 IST



Former Union home minister S B Chavan, who died in Mumbai on Thursday, had carved a niche for himself as an astute administrator. It was not for nothing that he was known as 'headmaster' in government circles.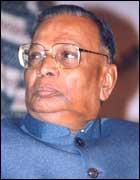 Shankarrao Bhaurao Chavan was one of the last Gandhi family loyalists, who had the opportunity to closely watch all three prime ministers from the Nehru-Gandhi clan.

Chavan, who enjoyed the rare distinction of assuming the mantle of chief ministership of Maharashtra twice, will be remembered for his role as Union home minister in the Narasimha Rao government when the Babri Masjid was demolished on December 6, 1992.

The 83-year-old Gandhian, who spent nearly six decades in public life, hailed from Marathwada and spearheaded the campaign against the powerful Maratha lobby from western Maharashtra.
 
He was also seen as a leader of all those opposing the Maratha strongman, Sharad Pawar.

In the administrative circles, Chavan was known as a 'strict taskmaster'.
 
Chavan, who served as chief minister from 1975 to 1977 and then again from 1986 to 1988, was responsible for renaming the state secretariat as Mantralaya.

He introduced a ban on chewing and smoking of tobacco in government offices and invoked the provisions of the Mumbai Police Act to punish the culprits.

Though a strong Gandhi loyalist, Chavan was part of the Sharad Pawar-led Peoples' Democratic Front government, that was formed after toppling the Congress government led by Vasantdada Patil.

Chavan later formed the Congress Samajwadi Forum along with Balasaheb Vikhe-Patil and others after the fall of the
PDF government, but re-joined Congress when Indira Gandhi came to power in 1980.

Born on July 14, 1920, Chavan was an arts graduate from the then Madras University and a law graduate from Osmania University.

He started his career as a lawyer but quit the profession after he plunged into the "Quit Court" movement in the
erstwhile Hyderabad province of Nizam, of which Marathwada was a major part then.

During the fight against the Nizam's rule, he came in contact with Swami Ramanand Teerth and P V Narasimha Rao. It was a lasting friendship.

His foray into the state politics began with his stint as a member of the state legislative council in 1956.

He, however, got elected to the state assembly the next year from Bhokar constituency and continued to be its member
till 1980 when he switched over to national politics and was elected to the Lok Sabha from Nanded.

Starting his career at the Centre as an education minister in the Indira Gandhi cabinet in 1980, Chavan was assigned important portfolios like external affairs, finance, defence and home in subsequent Congress governments.

He was also the deputy chairman of the Planning Commission from 1981 to 1984.

The veteran Congressman was also the leader of his party in the Rajya Sabha from July 2, 1991 to May 15, 1996.

Chavan ensured that his disciple, Vilasrao Deshmukh, was made chief minister when Congress-NCP government came to power in October 1999.

Chavan's wife Kusumtai breathed her last in January 2003. He is survived by five daughters and a son.


More reports from Maharashtra
Read about: Telgi case | Mumbai blasts


© Copyright 2005 PTI. All rights reserved. Republication or redistribution of PTI content, including by framing or similar means, is expressly prohibited without the prior written consent.