Home > News > Message Board

February 20, 2004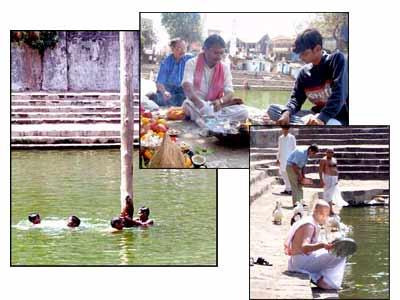 The Banganga Tank, part of the Walkeshwar temple complex, is probably Mumbai's oldest heritage site.
Situated in the heart of the city's posh Malabar Hill enclave, surrounded by skyscrapers and traffic jams, it is an island of tranquillity in a sea of chaos.
Like a lot of other heritage sites in India, Banganga is also a precinct in urgent need of repair and maintenance.
Share your thoughts about the Banganga complex, your experiences if you have been there in person, or simply your opinion on the accompanying slide show.


What do you think about the story?








Read what others have to say:





Number of User Comments: 5








Sub: ansiant temple

really wonderful. If you can please sent me the photos Thanks a lot for the photograper.


Posted by tamilselvan









Sub: my feelings

Hai My opinion for banganga is simply beautiful, but let us know something in detail and slide of Shivling and temple.... vanaja


Posted by vanaja kamma









Sub: Message

The photographs & details given by editors are refreshing the mind & cocetrating towards the place which would like to be highlighted. The photographs are ...


Posted by Ashok K Gosavi









Sub: Walakeshwar Temple and Banganga tank

Dear Editor, The photographic coverage and the write-ups were exqusite. We should start an Non Government Trust, which can receive aid from the Govt. plan/budget ...


Posted by Satishchandra V Joshi









Sub: Ancient temple slide show

Wonderful and sharp pictures


Posted by mahadevan






Disclaimer