Home > News > Specials

The Rediff Special/ Anand Bhisey in Nagpur

How Rao got admission to Law College

December 23, 2004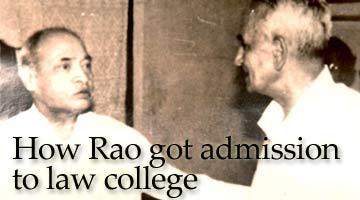 Former Prime Minister P V Narasimha Rao, who passed away in New Delhi on Thursday, had a close and sentimental relationship with Nagpur city.
It was in Nagpur that Rao completed his law degree after being rusticated from Osmania University in Hyderabad for taking part in the freedom struggle.
Rao was in Nagpur between 1940 and 1944. He stayed in a room in a house owned by advocate Chintaman Marpakwar, a close friend, in Soni Galli of Sitabuldi area in the city.
He would walk every day from Sitabuldi to Law College located at the intersection of Amravati Road and West High Court Road [the intersection has now been named Law College Square].
Advocate Marpakwar, who is now 87, sold the house in Sitabuldi to Ramavatar Gupta in 1991. A new structure now stands in its place. Marpakwar now lives in Shankar Nagar area of the city.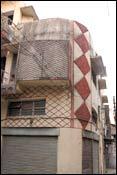 The senior lawyer has been in a state of shock since he received the news of his close friend's death in the afternoon.
The Marpakwar and Rao families hail from Mantheni town in Karimnagar district of Andhra Pradesh.
"Rao was a very close friend of mine. After he was rusticated from Osmania University of Hyderabad, he came to me and requested me to get him a place in a college in Nagpur," Marpakwar recalled while speaking to this correspondent.
Vasant Kedar, the son of the then vice-chancellor of Nagpur University T J Kedar, was a good friend of Marpakwar.
He made a request to the VC through his friend Vasant, the senior lawyer said. The VC agreed immediately and granted admission to Rao in the Law College, he said.
"The governor of the province asked Kedar for an explanation," Marpakwar recalled, "However, Kedar told the governor 'I am not your servant'."
Rao's admission to Law College was secured like this.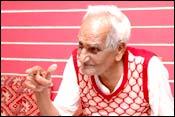 Marpakwar had been in regular touch with Rao. In fact, Marpakwar used to send one letter every day to Rao until recently. He had to discontinue due to ill health.
The former prime minister had one more reason to be sentimental about Nagpur. He represented Ramtek constituency of Nagpur district in the Lok Sabha for a while.
Also read:
An unlikely hero: Jairam Ramesh
The Rediff Specials


What do you think about the story?








Read what others have to say:





Number of User Comments: 2








Sub: Rao - A different man

I was in 10 std when Rao slewed out a plethora of economic reforms with Manmohan Singh. For last two years we had been studying ...


Posted by Ayon Guha









Sub: PV Narasimharao

While deeply condoling the death of Shri PV Narasimharao, our former Prime Minister of India; who was the only scholar in the history of Prime ...


Posted by N.K. PRATAPAN






Disclaimer