Home > News > First Look


A stamp on Maran

Shobha Warrier in Chennai | August 18, 2004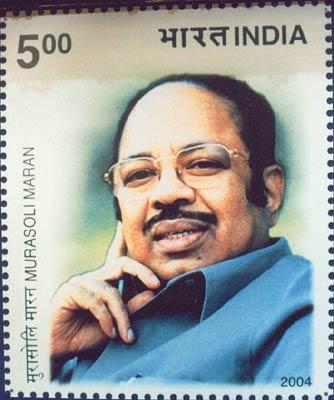 On August 17, 2004, the Department of Posts, which comes under Union Communication Minister Dayanidhi Maran, released a commemorative stamp to honour his father, the late Murasoli Maran.
The function took place at the Kalaignar Arangam Hall in Chennai's Anna Arivalayam complex, which is the Dravida Munnetra Kazhagam's headquarters.
Present on the dais but not related to the DMK party or the Maran family were Congress president Sonia Gandhi, who released the stamp, Lok Sabha Speaker Somnath Chatterjee, Editor-in-Chief, The Hindu, N Ram and the Director General of Posts, Vijay Bhushan.
The family members included Maran's uncle and DMK president M Karunanidhi, Maran's wife Mallika, his two sons Kalanidhi and Dayanidhi, and Karunanidhi's son M K Stalin.
Other than Maran's success at the Doha round of World Trade Organisation talks, what everyone, from N Ram to Karunandhi, recalled at the function was the way he was mistreated during the Emergency.
Gandhi in her address chose to speak more about the United Progressive Alliance's government at the Centre than about Maran.
Note" Tamil Nadu Youth Congress leader L K Venkat, in a petition to the Union communication minister, has urged him to release a special commemorative stamp on G K Moopanar on August 30, 2004, his death anniversary.


What do you think about the story?








Read what others have to say:





Number of User Comments: 1








Sub: Stamp for Murasoli Maran

Does Murasoli Maran deserve a stamp? Strange things are happening in this country.


Posted by A.H. Venkatachalam






Disclaimer