Home > News > Report

Your car may run on this in future

Ganesh Nadar | August 16, 2004 17:23 IST
Last Updated: August 17, 2004 12:49 IST



In a small village in Tamil Nadu, a plant extracting bio-diesel from the seeds of the pungan tree is set to revolutionise the entire concept of alternate energy.

Women who are barely literate are at the centre of this revolution.

The plant was set up thanks to the efforts of Tuticorin Collector Shri Rajaram.

The Indian Institute of Science, Bangalore had discovered that pungan seeds contain fuel oil. There is a unit in Karnataka that takes care of the energy needs of an entire village there. The Tuticorin collector deputed the project officer of the District Rural Development Agency to study the Karnataka model and set up a similar plant at Alwarthorpe village.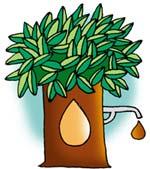 The location was chosen as it is on the banks of the Thambiraparani river, whose basin is abundant with pungan trees.

The women collect these seeds, which drop off the trees once they are ripe and dry.

The Self Help Group, which manages this plant, buys the seeds for Rs 3/kg.

It also gives bus fare to the women who bring the seeds.

The plant consists of a huge shed, which has a seed-breaking machine that runs on a 5 hp engine and an oil-extracting machine that is driven by a 15 hp machine.

The unit has been put up by the DRDA and given free to this SHG.

There are eight other SHGs in the village, but this group was chosen because it is the oldest, having been around for almost five years.

The president of the group, who has completed her SSC, is the most educated of the lot.

The women dry the seeds for about two hours. If the seeds are dried any more they don't yield any oil and just crumble.

So the women are careful. They have also noticed that the fatter seeds yield more oil.

After drying the seeds are put in the shelling machine.

After shelling the women handpick the seeds. The ones that are not broken are put back in. The shells are sold for Rs 15 per bag.

The seeds are weighed before they are put in the oil-extraction machine.

There is a man at the oil machine; the rest are women.

There are 15 members in this group. So far they are all taking turns working free, hoping to earn Rs 25 every day sometime in the near future.

The man is paid Rs 75 now and they say they will increase this to Rs 100 when the workload increases. At present this machine runs for five hours only, as there is not enough supply of seeds.

Most people do not know that pungan seeds fetch money. These women are now fanning out to neighbouring villages looking for these seeds. Wherever they find these trees in abundance, they tell the local women that they will pay for the seeds if they bring it to their plant.

We walked a mile into the Thambiraparani river before we spotted a huge pungan tree. It starts branching from the base so there is no trunk as such.

The women point out that the tree is now flowering so it will be a few months before the seeds are available.

The project officer, Radha, says that once they increase production they will bring down the price of the oil.

Right now bio-diesel is sold at Rs 22 per litre, which is only Rs 2 less than the diesel available in petrol pumps.

Farmers of Alwarthorpu buy bio-diesel to run their water pumps. Otherwise they have to go to Eral, which is 10 km away, to buy diesel.

Four kg of seeds produce a litre of diesel and 3 kg of oil cake.

The oil cake is sold for Rs 7 per kg and it is used as a fertiliser for the banana plants that are cultivated in abundance in this area.

The machines are not very efficient right now, but there will be an improvement, assures Radha.

There is another shed being built in the same compound. This will produce electricity from the shells that are now being sold as firewood. The wood will be used to produce gas and the gas will produce electricity, which will be used to run water pumps.

The Southern Railway has offered to buy the entire oil production, but so far the women have not responded to this offer. This is because the local farmers buy what they produce.

The government plans to distribute the seeds to all villages in the district so that it will be a source of income for the people and an alternate source of energy. They are also planning another plant in Ammanpuram, which is 17 km away.

Rani and Janaki, who are part of this SHG, proudly declare, "Earlier we used to sit at home and roll agarbattis (incense sticks). We were being exploited. That man used to pay us only Rs 6 for a thousand agarbattis. Now we own our own business."



More reports from Tamil Nadu
Read about: Cases Against J Jayalalitha | Cauvery Water Dispute



What do you think about the story?








Read what others have to say:





Number of User Comments: 23








Sub: welcome

really it is very good


Posted by Alexander P









Sub: Useful work

it is very useful in future


Posted by vivek









Sub: prowed

i am realy prowed of my village . mr.ganesh i say a heartful thanks to u sir.


Posted by vasanthan.v









Sub: Good effort

Self Help Group Movements are good.As a learned man we should do it in villages,atleast our encouragements should be there


Posted by Swami nathan









Sub: Cars may run on this in future

I hope, this will not be another "Ramer Pillai" story .


Posted by Kishor






Disclaimer