Home > News > PTI

Pakistan returns two Indian PoWs

August 09, 2004 12:30 IST
Last Updated: August 09, 2004 20:26 IST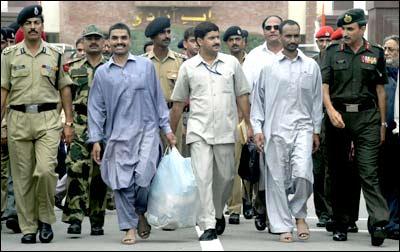 Five years after they disappeared near the Line of Control and were branded as deserters by the Indian Army, Lance Naik Jagsir Singh and Sapper Mohammed on Monday afternoon returned to India.
Pakistani authorities handed them over to India at a brief ceremony at Wagah border in Punjab. In exchange, India returned to Pakistan four of its nationals -- a soldier (Salim Shah, who had been lodged in Amritsar Jail since 1999) and three civilians. They were given a guard of honour by the Pakistan Rangers, which could be seen from this side.
Earlier, Pakistanis presented gifts to the Indian soldiers before they crossed the border to be received by officials of their 108 Engineer Regiment. It was an emotional homecoming for Singh and Arif as they walked into Indian territory.
Lance Naik Jagsir Singh and Sapper Mohammed Arif, who went missing during de-mining operations on the Line of Control in September 1999 after the Kargil conflict, were all smiles as they had even lost hope of coming back alive.
Among others present to receive the duo were Jagsir Singh's wife Jaswinder Kaur, mother Chottu Kaur, daughter Kuldip Kaur, brother Jagmit Singh and sister Paramjit Kaur and Arif's brother and sister-in-law.
In the five years they spent in captivity as PoWs, much has changed for the two on the home front.
Arif, who was called to the Kargil front just 10 days after his marriage, lost his mother, who passed away, and wife, who was remarried with the consent of family members.
"I am very happy that I have come back alive," said an overwhelmed Arif as he walked into the arms of his brother and other family members.
Jagsir's situation was better as he saw for the first time his four-year old daughter born two months after he strayed across the LoC.
Flanked by his wife and holding his four-year old daughter, whom he saw for the first time, Singh said, "We are very happy to be back. We had lost all hope till we came to know that our families have received news about us. Then we became hopeful that they would make efforts for our return."
However, it would still be a couple of days before they can visit their homes. According to army spokesman Brig V K Chona, they would be debriefed and would need to undertake a medical check up before being sent to their units.
The army had set in motion the process for bringing them back and had maintained regular touch with their families since their whereabouts became known. The decision to go ahead with the exchange of the prisoners was taken after Pakistan granted consular access to Indian High Commission officials on July 26 this year at Rawalpindi.
"The Indian side confirmed the identity of the two prisoners and initiated the process for the exchange," an army spokesman said. Ramesh Kumar, a member of the Indian High Commission in Islamabad, escorted Singh and Arif to India from Pakistan as he was carrying their travel documents.
Half an hour after their cross-over, the soldiers were produced before Indian mediapersons.
Singh and Arif had inadvertently crossed the Line of Control and were immediately captured by the Pakistani Army and lodged in Rawalpindi Prison.
Recounting their experience, the two said they closely observed horrible death-like scenes and at one time did not have any hope of surviving.
They were not allowed to mix with the other inmates but met dozens of Indian civilians who had strayed into Pakistan and were languishing in Pakistani prisons.
Indian Army chief Gen N C Vij, in May this year, ordered that the label of 'deserter' be expunged and their benefits restored with effect from June 1. He has also directed that interim relief to be given to the families.
Photograph: STR/AFP/Getty Images
More reports from Punjab
Read about:
Striking a Discordant Note
© Copyright 2005 PTI. All rights reserved. Republication or redistribution of PTI content, including by framing or similar means, is expressly prohibited without the prior written consent.



What do you think about the story?








Read what others have to say:





Number of User Comments: 6








Sub: What is our Govt. doing to save our people from Pak jails?

What is the Indian govt. doing to save our citizens from the hell called pak jails, people mistakenly cross the unmarked Indo-Pak border from both ...


Posted by Sameer









Sub: return of pows

A good gesture of friendly ties and brotherhood.Stepping stone towards socio-economic and secular bilateral relationships.But why only 2 or 3, what about the remaining pows ...


Posted by sundar









Sub: Great News

Really The Great News to see two of heroes back. But one thing from the back of my mind : Why do we always compromise ...


Posted by Ajay Agumbe









Sub: Happy for you both

Good to hear that relations are becoming better between these two nations. But, just a thought on the other side, how can the Indian army ...


Posted by Ritesh









Sub: Why so?

If indians also return PoWs, then why the title of the article is emphasised on Pakistan? Sometimes I doubt whether rediff.com is an indian site ...


Posted by Antro






Disclaimer