Home > News > Interview

The Rediff Interview/Shibhu Soren

August 04, 2004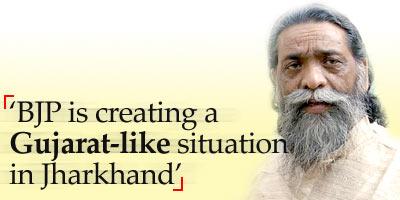 Jharkhand Mukti Morcha chief Shibu Soren enjoys a good fight.
Having fought all his life for tribal rights, it is almost second nature for him. So, when a non-bailable warrant was issued against him by a Jamtara court in Jharkhand in the 30-year-old Chirudih massacre case, the thought of surrendering probably never crossed his mind.
What he did was what his tribal instincts told him to do -- disappear into the thick jungles of Jharkhand and surround himself with people who worship him.
For nearly a fortnight the JMM leader remained hidden, awaiting the Jharkhand high court's verdict on his bail application.
But there was a problem -- Soren was also a minister in the Union government. The laws of jungle do not apply in Delhi, where politicians hunt on prime-time television.
As the Opposition pressure mounted, Prime Minister Manmohan Singh asked Soren to step down.
Soren complied, knowing fully well that his supporters would easily make the resignation look like a sacrifice.
A few days later, on July 29, as the high court rejected Soren's bail plea and asked him to surrender, his supporters were in action immediately -- there were rallies all over Jamtara, Ranchi and other parts of the state. JMM workers were on the streets armed with bows and arrows, threatening violence if Guruji, as Soren is called in Jharkhand, was arrested.
So has Soren blown the bugle for the Jharkhand assembly election? Have his political opponents overplayed their hand? Is Guruji close to achieving his ultimate political dream -- the chief ministership of Jharkhand? Chief Correspondent Tara Shankar Sahay spoke to him over the phone to get some answers:
[The interview was conducted on August 1, just hours before the JMM leader was to address a rally. He surrendered before the Jamtara court on August 2.]
You are addressing your supporters just a day before your scheduled surrender before the Jamtara court. Are you trying to make political capital out of it? 

Ever since the Bharatiya Janata Party hatched this conspiracy to humiliate and embarrass me, my supporters have been insistent that I should not take it lying down. Imagine digging out something that happened 30 years ago!
My point is: Why wasn't this massacre case raked up when my party was in the National Democratic Alliance led by the BJP? It is cheap, political vendetta at its ugliest and [Jharkhand Chief Minister] Arjun Munda is sparing no effort to ensure that I am cornered. But I tell you, there is this groundswell of dissent against this cheap BJP move.
| | |
| --- | --- |
| | Also Read |
| | |
My party activists and supporters are saying I must address them because they are not willing to see their leader victimised. Of course, I will address them and tell them that while the BJP's state administration might use strong-arm tactics, I have the people of Jharkhand with me. They have been with me right from the time my tribal movement started fighting mahajan soshan [moneylenders' exploitation].

My basic aim in addressing this rally [at Kanchan Bera village, about 4 km from Jamtara] is to tell my people that when I appear in the court on Monday, I should be on my own and they should not accompany me. I have already told some state officials that there will be no law and order problem when I appear in the Jamtara court. But I can assure you that my supporters are angry, very angry.

What will be your message to your supporters?

That they should not abandon the faith in our struggle, which aspires to defeat the forces of exploitation and political opportunism. I will tell them that they should guard against the BJP's attempt to turn Jharkhand into another Gujarat. In Gujarat too, the forces backed by the BJP instigated tribal people against Muslims.

The BJP leaders are now saying that Muslims were also killed in Chirudih. Everybody knows that tribals in Jharkhand are dead against moneylenders' exploitation. There are cases of such exploitation wherein three generations of poor tribals have paid through their nose to these greedy mahajans.

Everybody knows my struggle was against such exploitation.

Your disappearance after the non-bailable warrant was issued against you. Where were you and why were you hiding?

I was among my people, my supporters. I was told they will not allow anybody to touch me, come what may. I was happy to see the tribals' fighting spirit intact. Is it a crime to be with my people in the jungles?

Even Union home minister [Shivraj Patil] refused to label me an absconder. I have every right to go to any part of the country. That should answer your question.

Your party was once an ally of the NDA, so what happened?

If the JMM today is in the United Progressive Alliance, it is because of the opportunism and greed of the BJP leaders. Whether it is Babulal Marandi or Arjun Munda, each excels the other in his pursuit of power. Tribal concerns are their last worry.

I think the BJP leadership has not been able to digest the fact that the JMM and Congress have joined hands in Jharkhand. That is why its leaders have embarked on a 'destroy Soren' campaign. They will get a befitting reply.

What made you compare Gujarat and Jharkhand? What are the common factors?

Why is the BJP suddenly harping on the fact that Muslims were also killed in Chirudih?

Their game plan is to instigate the tribals against Muslims in Jharkhand so that another Gujarat-like situation can be created. But I want to tell my political rivals that the Muslim-tribal unity in our state is very much a fact of life, however distasteful it might seem to the BJP and its allies.

What is your impression of the BJP in Jharkhand now?

The BJP has squandered a chance and swung the axe on its foot as it tried to sacrifice the aspirations of the tribal people.

In Jharkhand, you don't make good by bartering away tribal interests for your selfish motives. That is exactly what the BJP has done.

Also Read: Soren has eyes set on Jharkhand assembly

There is some talk that you want to start a new chapter in Jharkhand.

Of course, I want to see the tribals in Jharkhand given a fresh deal. For that, the BJP's corrupt administration must go. I will ensure that if my party assumes power after the [February] 2005 assembly election in our state.

I have been telling my people it is imperative to vote a JMM government to power in Jharkhand if the state has to progress.

Does that mean you could be the next chief minister of Jharkhand?

Perhaps.

In that case, what happens to the ministerial slot you vacated in the UPA government when you resigned as Union coal and mines minister?

The JMM destiny must be put back on the rails in Jharkhand. The tribals are up in arms that their rights, as guaranteed in the Constitution, are being usurped by communal forces represented by the BJP.

Our party will be meeting very soon to take stock of the situation.

Image: Rahil Shaikh


The Rediff Interviews



What do you think about the story?








Read what others have to say:





Number of User Comments: 11








Sub: True Lies

Mr.soren have no ideas about gujarat situation.simple thing is that gujarat is other & jharkhand is other so Don't he deserve rights to say anything ...


Posted by Vimal Thakar









Sub: People deplore disruptive activities strongly!

The massive mandate of the people of India rejected NDA to their astonishment during the last general elections. They should bow to the people's mandate ...


Posted by B.Gautam









Sub: People deplore disruptive activities strongly!

The massive mandate of the people of India rejected NDA to their astonishment during the last general elections. They should bow to the people's mandate ...


Posted by B.Gautam









Sub: Interview:Shibu Soren

Mr.Soren seems to have become senile.He does not seem to even recognize that there is a rule of law in this country however flawed it ...


Posted by Pandurangrao kulkarni









Sub: Shibu Soren

Nasty political utterance.


Posted by Rajmohan






Disclaimer