Home > News > Interview

The Rediff Interview/Mumbai Police Commissioner R S Sharma

September 16, 2003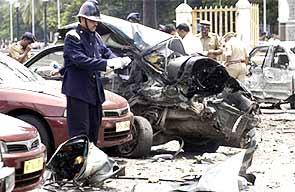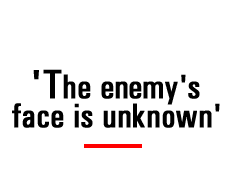 Mumbai Police Commissioner Ranjit S Sharma is perhaps the city's most troubled personality. After successfully serving in many departments including the Special Protection Group (which provides security to prime ministers) in the early 1990s, his current assignment is hardly enviable.
Since he assumed office in January, Mumbai has been under constant threat, face to face with terror. After the Mumbai blasts, not just Sharma, but the Maharashtra government itself has come under tremendous pressure to arrest the terrorists.
To make matters worse, Sharma's police force is divided after embarrassing revelations in the stamps scandal, where police officers have been accused of being in cahoots with the main accused.
In spite of such adverse circumstances, Sharma has produced results. The Mumbai police's Crime Branch has busted 'cells,' which planned and executed the blasts. The police commissioner tells Senior Editor Sheela Bhatt that the Mumbai police should be complimented for its investigation.
                                                  The Mumbai Blasts



Are the series of bomb blasts in Mumbai linked to other blasts elsewhere, allegedly executed by the Islamic fundamentalist network?

It is very difficult for me to say whether the Indonesian or anti-American blasts or my (Mumbai) blasts have anything in common. At least, the objective of the terrorists is common. But whether any link exists between these terrorist groups or not, I really don't know.
The serial blasts last December, then in January, March, July and the last two blasts in August -- we have been able to detect all the blasts so far. I am proud of my boys to have done it.

In the earlier blasts in Vile Parle, Mulund, Ghatkopar and Bombay Central there were two groups involved. When two Pakistanis were shot dead in Mumbai, it clearly indicated a Pakistan link. The men came from Pakistan, lived here, created a module and executed the blasts.
I had very categorically mentioned that Lashkar-e-Tayiba, which is Pakistan-based, and SIMI (Students Islamic Movement of India) joined hands and perpetrated these blasts. The Padgha (village near Thane) module was one and Kurla (a suburb in Mumbai) module was another. The two were totally different.

Did they know each other?
No. In normal terrorist activities there is always a cut-off point. But at the top, directions were coming from the same people. Blasts are all well-planned operations. Still, we were able to have a breakthrough. We could arrest people.
We have recovered 250 cases of bombs, rifles, 9 imported pistols. We recovered a big cache of arms. A very good job was done by my Crime Branch team.

Many people express doubts about the police investigation. They have no trust left in police investigations.

It's up to them to decide whether to trust or not. How can I comment on them?

In Padgha village where the accused Saquib Nachan lived...
In Padgha village, in front of the television camera, 250 bomb cases were recovered. That is why they were taken aback.
I don't have to go there and tell them "you trust us." Mumbai is facing violence. Someone is harbouring foreigners here. Men from Pakistan who came here were harboured by someone for the last six months. Whether he trusts the police or does not is not a matter for the police to decide.
Two dead bodies are lying here. No one has claimed it because they are Pakistanis. We believe they must have stayed in Padgha.

When the weapons are recovered people question...
The Mumbai police will not go to Pakistan to get these kind of weapons and 250 hand bombs. It's for them to decide.

But the investigation is very important for Mumbai.
So it's better if they (the residents of Padgha) start trusting (the investigations) and people in general become more alert. Everyone has to be alert because the enemy's face is not known.
Somebody who is coming from Pakistan should not be sheltered if they really want to stop bomb blasts in Mumbai. In a city of one-and-a-half-crore which is the financial capital of the country, 20,000 staff from the Mumbai police are not enough.
Anybody can travel in any bus and leave a small bag in any corner and get down. So everybody has to be alert and everybody should join hands to fight terrorism. It's not a question of trusting or not trusting the police. We are not discussing trust in the police, we are taking on terrorism.

Many former city police commissioners have criticised the working of the police. Many critics have questioned the identity of the accused.

We are not groping in the dark. A lot of hard work goes into it. We are sure of their identities. We have not involved any innocent people in these cases. The taxi driver (Shiv Narayan Pande) is fortunately there to identify them.

Why was his name revealed? Many lawyers have criticised it.

His name was not revealed. He is the witness. You can't hide the witness and put him in a lock-up. We are ensuring his protection. But he has to come and identify the fellows, help us draw sketches. In the identification parade he has to give a statement. He is not a criminal. He helped us reach the criminals.

The credibility of the Mumbai police...
What credibility! It is a rare investigation. In just four days people who planted the bombs were detected. People should praise the Mumbai police sky high. I am getting so many calls from abroad. My officers have done an excellent job.

In these blasts cases well-educated young people have been arrested -- doctors and engineers. What is your analysis of this trend?
They were selected because they could pass off as the commuting public of Mumbai while planting bombs. They could mingle very well with crowds. They could communicate because they were educated. They could interact well.
Some of them are engineers who help manufacture bombs. Amongst those arrested, there is one doctor who is a forensic expert. Terrorists are motivating the educated lot.

Does higher education not give them confidence in the system and the Constitution?

They are motivated to do something for their religion. "We are doing it for religion," the accused told us.
Design: Uday Kuckian


The Rediff Interviews


What do you think about the story?








Read what others have to say:





Number of User Comments: 7








Sub: Who is the real enemy?

With ref. to Mr. Sharma's interview, there are no 2 thoughts about the capability/ability of the Mumbai police to solve crimes even under strenous conditions. ...


Posted by Sachin









Sub: comments

Our police must find out the terrorists.


Posted by Santosh Kumar Nanda









Sub: It is the responsibility of the police force to identify the face.

"It's up to them to decide whether to trust or not. How can I comment on them?" Quote. But if you are indifferent to what ...


Posted by chanakya









Sub: Irresponsible statement

There can be no doubt that terrorism is everyone's problem. People need to realize that and help police catch terrorists. But it is the job ...


Posted by Zaigham A. Kazmi









Sub: The enemy's face is unknown

In Mumbai blasts we have new and ominous situation. Obviously India's enemies have decided to penetrate a city of one and half crores and spread ...


Posted by Dinkar Koppikar






Disclaimer