Home > News > Specials

The Rediff Special/Ehtasham Khan

September 05, 2003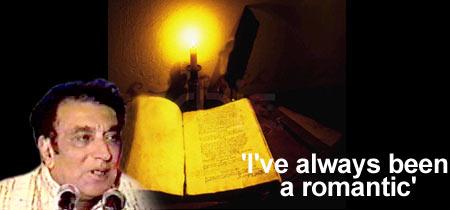 At 72, his eyes haven't lost their twinkle.
 
Ahmed Faraz, wearing a pink half-sleeve shirt and blue trousers, seems alert, cheerful, almost jovial.
 
But the twinkling eyes cannot hide the fire that has made him one of the finest Urdu poets of all time.
 
A poet who has been compared with Mohammad Iqbal and Faiz Ahmed Faiz, the greatest Urdu poets of the last century. A writer who has fearlessly opposed tradition, tyranny and military rule in his country, Pakistan. 
 
The poet, who visited Delhi last week to attend a seminar on 'What Poetry Means to Me' at the Sahitya Akademi, was born January 14, 1931, in Naushahra, then India, and christened Syed Ahmed Shah.
 
He recalls how his father, a teacher, once bought clothes for him on Eid. Faraz didn't like the clothes, but was impressed by the ones bought for his elder brother. That was when he wrote his first couplet:

Layen hain sab ke liye kapde sale se
Layen hain  hamare liye kambal jail se
He has brought clothes for everybody from the sale. And for me he has brought the blanket from jail
 
Following a bitter fight with his father, Faraz later left home to pursue education and poetry in Peshawar. 
Syed Ahmed Shah became Ahmed Faraz.
 
"Mera mizaz shuru se hi ashikana tha. (I was romantic from the very beginning)," he says.
 
At school, there was a girl in his class he was friendly with. His parents asked him to learn mathematics from her during the summer vacation. "I was weak in mathematics and geography. I still don't remember maps and roads," he says with a grin.
 
But math took backstage when the girl "asked me to play bait-bazi with her." Bait-bazi is a game in which one person recites a couplet and the other one recites another couplet starting from the last letter of the previous couplet. 
 
"She was very good at it. So I started memorizing hundreds of couplets for her," he says, smiling at the memory. "But I always lost. So I started manufacturing my own couplets, and she couldn't catch me."

As the poet matured, he took on Pakistan's authoritarian rulers. He was jailed and later exiled during Zia-ul Haq's tenure in power for writing poems against the military regime.
 
He stayed for three years in Britain, Canada and Europe before returning to Pakistan where he is now chairperson of the Islamabad-based Pakistan Book Foundation.
 
Maintaining a tradition established by his mentor, the revolutionary Faiz, he wrote some of his best poetry during those days in exile.

"During college, Faiz and Ali Sardar Jafri were the best progressive poets. I was impressed by them. They became my role models. After Partition, I saw a photograph of some Indian poets in a magazine. They were well dressed and looked good. Poets had an impression of a suppressed community. Some didn't have proper clothes, others couldn't buy a cup of tea. When I saw the photograph I was baffled and thought it was not a bad idea to become a poet."
 
"Indian poets always impressed me," he says.
 
His poems, like those of Faiz and Sahir Ludhianvi, are equally popular with common readers and scholars. Full of remorse and anguish, most of them have social and political themes. He firmly believes in the philosophy of the progressive movement and is hopeful of history repeating itself.
 
"The USSR has failed, but the philosophy is still  the same. And it will emerge sooner or later. It is not a religion that it
will die. It can be amended and with corrections and lessons from the past, it will come up again."
 
As for America, "It (the US) is promoting terrorism across the globe. I even said this in America. They are pushing
humanity towards destruction."

What about the India-Pakistan relationship? "People are trying to promote peace. But after reading the newspapers and
looking at violent incidents and statements made by the leadership of both countries I am not very optimistic," he says.  "Ordinary people want to live together. I don't know what the politicians want."

He has led several peace delegations to India, but he expresses helplessness at the state of affairs today.
 
"We are poets. What can we do? Today, it is difficult for us to manage our homes. How can we save a country?"

But, despite all his travails, Faraz expresses satisfaction with his life. 
"Poetry has given me happiness and sorrow. Happiness in terms of the respect that I have earned in life. No other
profession would have given me so much of love and respect from the people." 
 
What about regret? 
"Faraz ishq ki duniya to bahut achchi hai. Ye fitna hijr-o-judai kis ne rakhi hai?
The world of love is so good.
Who has created the problem of separation?

What now for the poet? 
Ab us ke shahar mein thahren ke kooch kar jayein
Faraz chalo sitare sehar ko dekhte hain
Should I stay in her town or move ahead?
Faraz  go, stars are looking at the dawn. 

The Rediff Specials


What do you think about the story?








Read what others have to say:





Number of User Comments: 2








Sub: Poetry

I have admiration for Ahmed Faraz and the stand that he had taken against Pakistan's military establishment. It was either Shelly or Keats that remarked ...


Posted by khandu patel









Sub: poetry

I was never into poetry and always used to think that its about something not easily understandable,game of words for which u have to have ...


Posted by sobya






Disclaimer