Home > News > Specials

The Rediff Special/Rakesh Maria

September 02, 2003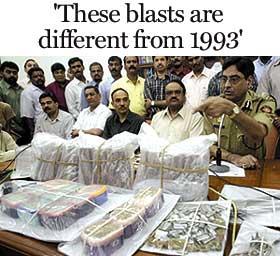 I was in my office at the Crime Branch [at the Mumbai police headquarters near Crawford Market, south Mumbai] when I heard of the twin blasts [on August 25].
It was shocking. My second thought was that now, once again, the police will be severely criticized. Though we have arrested 23 people in past bomb blast cases and charge-sheeted them, people will point fingers at us. Once more it will be trying times. The investigation of previous cases and our intelligence work had all been erased by these blasts.
The first thing I did was alert all 12 units of the Crime Branch, three crime intelligence units, and one anti-extortion cell in Mumbai to talk to their informants and get some clues as to who did it, how and why? Next we alerted our local police stations to be prepared for communal riots.
Simultaneously I sent teams to both spots. One expected only a few deaths. But the control room told me in a few minutes that 38 had died. We understood that the challenge had arrived. It was going to be either us or them.
That same day, at 7.30pm, I called all the unit leaders and senior officers to my office from all over Mumbai. Since communal riots had not broken out, they could come.
Taxi driver [Shivnarayan Vasudev] Pande provided many clues to begin the investigation. We already knew that in the BEST bus blast on route number 340, the bomb was planted by a woman in a burkha and carrying a small child. Pande's description was similar to that given by the BEST bus driver.
I spoke to Pande. What he had seen we understood well. How the criminals were walking, their looks, etc. By midnight our artist had made the sketches. Strict instructions were issued not to release the sketches to the public or the press.
At the evening meeting, all our officers showed exemplary readiness to fight it out. "Hamari bhi izzat ka sawal hai [Our honour is at stake]" was the mood. We will be called useless if we don't do something. There was hardly any need to motivate them because they understood the gravity of the situation.
On day two we were looking for eyewitnesses to come forward. In Chimanpada area we were looking for the combination of four members of a family -- husband, wife, 18-year-old daughter and three-year-old daughter. We could not publicise the sketches because we did not want the family to change their get-up.
That day, on August 26, our boys came with a heap of information. Very important, but not relevant to this case. The second day almost passed without a real lead.
Pata lagao... aur pata lagao [find out more] was our demand.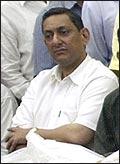 On day three, my officer called me from Andheri and said they had one eyewitness who claimed to have seen a couple similar to the sketch. He knew a guy who was with this couple. The first ray of hope had emerged.

Every hour we were kept informed. My officer kept telling me, "Sir, he looks reliable."

In such circumstances people do try to settle scores by fixing their enemies. We thought it would be a fiasco if that man planted someone on us.

On the morning of August 28, at a secret hideout without revealing my identity, I personally met the informant. That was when I became confident that we were on the right track.

The man knew Arshad [Shafique Ansari] and his home. We kept watch on the place round the clock.

He also led us to Hanif and Fahmida. Our patience was tested here. When our men went to Hanif's home they found a huge crowd there. A neighbour had died. We decided to hold back and not arrest the couple. It was a risk. Woh bhag gaya to?! [What if they escaped?]

We were relieved on Sunday when we got it right.

Once more this case has highlighted the fact that the anonymity that a city like Mumbai affords people gives protection to criminals. Somebody who is least expected to be involved in crime could be a ruthless operator.

We are trying to tell Mumbaikars to keep watch on their neighbourhoods. Be alert and share information. Imagine what Hanif and Fahmida's neighbours must be thinking today. A lady with whom they shared things and watched television together was a criminal who planted bombs in buses and taxis!

I would also like to tell people that there are many differences between now and the 1993 bomb blasts. Then, such people were involved who already had criminal records or an underworld connection. Most of them were uneducated. Many accused told us that "bhai ne kaha, so kiya [the boss told us, so we did it]". They did it for small amounts of money. They had no ideological commitment for their act.

Now it is not so. Our investigation of the blasts that have taken place since December 2002 has revealed that out of 23 main accused, five are engineers, three are doctors, two are graduates, one is an MBA, and the rest are all SSC pass. None, I repeat none, did it for money. Except Saquib Nachen, hardly any of them had a criminal record. Many have SIMI connections, but none had even been involved in a stabbing case.

This is frightening. We can't comment much on this. It is not our job. But the public and politicians must think and debate this.

This trend also makes intelligence gathering more difficult. Just imagine the state of mind of Fahmida, who is sitting in a taxi with a teenaged daughter and a three-year-old, and a time bomb. This shows the level of commitment and successful indoctrination. Her family was willingly getting into it and they chose Mumbai as their target. We are looking into such modules in our city. She and Hanif are mentally strong.

The public should think why a section of educated youth is getting into these activities. Even though they are educated, the thought of senseless deaths is not affecting some of them. The thought that why should I kill a poor man is not keeping them away.

We are still investigating the Gujarat angle. We can't say anything now. Investigation is a slow, long-drawn process. Today I know for certain that the Ghatkopar blast and the twin blasts were executed by this couple and Arshad and two other chaps, who are absconding. They did it because some guys in Dubai told them. I'll not reveal their names. So far the underworld connection has not come out.

But the Pakistan connection is most expected. Our regret is that we have picked up just one module of the ISI in the city. Today, terrorism has no geographical boundaries. It is planned in one city, material is supplied from some other sources, logistics is provided by a group sitting in some other country, and the act is executed elsewhere. It is so easy for a terrorist brain to reconnoitre our society, help people first with their problems, and get them in their fold.

There never was greater urgency for the entire country to come together and fight this menace. In this case the money and instructions came from Dubai, but eventually it will turn out that Pakistanis are behind it.

Additional Commissioner of Police Rakesh Maria (above, right) spoke to Sheela Bhatt on Monday evening.

Photograph: Sebastian D'Souza/AFP/Getty Images. Image: Uttam Ghosh


The Rediff Specials




What do you think about the story?








Read what others have to say:





Number of User Comments: 72








Sub: 'Educated youths are involved'

Dubai has now become the most important logistics center of ISI-sponsored terror against India, other than Dhaka and Pak itself - even Dawood's boys are ...


Posted by labrea









Sub: alarming

this report describes the modern era of crime in excellent way, making mockery of long held view, that education teaches us to be good humans. ...


Posted by kailash









Sub: well done continue the good services

well done continue the good services rendered to the nation we all are with you Jaihind


Posted by murugan









Sub: cry my beloved country!!!!

"Our investigation of the blasts that have taken place since December 2002 has revealed that out of 23 main accused, five are engineers, three are ...


Posted by midnightmayhem









Sub: No reason to kill

U cannot have any legitimate reason to kill someone who might even never have crossed ur way. The koran holds all these merciless and gruesome ...


Posted by nadeem






Disclaimer